Professor Layton and the Miracle Mask
– Team is finishing the project
– Level-5 CEO Akihiro Hino believes this game will be the best Professor Layton game
– Masachika Ichimura, Michiko Kisechi and Yosuke Yamamoto are guest voice actors
– Yumi Matsutouya is doing the theme song "Mysterious Flower"
– Hino thinks the game's ending, combined with the theme song, will make players cry
– Dev team is three times the size of past titles in the series
Fantasy Life
– Uses ad-hoc/StreetPass
– Will make players feel as though they're playing in the same world as other players like an online game
– Communicate with others
– Avatar character will meet many other players in a fantasy world
Kyaba Jo Pi for Nintendo 3DS
– "the Super Robot Wars of the hostess world,"
– Many anime/manga cameo appearances
– Gundam series character will be in the game
Inazuma Eleven 4th Title
– Hino confirmed the game for 3DS
– Hino thought most fans figured out it would end up on the 3DS
– Set ten years in the future from the rest of the series
– 11 people change the soccer world which is in a bad state
– Main character is Tenma Matsukaze
– New gameplay systems
Time Travelers
– Dev team wants to show how realistic they can make a world with 3D visuals
Professor Layton vs Ace Attorney
– "not a gaiden/side story, but akin to two popular anime series having been combined into one movie"
– Level-5 publishing
– Capcom and Level-5 working together on development
– Ace Attorney designer Shu Takumi working on the game's plot
– Hino hopes the game becomes a banner title for 3DS
This information comes from the Nihon Keizai Shimbun newspaper…
"It's important that you be able to supply software with no pause. With the DS and Wii, following the titles that were released at launch, the momentum dropped when there was a gap in software releases. We're making plans so that this type of thing won't happen." – Satoru Iwata
– Iwata believes he hasn't said anything special about 3D warnings for the 3DS
– Similar warnings are on 3D TV instruction manuals
– Nintendo thinks kids could end up playing video game for lengthy periods
– As a result, Nintendo wants to adequately convey the message before people make their purchase
– Iwata believes developing countries will become important in the future as their economies grow
– Iwata not sure when Nintendo can satisfy the demand for 3DS in North America, Japan, and Europe, so he can't say when the 3DS could be made available in other territories
– Over 2 million units sold in the holiday season (North America)
– Wii crossed the 7 million mark in early sales
– DS sales similar to 2009
– Wii/DS hit expectations in Europe
A set of 3DS commercials (which are being advertised on trains in addition to television) are now playing in Japan, but posters and other materials have started to show up as well.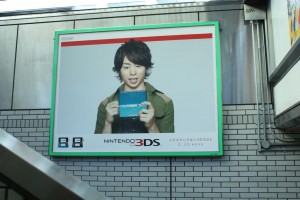 nintendogs + cats
– 3D eyeballs added, done with polygons
– Team wanted the animals' eyes to look more natural
– First game to use StreetPass
– Team made sure that StreetPass would work as long as there is a game save
– Reminders: Mic and touch screen return, animals remember their owner's face with the 3D camera
– Pet may get close if you get close
– Take pictures of the animals
– View the photos later if you want
– Save photos to an SD card
– Can share your favorite photo through StreetPass
– Have your dog/cat in real life through AR cards
– Nintendo thought about other animals to include, such as horses and dolphins
– Settles on cats because they are popular
– It appears that you will be able to take your pet into the "real world" through AR cards: confirmation needed
General 3DS details/Mii games
– Exchange Miis and profiles with StreetPass
– See the last game someone has played
– StreetPass Legend game: Miis go out on a small adventure
– Different games you can play with Miis via StreetPass
– Mii games appear to be built-in
During Capcom's Resident Evil presentation at Nintendo World last night, Masachika Kawata said that the release date for The Mercenaries 3D would be announced shortly. In December, Famitsu reported that the project was 70% complete. The game is now almost finished. According to Kawata, the title will be out close to the launch of the 3DS. It's exciting to know that fans will able to play the first Resident Evil game for the 3DS sometime within the next few months.
Thanks to Chauncey for the tip!