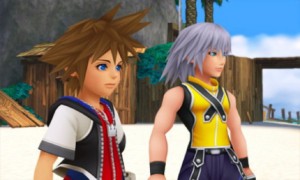 We don't really know much about Kingdom Hearts 3D. A trailer was shown at E3, but it was never released online for all to see. Tetsuya Nomura has only shared a few details about the project – mainly that the game will feature all new Disney worlds. Thanks to issue 262 of Nintendo Power, though, more information has been revealed. Nomura told the magazine that the game's story will be on par with the numbered titles and that the secret ending will contain "shocking statements and dialogue."
"Kingdom Hearts III and Kingdom Hearts 3D are not the same. However, it is a brand-new adventure starring Sora and Riku. The story is on par with that of a numbered title, and I'm sure the ending will shock fans."
Nomura also stated that the ending in Kingdom Hearts Re:coded relates to 3D:
"There is a hint regarding Kingdom Hearts 3D in the secret movie [of Re:coded]. Players will find out once they see for themselves, but the movie includes some shocking statements and dialogue that pertains to Kingdom Hearts 3D, so it's definitely worth watching!"
3DS development kits have been in the hands of numerous companies for quite some time now. However, indie developers have yet to obtain their own kits. On the bright side, it seems as though they won't have to wait much longer to get their hands on the system.
According to a "trusted source" close to Develop-Online, Nintendo will be handing out another round of development kits in early 2011 – more specifically, January. With that said, many independent and internal groups have started making titles for the handheld.
This information comes from Nintendo UK marketing manager Dawn Paine…
"We're really relishing one of those big landmark moments. As you can imagine, we are deep in the planning and it is going to be another once-in-a-cycle launch. The difference is that there are other brands operating in that space – and we're really excited about the positioning of the product and what it can achieve. It's the world's first mass-market, portable, 3D device, without glasses. Buried within that one sentence are some huge factors that will bring about big changes. It's a great opportunity to explode 3D onto the wider marketplace."
It'll be very interesting to see how the 3DS is received compared to the DS. The situation is quite different this time around. Whereas there was much doubt about the DS when it was released to market, everyone is expecting the 3DS to be hugely successful.
Miyamoto on Microsoft talking about catering for "Wii graduates"…
"I don't think the Wii is something that people need to graduate from. Of course, I am happy that motion is fashionable now. But when we make games, we are not trying to produce trendy products. It needs to be an experience that's meaningful, and the motion control needs to add something. So our new Zelda game takes motion control and adds something to the game to make you feel like you're part of the adventure. I think our rivals need to find what it is they have to offer that's new."
Although Rayman: Origins was not announced for a Nintendo platform at E3, a noticed posted on the game's website stated that it could eventually end up on the 3DS and/or Wii. We still don't have a confirmation that Origins will end up on Nintendo's next handheld, but a listing from the OFLC is hinting that it may happen.
"Rayman 3D" has been rated by the OFLC, though we don't know what platform the listing is for. Moreover, if it is for the 3DS, we don't know if it is a port/spinoff of Origins. It's certainly possible that the title could be for the 3DS, but don't get your hopes up until Ubisoft has something official to share!
Last week, we heard that Nintendo of Europe will be holding a conference in Amsterdam next month. Shortly thereafter, there was some speculation involving Nintendo of America having an event of their own in New York City. Thanks to IGN's Rich George, the rumor has been confirmed. George posted the following messages on his Twitter account:
"Looks like busy times in NYC on 1/19/11. You should probably tune into IGN on that day. Just sayin'. 1/19/11 is in fact the date for Nintendo's big 3DS unveil. I would expect full details at that time. NYC here we come!"
This event appears to be completely dedicated to 3DS information. George doesn't seem confident that The Legend of Zelda: Skyward Sword – the Wii's biggest title of 2011 – will be making an appearance.
"3DS, yes. Zelda is very unlikely."