Last night's rumor regarding a possible Nintendo conference in Europe next month has been confirmed. The company has been sending out invitations to the press for the January 19 event in Amsterdam. As expected, it seems that Nintendo will be revealing the launch date and price of the system, in addition to other information. We only know of one conference next month at the moment, but I'd be shocked if something didn't happen in North America as well.
Thanks to Pablo and Guillaume for the tip!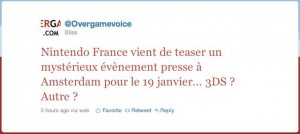 Although the Twitter message above pertains to France, it goes along nicely with another rumor we heard. IGN's Rich George indicated last week that we would be seeing "a flood of information" about the 3DS in late January. The 19th is fairly late in January, so if this latest tease is the real deal, it's very likely that Nintendo will be sharing 3DS launch information and other details about the system.
Here's a rough translation of the Twitter post above…
"Nintendo France has a mysterious teaser press event in Amsterdam on January 19 … 3DS? Other?"


Mighty Milky Way (DSi) – E
505 Tangram (DSi) – E
Gardens (3DS) – E
A few of you might be very interested in Mighty Milky Way. Why, you ask? Well, the game is being developed by WayForward! You can check out a description of the DSiWare title below:
"This is an action-puzzle game in which players help a green-skinned alien navigate toward warp portal exits. Players avoid hazards (e.g., pink puff balls, electric barriers) and create planets to use as jumping platforms. At the end of each level, players must dodge laser beams shot from a robotic T-Rex; the dinosaur sinks off-screen amid small explosions when defeated."


All-New Nintendo 3DS Arcade Shooter Features Visually Stunning Environments That Explode Off the Screen in 3D

LOS ANGELES–(BUSINESS WIRE)–D3Publisher (D3P), a publisher and developer of interactive entertainment software, confirmed its support today for the Nintendo 3DS™ handheld system and announced Dream Trigger 3D. Dream Trigger 3D is a completely original arcade shooter in which players use sonar to detect sound to expose colorful enemies and blast them into explosive 3D patterns. The introduction of the new Nintendo 3DS system will allow players to experience an arcade shooter with a whole new visual perspective never before seen on a handheld.

"We are excited to confirm the development of Dream Trigger 3D as the first of many upcoming video games from D3Publisher for the Nintendo 3DS handheld system"


– From Konami
– Based around archeology
– Doctor Lautrec and his young companion Sophie go on an adventure
– 4 elements to the game
– Events, battle, exploration, and conversation make up the game


The Sims 3
– Area map shown on the touchscreen
– Edit your sims' face, skin, clothing, personality, life goal, and other elements
– Give Sims precise directions about what they should be doing
– "Moodlet" icons will indicate what your Sims are feeling
– Moodlet icons will show things such as "I want to sleep" or "I want to take a bath"
– Karma Power: Instantly change your sims' lives
– Need to be careful with Karma Power (ex: shake the 3DS to make money fall from the sky, shake too much and you'll cause an earthquake)
– StreetPass support
– Spring 2011 release
My Garden
– Ponta is your guide
– Create the most beautiful garden in the world
– Use the touchscreen to position objects in the garden
– Full map display
– Shake the 3DS to make insects go away
– Whistle into the microphone to attract birds
– Spring 2011 release