– Can make your own customized character
– Choose the gender
– Can edit the character's appearance as you progress
– Player Change System: Send out 4 generals to the battle field, switch out between them on the touch screen
– Each general has certain skills/abilities
– Who you can select is based on the scenario
– Individual general can be sent off to take on missions within the current missions
– Bottom screen shows your status
– Combat on the top screen
– 50% complete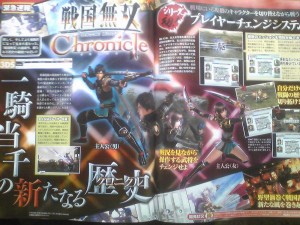 Wii
1. The Legend of Zelda: Skyward Sword
2. Kirby's Epic Yarn
3. Donkey Kong Country Returns
4. Epic Mickey
5. Sonic Colors
DS
1. Pokemon Black/White
2. Super Scribblenauts
3. Mario vs. Donkey Kong: Mini-Land Mayhem!
4. Professor Layton and the Unwound Future
5. Pokemon Ranger: Guardian Signs
3DS
1. Paper Mario
2. Mario Kart
3. The Legend of Zelda: Ocarina of Time 3D
4. Kid Icarus: Uprising
5. Star Fox 64 3D


Ubisoft Morocco game
– News according to Kharijah Imad's LinkedIn profile, lead designer on a 3DS game
– He was the Level Design Lead on Prince of Persia: Forgotten Sands and the level designer on Prince of Persia: The Fallen King (DS)
– Development may have started in April
Ubisoft Montreal
– Another LinkedIn profile listing
– From Lawrence Hum (programmer)
– Apparently has been in development for three years
– May have been a DS game originally
Canceled Ubisoft 3DS game
– News from a LinkedIn profile again
– Game designer was brainstorming/developing mini-games for an unnamed 3DS title
– Development was short (started in February, ended in March)
– Designer now making Michael Jackson: The Experience for Nintendo DS and PSP
Last but not least, we can see that 3DSWare has been trademarked in Europe…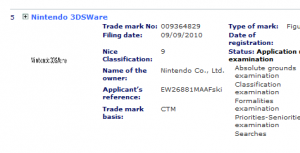 This information comes from Level-5's president, Akihiro Hino…
"We were originally developing it as a Nintendo DS title, but decided to switch gears and develop it as a Nintendo 3DS title instead. The game has really undergone some major changes as we've come to understand the capabilities of the Nintendo 3DS. Even Professor Layton's appearance is changing quite a bit, but you'll have to wait and see what I mean!"
Hmm… I'm curious to see what they've done to Professor Layton's appearance. The "major changes" sound interesting as well. Maybe we'll hear about the game tonight/early tomorrow.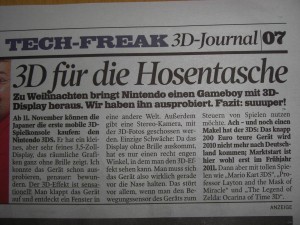 Oy vey. It's time for yet another rumor surrounding the 3DS. Today's edition of the German newspaper Bild claims to have information about the release date of the upcoming portable in Europe/Japan, as well as details regarding pricing and launch titles.
Bild states that the 3DS will arrive on November 11 in Japan this year, but sometime in the first quarter of 2011 in Europe. Mario Kart 3D, The Legend of Zelda: Ocarina of Time 3D, and Professor Layton and the Mask of Miracle were listed as launch titles in the newspaper. There was one additional detail Bild shared – it will supposedly cost 200 euros.
Even though you should most definitely take this rumor with a big grain of salt, there are a few things that should be noted. Bild is the best-selling newspaper in Europe, and they've apparently secured news prior to announcements. In 2005, when Satoru Iwata was set to unveil the Wii's controller for the first time at the Tokyo Game Show, Bild was told about it two days before Nintendo's president delivered his speech. So I suppose you could say Bild has a bit more credibility than your average newspaper, but I'm still not quite sure what to make of this rumor. Fortunately, it'll only be three more days until we start hearing official information about the 3DS.


This information comes directly from a Nintendo of America customer service representative…
"Thank you for writing. There will be an announcement on September 29th, 2010 regarding the Nintendo 3DS, however, we have no details regarding what that announcement will be. Be sure to frequent our official website, www.nintendo.com, for all the latest Nintendo news and information."
I honestly have no idea what will happen come next Wednesday. There has been so much speculation all over the place that it's driving me nuts. Will this be only Japanese related information? Will new games be announced? Will this be a 3DS-only conference? So many questions! It's a good thing that we'll only have to wait a few more days to find out some details.


Next week, Nintendo will be revealing a Japanese launch date and price for the 3DS, along with other information about the handheld. But what about North America and Europe? Well, according to IGN, foreign press will not be able to attend the event, and it doesn't sound like Nintendo will be holding any sort of conference overseas. Because of this, it's very likely that most launch details will only pertain to Japan. This news worries me a bit that we won't see the 3DS in North America/Europe this year, but we won't know anything for sure until Wednesday.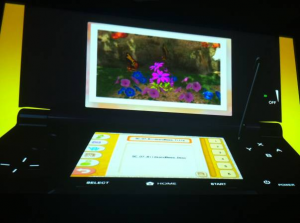 The image above – which is a confirmed picture from EA's My Garden demonstration video at TGS – indicates what the backlit buttons would look like on the 3DS. It's not exactly the biggest feature in the world, but I do think it's a nice touch. What do you guys think? Is it something you like? Or do you just not care?! Tell us how you feel in the comments section!