The information below supposedly comes from a GameStop employee…
"The computers for Gamestop have added the Nintendo 3DS in the system now, along with 18 games and 14 acessories listed as available for taking pre-orders on Sept 29th. They also have a listed a shipping date of Nov 22nd. (Since postal services are out on weekends, the Nov 20/2010 Sat is the most logical release date, as the orders would be delivered on Monday the 22nd)"
There's no question that a release in late November is a possible time frame for launch… But I just have trouble believing a story like this – especially since we don't even know if this person is truly a GameStop employee. I'm glad this will all be cleared up in a little less than two weeks.
Thanks to Thomas N for the tip!


Treasure has made quite a few titles for Nintendo's portable systems in the past. Based on a comment from Masato Maegawa, President of Treasure, it seems likely that the company will make at least one title for the 3DS as well. At the moment, Treasure doesn't have any projects in development for the platform. However, they are very excited about the system. So don't expect anything soon, but it's probable that we'll see something from them in the future!


This information comes from Team Ninja head of development Yosuke Hayashi…
"The 3DS in and of itself is easy to develop for. It's a handheld platform, which makes it relatively easy from a development standpoint. But being 3D, other than just the specs, we have to figure out how to use it well, how to use that effect. That's something we're having fun with, trying to figure that out. Up until now, 3D [in games] has not been an everyday experience. We think that with the 3DS, this will be the first time that anybody can get a 3D experience just about anywhere. It'll be just a part of everyday life. So we're trying to put out a 3D fighting game and see how that goes, and learn from that experience. We'll go from there to see where 3D should go, and how we can use 3D to make a deeper experience in the future."
"We knew that we'd be asked about the past, and about Team Ninja going forward, and what that's going to mean. We know that in making a new Dead or Alive and Ninja Gaiden we're going to be compared to our past titles. We're prepared to be judged by our work. We want people to take an honest look at the work that we do. If we were to make a new franchise that would be the easy way out, because people would have nothing to compare it to. But for us to go back and say we're going to make a Ninja Gaiden or Dead or Alive, and we're actually daring to do that, that's a statement for us. We're prepared to back that up with the games themselves."
An easy platform to develop for is a pretty big factor in getting third-parties to support a certain system. In this case, the 3DS is probably somewhat close to the DS. I'm sure a lot of developers are happy about that!


Matt Bozon/Sean Valesco/Adam Tierney on their interest in the 3DS…
Matt Bozon: "We are full speed ahead. Personally I'm a big fan of 3D comics and (I'll say it) Virtual Boy. So, this is everything I love with none of the negative elements that keep those kinds of things trapped in offbeat or nostalgia circles. 3DS is a true stereo visual experience that needs no special equipment. It's going to fly off the shelves, and we'll be there with the rad games."
Sean Valesco: "I love the glasses-less 3D, it's amazing. I've wanted analog control forever, and the extra processing power means we can do a lot more, too. The only caveat is that the top screen and touch screen are much more differentiated than the DS, meaning that you can't ever touch the 3D gameplay. It will be interesting to see how developers tackle this hardware, but needless to say I am over the moon!"
Adam Tierney: "I like that I can finally see something in 3D without having to wear goofy glasses. I'm very excited to be working on the system."


Even though we don't know when the 3DS will be released, we do know one thing about about a highly anticipated title for the system. At Konami's Tokyo Games Show press conference, Hideo Kojima confirmed that the game won't be released until next year. This shouldn't come as a huge surprise, as Kojima did say at E3 that he was still experimenting with the system. Hopefully it'll be out sooner rather than later, though!


The image below comes from EA's My Garden page…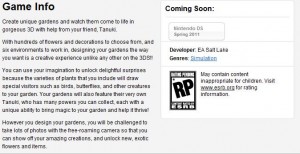 As you can see, My Garden is apparently going to be released in Spring 2011. EA stated in a press release earlier today that the project will be a launch title for the 3DS, so unless the listing above is inaccurate, that would indicate that the the handheld won't hit store shelves until 2011 in North America and Europe. Still, an official confirmation from Nintendo would be nice!






New Gardening Game to Blossom on Nintendo 3DS

REDWOOD CITY, Calif. – September 15, 2010 – The EA Play Label of Electronic Arts Inc. (NASDAQ: ERTS) today announced My Garden* (working title) for the Nintendo 3DSTM, a new title in development that will allow players to create custom gardens in a variety of unique and beautiful environments. Optimized for the coming 3-D platform, My Garden* will offer graphics that bring flowers to life in a vibrant and realistic manner. Digital gardeners will get to choose from hundreds of flower and plant varieties as well as unique items to design, cultivate and enhance landscapes. My Garden* is scheduled to be unveiled at EA's Tokyo Game Showcase on September 15, 2010.

"With My Garden*, our aim was simple: to make something beautiful that comes to life on the Nintendo 3DS like no other platform," said Rod Humble, Executive Vice President of the EA Play Label. "We hope to offer a game that's so immersive that it truly brings the delight of owning a garden to life through a visually stunning 3D experience."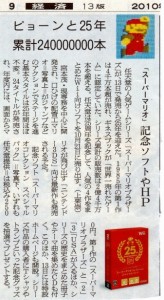 Ah yes… Another rumor about the 3DS. This time, though, the speculation is game-related. An article from Asahi Shinbun has apparently surfaced today, which claims Paper Mario 3DS will arrive this year in Japan. Of course, that would also mean that the system itself will be released in Nintendo's home territory before the end of 2010 as well.
Meanwhile, a number of signs that have popped up over the past several weeks have indicated that the 3DS will be out in Japan before year's end. Most recently, a now ex-employee from Keys Factory wrote on his Twitter account – which has since been closed – that the portable will hit store shelves on November 20 – although a spokesperson said that the company has yet to be informed of its official release date.