– Tons of third-party games in development
– Nintendogs + Cats
– Level-5, Square Enix on board
– Kingdom Hearts
– Resident Evil
– Metal Gear Solid
– DJ Hero
– Professor Layton
– Saints Row
– Street Fighter IV
– Assassin's Creed
– Splinter Cell


As expected, Nintendo has shared the news about its first game for the 3DS. It is being by Project Sora. Well-known developer Masahiro Sakurai is in charge of the project. The final name is called Kid Icarus: Uprising.


Following an initial, albeit vague announcement in late March, Nintendo is finally pulling back the curtain on the successor to the DS.
– Widescreen
– Bottom screen is touch screen
– Searches for Wi-Fi/3DS systems even when sleeping
– Can carry out Wi-Fi functions
– No monthly fee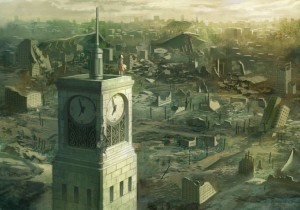 In April, Professor Layton developer Level-5 announced their latest project in Famitsu called Time Travelers. The company only decided to share only a few select details about the game as well as a piece of art.
However, based on a comment posted on Jiro Ishii's Twitter account, it seems likely that the title will receive a full unveiling at E3. Ishii, the game's director, said that his preparations are complete and that it's been ten years since he last visited Los Angeles. Time Travelers may very well be in development for the 3DS, as Level-5 CEO previously stated that it would be coming to "hardware that's not yet in this world."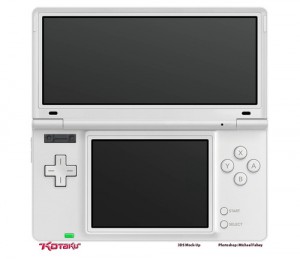 The image above is based on a drawing created by a Chinese blogger who says he has a 3DS development kit. There are also a number of unconfirmed details about the system, which we've posted below.
– 3D camera
– Differently-designed screens
– The blogger says "the effect of the [3D] screen is amazing."
– MP3/AAC hardware decode function
– Media player
– Will have a second, proprietary medium for 3DS games
– 3DS titles will fit on a card similar in size to a Compact Flash card
– May be able to put in 3DS and DS games in the same slot
– Might not have an analog stick
– Possible tilt sensor/accelerometer
– Might be as powerful as the Wii
Original drawing from the Chinese blogger below: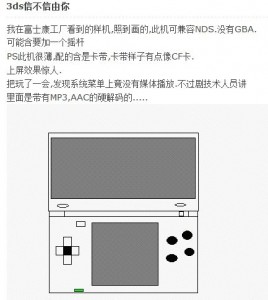 You know, I really can't wait until the 3DS is shown on Tuesday. All of the speculation and mock-ups are driving me crazy!