This information comes from Level-5's president, Akihiro Hino…
"We were originally developing it as a Nintendo DS title, but decided to switch gears and develop it as a Nintendo 3DS title instead. The game has really undergone some major changes as we've come to understand the capabilities of the Nintendo 3DS. Even Professor Layton's appearance is changing quite a bit, but you'll have to wait and see what I mean!"
Hmm… I'm curious to see what they've done to Professor Layton's appearance. The "major changes" sound interesting as well. Maybe we'll hear about the game tonight/early tomorrow.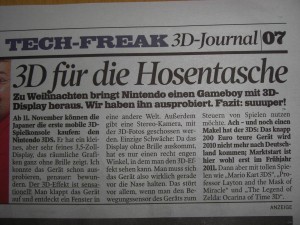 Oy vey. It's time for yet another rumor surrounding the 3DS. Today's edition of the German newspaper Bild claims to have information about the release date of the upcoming portable in Europe/Japan, as well as details regarding pricing and launch titles.
Bild states that the 3DS will arrive on November 11 in Japan this year, but sometime in the first quarter of 2011 in Europe. Mario Kart 3D, The Legend of Zelda: Ocarina of Time 3D, and Professor Layton and the Mask of Miracle were listed as launch titles in the newspaper. There was one additional detail Bild shared – it will supposedly cost 200 euros.
Even though you should most definitely take this rumor with a big grain of salt, there are a few things that should be noted. Bild is the best-selling newspaper in Europe, and they've apparently secured news prior to announcements. In 2005, when Satoru Iwata was set to unveil the Wii's controller for the first time at the Tokyo Game Show, Bild was told about it two days before Nintendo's president delivered his speech. So I suppose you could say Bild has a bit more credibility than your average newspaper, but I'm still not quite sure what to make of this rumor. Fortunately, it'll only be three more days until we start hearing official information about the 3DS.


This information comes directly from a Nintendo of America customer service representative…
"Thank you for writing. There will be an announcement on September 29th, 2010 regarding the Nintendo 3DS, however, we have no details regarding what that announcement will be. Be sure to frequent our official website, www.nintendo.com, for all the latest Nintendo news and information."
I honestly have no idea what will happen come next Wednesday. There has been so much speculation all over the place that it's driving me nuts. Will this be only Japanese related information? Will new games be announced? Will this be a 3DS-only conference? So many questions! It's a good thing that we'll only have to wait a few more days to find out some details.


Next week, Nintendo will be revealing a Japanese launch date and price for the 3DS, along with other information about the handheld. But what about North America and Europe? Well, according to IGN, foreign press will not be able to attend the event, and it doesn't sound like Nintendo will be holding any sort of conference overseas. Because of this, it's very likely that most launch details will only pertain to Japan. This news worries me a bit that we won't see the 3DS in North America/Europe this year, but we won't know anything for sure until Wednesday.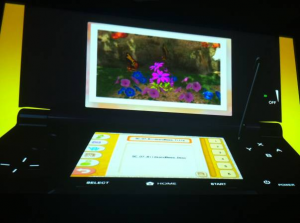 The image above – which is a confirmed picture from EA's My Garden demonstration video at TGS – indicates what the backlit buttons would look like on the 3DS. It's not exactly the biggest feature in the world, but I do think it's a nice touch. What do you guys think? Is it something you like? Or do you just not care?! Tell us how you feel in the comments section!




Donkey Kong Country Returns
– Craig played the latest build
– Saw another 6 levels
– Took him about 15 minutes
– There is a map screen
– You're on an island
– Rotate the island to go from level to level
– Clustered into different worlds
– Map is more 3D than it was in Donkey Kong Country
– Very easy to pick up and play
– Donkey Kong can climb walls, ceiling
– Needs to be grass texture
– Jumping is pretty forgiving
– Mario-esque mechanic: If you jump on three in a row, a coin will be dropped
– Spend coins on unlockables
– No talking in the game as far as Craig can tell
– There are sharks, jellyfish
– Rambi is in the game
– There is an enemy that is an ostritch and it is on stiltz
– Craig thought the silhouette was really cool
– In the background of that level, when the rock structures come together to form a banana, and it unlocks a secret if you wait a bit
– Similiar secret unlocked when the sun is setting
– Mine cart level in the demo
– In this particular level, when you jump, the cart jumps with you
– Jump with a button, not motion controls
– Cart is following a set path
– Traditional platforming
– Clever visual tricks
– Craig didn't see any story moments


A week from today (give or take a few hours), we'll finally know when the 3DS will be released and how much it'll cost. It's very likely that we'll hear additional details about the system as well, such as Nintendo's online plans for the system. While not an extremely significant tidbit, it has been confirmed today that the Big N will share all of the new 3DS information at the Makuhari Messe. Ironically, that's the same venue where the Tokyo Game Show was held last week – of course, we know Nintendo hasn't been a part of TGS the past several years.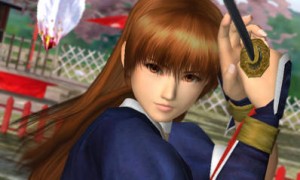 – Team Ninja head Yousuke Hayashi wasn't told about the 3DS' 3D when Nintendo showed him the hardware for the first time
– Hayashi believed the 3DS could handle a fighting game well
– After Hayashi learned about the 3D, he thought that aspect would make an even more amazing product
– Better to say that the game started with the desire to bring Dead or Alive to a handheld rather than make it 3D
– 3D development was a learning experience for Hayashi
– Hayashi feels that 3D is more about showing depth rather than having objects popping out of the screen: "It's a method for showing things realistically."
– More dynamic elements in stages (in reference to being able to run into objects, objects falling off cliffs)
– Team Ninja wants to start the Dead or Alive franchise again, Dimensions is a part of this
– Characters everyone expects will be in the game
– No release time frame yet
– Development progressing smoothly
"I've thought from before that there was great potential for fighting games played on a portable game machine. However, the reality was that there was no hardware that matched this. When I first saw the 3DS, I felt that with this performance, it could be done."


Keep in mind that the details below have not been confirmed. But apparently, an anonymous source who is familiar with the 3DS has provided IGN with the information below.
– Two 266MHz ARM11 CPUs
– 133MHz GPU
– 4MBs of dedicated VRAM
– 64MBs of RAM
– 1.5GBs of flash storage
– Some variation of the ARM11 processor (ARM11 powers the Zune HD, some Android smartphones, previous iPhone/iPod touch models)
– DMP's PICA200 GPU, which has a maximum processing speed of 200MHz, has apparently been scaled back a bit for the 3DS
– Developers have compared graphics to current-generation consoles like the Xbox 360 and PlayStation 3, but on smaller/lower-resolution screens
– 1.5GBs of flash memory (DSi has 256MBs)
– Expand total drive space with an SD card