Zen Studios is bringing Zen Pinball 2 to the Wii U eShop. The game previously released on the PlayStation 3 and Vita.
Zen Pinball 2 has a confirmed launch month of December in Europe. It will likely arrive on the North American eShop around the same time.


Indie developer WaterMelon said that if it reached its goal of $200,000 on Kickstarter, it would bring Pier Solar and the Great Architects to the Wii U eShop. The achievement was reached earlier today – a little less than two days before the campaign ends.
For those wondering, the Wii U version won't be included as a reward/add-on. A message from the developer reads:
We will unfortunately not be adding the Wii U version as a reward or ADD-ON as we just do not have enough time left at this point.
Each of your pledge's are directly what helped make it a reality in the first place, so thanks for your support!

The Wii U version of Pier Solar HD will be available for purchase once it is officially released late next year, so it won't make any difference if you pledged now or purchased it then – that's when it will be released regardless.

Thank you for your understanding and support everyone – we can't express this enough!
Pier Solar and the Great Architects is a long way off from launch, but I'm sure we'll be hearing a lot more about it throughout the next year.


Frozenbyte has news about all-things Trine 2: Director's Cut. A member of the studio commented on the game's sales thus far, the possibility of having a sale on the North American eShop, the contents of December's update, demo, and Australian release.
All of the information can be found below.
Sales
– Frozenbyte pleased with sales
– No specific numbers yet
– Don't count on Frozenbyte sharing data publicly
eShop sale
– 20% discount only in Europe right now
– Originally wanted to do the same discount in North America
– 20% discount could be initiated for North America for the holidays, but nothing is set in stone
Update
– Releasing in mid-December
– Adds voice chat
– Also adds Wii U controller support
– Minor fixes
– New langues like BR-PT
– Additional vividness to the graphics
Demo
– Releasing next month
Australian release
– Not out yet because it was submitted to the OFLC too late
– In the process of being rated now
– Once this is done, the game should go up very quickly
– Estimated release of mid-December


Software
New Super Mario Bros U
ZombiU
Trine 2: Director's Cut
Nano Assault Neo
Sonic & All-Sars Racing Transformed
Scribblenauts Unlimited
Assassin's Creed III
Little Inferno
Mighty Switch Force! Hyper Drive Edition
Nintendo Land
Darksiders II
Ninja Gaiden 3: Razor's Edge
Warriors Orochi 3 Hyper
Madden NFL 13
Disney Epic Mickey 2: The Power of Two
Tekken Tag Tournament 2: Wii U Edition
Chasing Aurora
Just Dance 4
Rabbids Land
EA Sports FIFA Soccer 13
We'll be adding these charts to our regular rotation of charts (alongside the 3DS one!).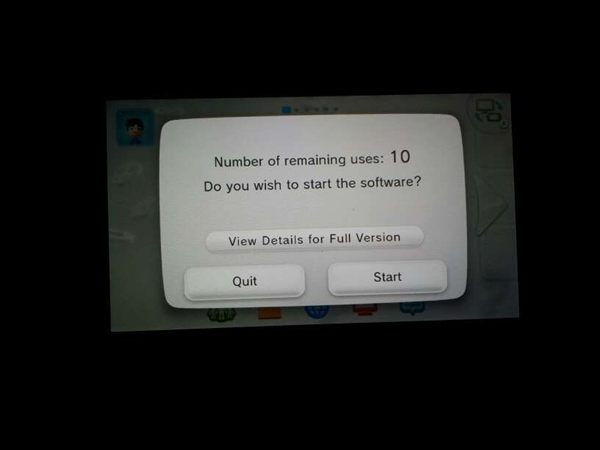 As is the case with the 3DS, Wii U demos have play limits.
FIFA 13, the first game to ever receive a demo on the Wii U store, can only be accessed ten times. Once this limit has been reached, the trial won't launch.
Play locks will likely vary between demos. On the 3DS, we've seen downloads that maintain a limit as few as five and as high as thirty. There's even been one instance in which unlimited plays have been offered.
EA's FIFA 13 demo is only available on the European eShop at the moment. A Rayman Legends demo should be on the way to the North American and European Wii U stores in the near future.


Following the release of Mighty Switch Force! on the 3DS eShop, WayForward created a free update that brought along five new levels and other small changes. Could something similar happen with its console brother, Mighty Switch Force! Hyper Edition?
When asked about the possibility, Voldi Way said:
"You know it's hard to say just yet. I mean we don't have any plans, I should say that. Then again, we didn't have any plans to add new levels for the first one. If it does well and people like it then yeah we'll keep adding stuff."
And WayForward level designer Chris Schroder added:
"We can keep on adding levels if you guys want."




Full game downloads:
Assassin's Creed 3 – £54.99
Ben 10 Omniverse – £35.99
Darksiders 2 – £49.99
Family Party 30 Great Games: Obstacle Arcade – £27.99
FIFA 13 – £49.99
Just Dance 4 – £39.99
New Super Mario Bros. U – £49.99
Nintendo Land – £49.99
Rabbids Land – £39.99
Sonic & All-Stars Racing Transformed – £39.99
Sports Connection – £39.99
Tekken Tag Tournament 2 Wii U Edition – £37.49
Warriors Orochi 3 Hyper – £49.99
Your Shape: Fitness Evolved 2013 – £39.99
ZombiU – £54.99
eShop Exclusives
Chasing Aurora – £10.79
Little Inferno – £12.99
Nano Assault Neo – £8.99
Puddle – £7.19 (Launch offer. Valid until 31/12/2012)
Trine 2: Director's Cut – £10.99 (Launch offer. Valid until 31/12/2012)
Applications
Netflix – Free
Uplay – Free
YouTube – Free
Demos
FIFA 13
Videos
Chasing Aurora – Release Trailer
FIFA 13 – Trailer
Funky Barn – Gameplay Trailer
Little Inferno – Trailer 1
Little Inferno – Trailer 2
Nano Assault Neo – Video
New Super Mario Bros. U – Trailer
Puddle – Developer Interview
Puddle – Video
Toki Tori 2 – Video
Trine 2 Director's Cut – Video


Wii U owners can now grab Ubisoft's Uplay app from the eShop. It's only a 43MB program, so it shouldn't take long to download and install.
If you can't locate the app on the eShop, search for "Uplay" and it should pop up in the results.