Fire Emblem Warriors devs on characters and handling of reveals, designs, story, systems, modes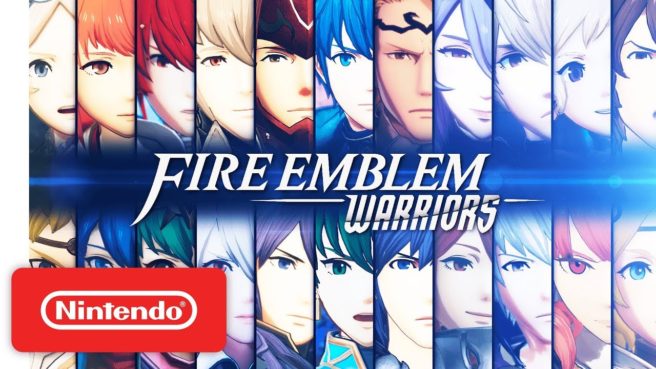 A story where [characters] gather to the Shield of Flames, and monster designs
ND: From here on we'd like to hear about things we've been playing. First of all regarding the plot: how were the details decided on you making a story about placing Gleamstones on the Shield of Flames?
Usuda: First of all we do want to develop a story that is familiar and does not stray away from Fire Emblem. Characters from various games are going to appear here, so having heroes gather under the Shield of Flames seems to fit well for us. Then just like the Gleamstones gathering on the Shield of Flames, the story links to heroes gathering in.
Hayashi: We had the same way of making [the story] as Hyrule Warriors. For example in that game we had the Master Sword being pulled at about two-thirds of the endgame; a story that is to be expected by fans. In case of Fire Emblem, some games may not have had the Shield of Flames, but just like in Awakening you're gathering something, and at first you were running away from something; there's this common storyline. We talked about that with the staff, and we created it to deliberately include parts that are anticipated by users without doing something outrageous.
ND: So as we're hiding some parts of the story [from being talked about], in the Awakening chapter why did you have Lucina appear as Masked Marth?
Usuda: If I had to say, it's because we're talking about the presentation side. Like, we want to reproduce this scene from the original game! (laughs) Speaking of Lucina's appearance, it has to be that scene where she rescues [the heroes who were] attacked by monsters while being masked. So we're prioritizing her appearance on the image and homage to the original games. We decided on the more detailed story parts, for example the scene where [Shion/Rowan] opens his eyes to see Chrom and Lissa.
ND: So you had such an intention when you had Shion/Rowan fall off a cliff.
Usuda: That's right. We really wanted to have a scene of Shion/Rowan opening his eyes while facing upwards, so we had him fall off a cliff.
Hayashi: I thought that was borderline [dangerous] though (laughs).
Usuda: We were thinking to create a situation where when he opens his eyes, Chrom and the others are there. Shion/Rowan is not alone in the first place, so we couldn't have him taking a nap. So he ended up rolling down from a cliff (laughs).
ND: Other than that, could you also tell us about the monsters that attack these original characters, including Shion/Rowan?
Usuda: We struggled with the monster designs. We were almost able to make images of monsters based on the beast-types, corpse-types (eg. Awakening's Risens), or Nosferatus from the original games, but when we actually started working on it, we wondered "What kind of monster would fit Fire Emblem in the first place?"
Matsunaga: It was hectic. We did have examples with the Nosferatus, and clear settings like they would be related to the Chaos Dragon and look like Cyclops… so I believed they would be easier [to design] than the hero characters, and I put them high up somewhere. And after we settled with the design, when we tried implementing them in 3D, Hayashi said…
Hayashi: "This [looks like] a plushie."
(everybody laughs)
Matsunaga: We produced the monsters at the end phase of the development, but we were insensitive when we failed to interpret the muscular texture. Hayashi had a calm speaking tone, but you can tell there's a deep warning when you look at his face expression, so I was reminded that we were in a bad situation.
Usuda: That's why we fixed the monsters until nearing the deadline.
ND: How did you settle with it?
Matsunaga: We simply revised them by making use of the original settings. We emphasized the original crustacean exoskeleton to make them look more aggressive, and we also made them eerie again by giving them colors based on poisonous creatures. I'm really glad that we could have them settled as fodder characters that customers would just take a short glance at them.
Hayashi: In Warriors games you'll be fighting a lot of enemies, so it'd be more fun if you blow away silhouettes that don't look humanoid. That's why silhouettes are also important, but it isn't good either if we emphasize too much on that, so it was hard to take a balance.
Leave a Reply