Glaceon revealed as latest Pokemon offering from Build-A-Bear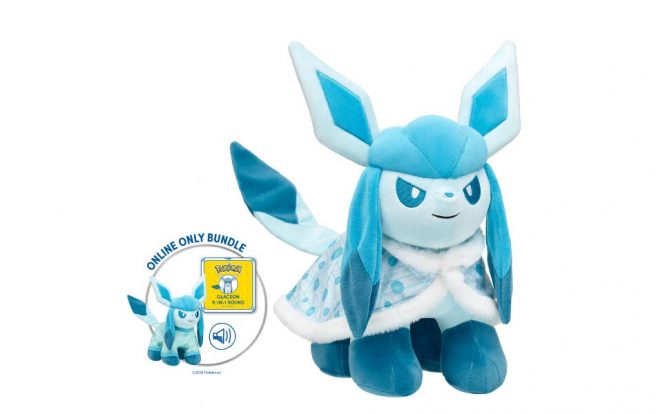 Build-A-Bear is expanding its Pokemon line once again with a new product, this time for the Ice-type creature Glaceon. It was just added to the company's site today and consumers can order one for themselves now.
Glaceon comes with a 5-in-1 sound chip, cape, and sleeper. The Pokemon itself is described as "a blast of fresh air with its frosty blue fur, long tail and diamond-shaped ears."
Other than Glaceon, Eevee has a number of other evolutions, and most of them are up on Build-A-Bear. The company has previously sold Vaporeon, Jolteon, Flareon, Espeon, and Umbreon. Leafeon and Sylveon are now the only two that remain. If we had to guess, both will have their own plushies in the near future.
It's been a pretty busy 2021 as a whole when it comes to Pokemon at Build-A-Bear. Mew was revealed back in February, followed by Scorbunny in May, the aforementioned Espeon and Umbreon in August, and then Gengar in September. Also remember that while it wasn't Pokemon-related, K.K. Slider from Animal Crossing received his own plushie a few months ago.
For those in North America, you can order the Build-A-Bear Glaceon here. Those in the UK can place an order here.
Leave a Reply