[Interview] Zoink on Stick it to the Man for Wii U, WeeWaa, 3DS interest, more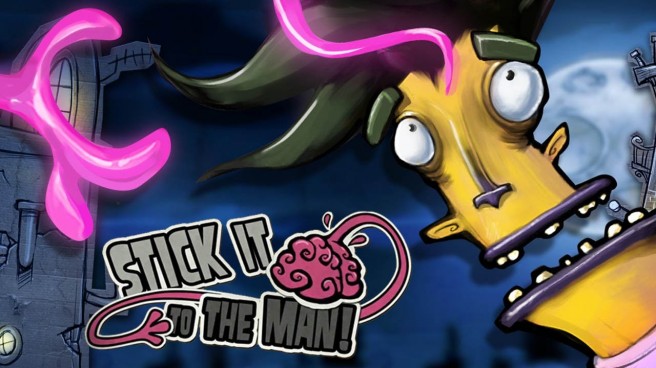 A couple of weeks ago, Stick it to the Man was confirmed for Wii U. We caught up with Zoink founder Klaus Lyngeled following publisher Ripstone's announcement to find out more about the game. We also asked about WeeWaa, interest in the 3DS, and more.
You'll find our full interview with Lyngeled after the break.
What are the origins of Stick it to the Man's Wii U port? What was behind the decision to bring the game to Nintendo's console?
We thought why not. We are using Unity to develop the game and Unity supports Wii U so it was actually fairly easy to bring it to the Wii U. Although once we got started we really wanted to do something fun with the Wii U GamePad. It's just such a fun device that deserves special features.
Stick it to the Man has been released on other platforms previously; what makes the Wii U version unique?
That would be the mind reading feature we created for the Wii U GamePad.
Players will be able to hear people's thoughts by pointing the GamePad at their brains. Can you share more information about this feature?
Yes, once you lift the GamePad up it goes into Mind-read Mode. You can then move the pad around like a search device and scan for brains in the environment. Attach to a brain and you will start to hear their thoughts through the speaker on the pad. It's quite quick and intuitive, and a really unique feature that makes the experience much richer as you separate the world and the mindreading world from each other. When you are not mindreading, the GamePad displays a map of the world.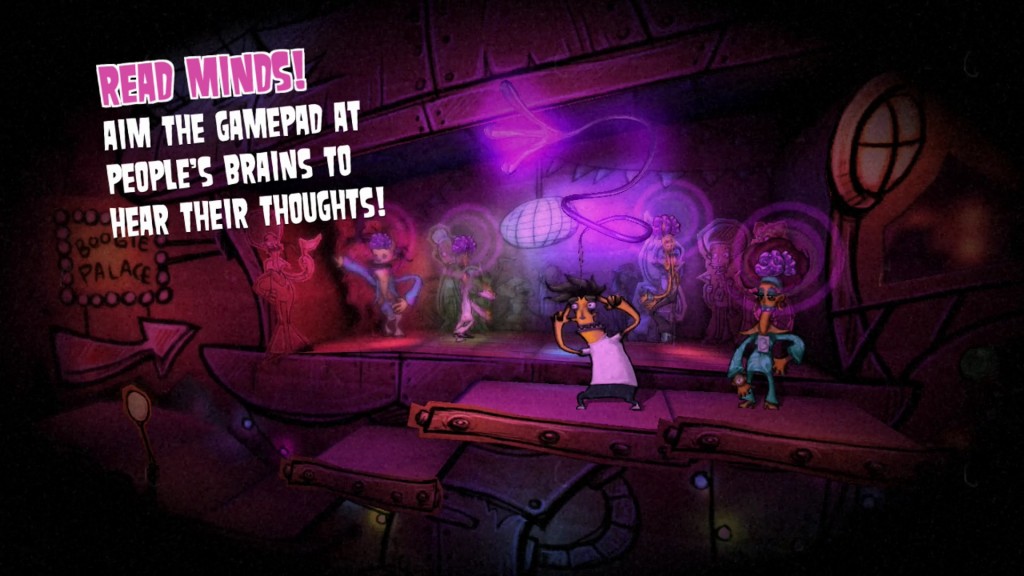 Does the game support off-TV play?
Yes, it does.
Are there any future plans to work with script-writer Ryan North, author of the Adventure Time comic book series, again?
Yes, we are already hard at work on our next title and Ryan has shown a strong interest in working with us again. He is amazing.
Given that Kenny Rogers' "Just Dropped In", made famous in part due to its inclusion in the hypnagogic 'Gutterball' sequence of the Joel and Ethan Coen movie "The Big Lebowski, was licensed in Stick It To The Man, we can only assume you're all big, big fans of the Coen directing duo and their movies. If so, what is your favorite movie by them?
Yes, I am fan of Coen brothers and of course The Big Lebowski is one of my favorites. I also really like Fargo, although I did get a little tired of it, my wife is a fan and we have probably seen that movie 40 times :).
The inky air about Stick It to the Man, in tandem with the notable Gauguin-like yellow skin tones of the denizens of the world you've built, seems to exist in the periphery between conscious and unconscious, in a nightmarish, surrealist state. Were you dreaming while you were making this game?
Haha! It's funny because there is dream sequences in the game, but it was hard to make them look really dreamlike and weird because the normal world already looks really surreal.
Comic books, short animation and …art is portrayed in lots of different styles. Maybe gaming has been a little underfed by stronger styles, so to gamers this might feel like a slap in the face. I picked this style because it felt rough and raw, like the story and the humor.
Zoink has put out quite a number of iOS titles over the past couple of years. Is the studio still committed to console development?
We started out with consoles (The Kore Gang) and then we did iOS titles for a while. But I always preferred consoles and "full-screen" experiences, big games. For now we continue with consoles and PC.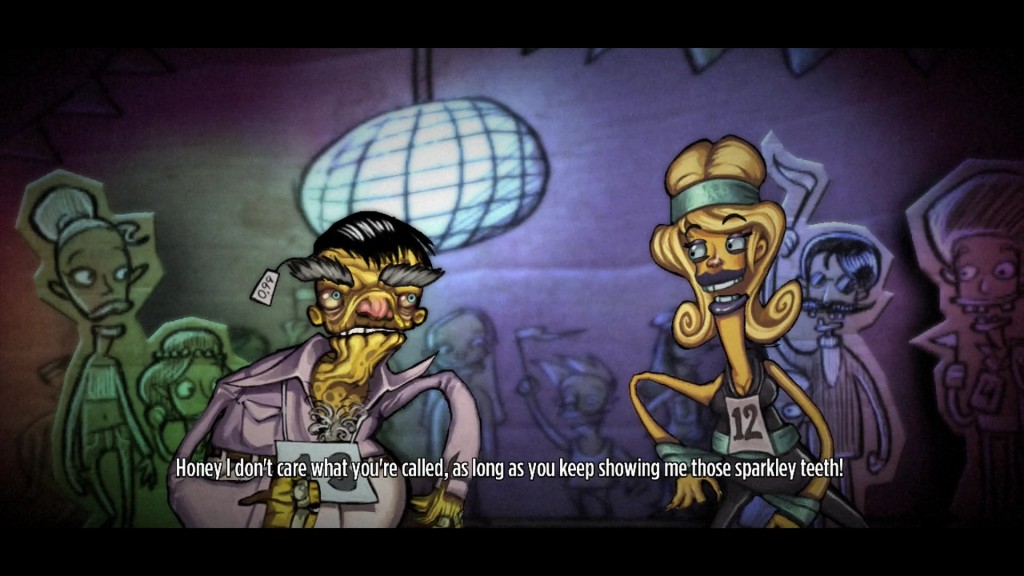 Is a sequel to Stick It to the Man something that the team has thought about given the game's strong reception? Or is it too soon to be thinking about a sequel at this time?
We have so many other stories we want to tell, so we are taking a break from Ray and working on something else at the moment. But you can expect more of the same style and humor!
Zoink has previously expressed some interest in bringing the original WeeWaa to Wii U. Is this something that's still being considered – perhaps as a reworked eShop download?
I would love that! Still think it's one of my best ideas, but we need a really strong partner for the plushtoy. Here is a question for the readers… should we run a Kickstarter for WeeWaa?
Does Zoink intend to continue making games for Wii U in the future?
Yes!
How did it feel to finally see the release of The Kore Gang in 2010 on Wii, given that it'd been in development for almost a decade?
Mixed feelings. The game was originally developed for Xbox and was put on ice for 5-6 years almost. I think the Xbox version was a bit tighter in gameplay and looked better. We did not handle the conversion from Xbox to Wii. It was a different studio in Germany, they did a great work with the resources they had, but it was a complicated situation.
Has the company explored/considered 3DS development? Does Zoink have any interest in the platform?
We would like to and we are actually considering it for our new project.
---
A huge thanks goes out to Klaus Lyngeled for taking the time to answer our questions as well as Ripstone's Michelle Senior for arranging the interview!
Leave a Reply