Mario Golf: Super Rush giving Luigi overalls as Ranked Match reward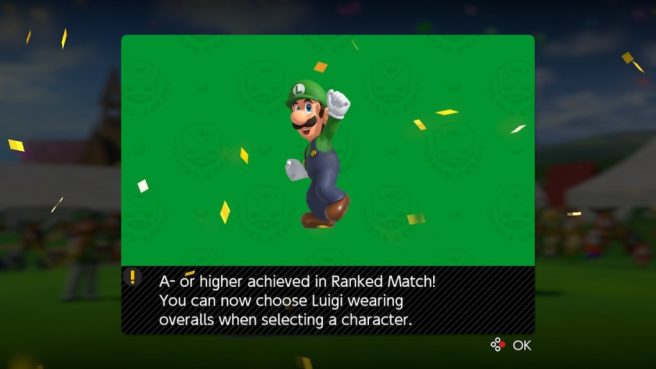 May is just now underway, which means there's an opportunity to earn a new Ranked Match reward in Mario Golf: Super Rush for Luigi. This time around, players can unlock the character's classic look with overalls as pictured above.
Just like in previous months, players will need to reach the rank of A- or above in the online Ranked Match mode by accumulating points. Earn points by playing these types of online matches, doing well in them, and defeating higher ranked opponents. You can then use Luigi's overalls by going to the character select screen in Mario Golf: Super Rush, hovering over the characters, and pressing the "L" button to swap.
Despite Nintendo largely moving on from Mario Golf: Super Rush, the game has still seen a new unlockable cosmetic reward on a monthly basis. Previously, the game added a Boo visor, a few new colors for Toad, new colors for Koopa Troopa, Mario's classic overalls, a NES Open Tournament Golf outfit for Mario (as well as one for Luigi), Shy Guy colors, and most recently Yoshi colors.
Mario Golf: Super Rush first debuted on Switch back in June 2021. For more on the game, check out the official website here.
Leave a Reply