[Nintendo Everything Podcast] – episode #50 – Tokyo Mirage Cessations #Censorship , Pokemon, Activision-Blizzard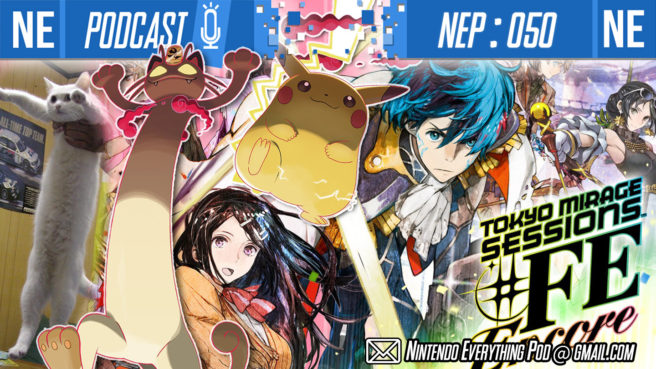 Hello, my pop stars and mirages! This week on NEP, it's nonstop controversy. Tokyo Mirage Sessions #FE Encore is going to be censored in all regions, including Japan. What does that mean? What really happened? There's a lot of misinformation out there, so let us break it down for you. Same thing with Activision-Blizzard recently. Overwatch came out on the Switch this past week—did you notice? We do our best to inform you on what's going on. And we lighten things up with some heavy, chonky Pokemon announcements. Longcat Meowth is a good boy. Plus, our ideal Pokemon catching tutorial stories. We tidy things up with a chat about Xenoblade Definitive Edition thanks to our lovely listener mail.
If you're enjoying NEP, please consider giving us a 5 star review on Apple Podcasts, aka new iTunes. It's incredibly helpful in getting us exposed to new listeners through algorithms, so we would greatly appreciate your help. Thank you for listening!
Timestamps:
08:36 – Adventure Log: The Alliance Alive HD, Golf Story!
31:38 – News: Tokyo Mirage Sessions #FE Encore. Censorship controversy rears its head. What could've been done from a localization standpoint? Oni Dino gives his two cents.
59:10 – News: Pokemon Sword Shield gameplay details and big, chonky Pikachu.
1:15:51 – Overwatch launches with little fanfare. What's going on in Hong Kong and why is this Blitzchung thing a big deal?
1:28:32 – Additional DLC
1:30:45 – Listener mail: Xenoblade Definitive Edition and what we want quality of life improvements we want to see for the remake.
Send us an email and we'll discuss it!
NintendoEverythingPod@gmail.com
Additional DLC:
Listener Bonus: Help the show grow and support us by giving us ☆5 STAR☆ iTunes review! Thank you!
YouTube
Apple Podcasts / iTunes: https://apple.co/2xLl0C5
Spotify: https://spoti.fi/2Gdgoch
Direct Download
PocketCasts: https://pca.st/IQVa
Stitcher: https://bit.ly/30uxOZR
PlayerFM: https://bit.ly/2yfCu9P
ListenNotes: https://bit.ly/2SINTbG
PodTail: https://bit.ly/2yfDgDL
Oni Dino's YouTube "Gayme Married": https://bit.ly/2JK21xd
Oni Dino's Twitter: @Oni_Dino
Oni Dino's Insta: Oni__Dino
Galen's Twitter: @mobius087
Galen's Insta: true_mobius
HUGE thank you to Headphones of Listening for NEP's intro music! Check him out on soundcloud!
Leave a Reply