[Nintendo Everything Podcast] – episode #57 – SNES love, Zelda Maker, Luigi's Mansion: RE-turn to Sriracha Land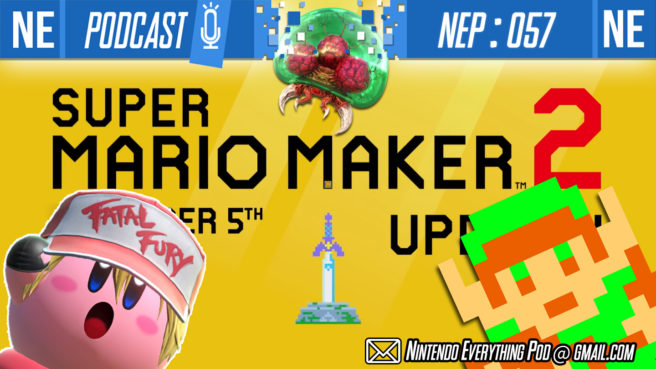 Hello my 8-bit and 16-bit beauties. This week on NEP, we accidentally pitch our ideas for the next Luigi's Mansion game (and the next) in a fervor of excitement. Then, Oni Dino is excited about Heroland while Galen critiques Bioware's Anthem. Oni Dino goes on to talk his love for Breath of Fire II and Galen muses on the "Zelda II Maker" update we received in Super Mario Maker 2, and what Maker could be next. We then read some listener mail leading into next week's The Game Awards, a New Year Nintendo Direct and Super Mario Sunshine… 2?
If you're enjoying NEP, please consider giving us a 5 star review on Apple Podcasts, aka new iTunes. It's incredibly helpful in getting us exposed to new listeners through algorithms, so we would greatly appreciate your help. Thank you for listening!
Timestamps:
07:05 – Adventure Log: Luigi's Mansion 3, Heroland, Anthem, Astral Chain
57:33 – News: New SNES and NES games coming to Nintendo Switch Online, and they're all really good ones. Let's talk about region differences, and Oni Dino gives a heartfelt synopsis of Breath of Fire, Capcom's first RPG series.
1:21:00 News: Super Mario Maker 2, update 2.0 comes with Zelda II Maker. Kind of.
1:36:24 – Additional DLC
1:40:42 – Listener mail: Mario remakes, sequels, Nintendo demakes, Kirby Bogard, The Game Awards, Nintendo Directs—we got 'em all!
Send us an email and we'll discuss it!
[email protected]gmail.com
Additional DLC:
Listener Bonus: Help the show grow and support us by giving us ☆5 STAR☆ iTunes review! Thank you!
YouTube
Apple Podcasts / iTunes: https://apple.co/2xLl0C5
Spotify: https://spoti.fi/2Gdgoch
Direct Download
PocketCasts: https://pca.st/IQVa
Stitcher: https://bit.ly/30uxOZR
PlayerFM: https://bit.ly/2yfCu9P
ListenNotes: https://bit.ly/2SINTbG
PodTail: https://bit.ly/2yfDgDL
Oni Dino's YouTube "Gayme Married": https://bit.ly/2JK21xd
Oni Dino's Twitter: @Oni_Dino
Oni Dino's Insta: Oni__Dino
Galen's Twitter: @mobius087
Galen's Insta: true_mobius
HUGE thank you to Headphones of Listening for NEP's intro music! Check him out on soundcloud!
Leave a Reply