[Nintendo Everything Podcast] – episode #58 – Our opinions are a sham: The Game Awards reactions and Indies Showcase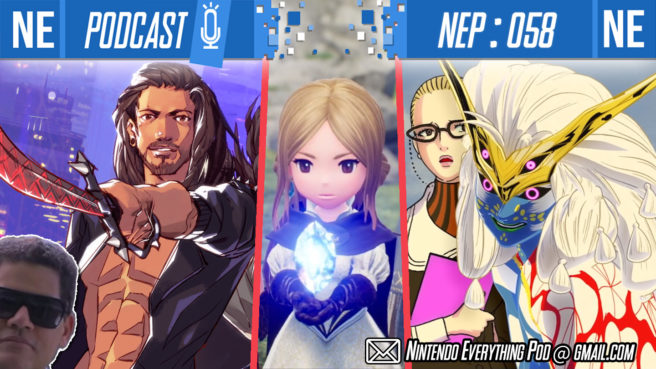 Hello my beautiful indie darlings. This week on NEP, join Oni Dino and Karen on some big topics! We're talking The Game Awards: is it really a good celebration of video games? Is it really the biggest night in gaming? We also discuss the Nindie Showcase from earlier this week (including weighing in on the Gleamlight backlash)—Reggie says it best: indies are the most important in the industry! We also chat Resident Evil 3 Remake, and Oni Dino has tips for the newly released, unconventional JRPG, SaGa Scarlet Grace: Ambitions.
If you're enjoying NEP, please consider giving us a 5 star review on Apple Podcasts, aka new iTunes. It's incredibly helpful in getting us exposed to new listeners through algorithms, so we would greatly appreciate your help. Thank you for listening!
Timestamps:
07:14 – Adventure Log: Resident Evil 3 Remake?
26:20 – Adventure Log: SaGa Scarlet Grace: Ambitions
45:29 – News: December's Nindie Showcase! Our impressions. Also weighing in on the Gleamlight backlash.
1:39:30 – News: The Game Awards. Winners, new announcements with Bravely Default II and No More Heroes III trailer. Then our opinions on The Game Awards as a representation of video games.
2:24:24 – Listener mail: How we consume games. How to decide on what to play next with so many good games out there.
Send us an email and we'll discuss it!
[email protected]gmail.com
Listener Bonus: Help the show grow and support us by giving us ☆5 STAR☆ iTunes review! Thank you!
YouTube
Apple Podcasts / iTunes: https://apple.co/2xLl0C5
Spotify: https://spoti.fi/2Gdgoch
Direct Download
PocketCasts: https://pca.st/IQVa
Stitcher: https://bit.ly/30uxOZR
PlayerFM: https://bit.ly/2yfCu9P
ListenNotes: https://bit.ly/2SINTbG
PodTail: https://bit.ly/2yfDgDL
Oni Dino's YouTube "Gayme Married": https://bit.ly/2JK21xd
Oni Dino's Twitter: @Oni_Dino
Oni Dino's Insta: Oni__Dino
Karen's Twitter: @mobius087
Karen's Insta: true_mobius
HUGE thank you to Headphones of Listening for NEP's intro music! Check him out on soundcloud!
Ending song by BotanicSage
Leave a Reply