[Nintendo Everything Podcast] – episode #59 – Reviewing Nintendo's 2019 with self-congratulatory booty claps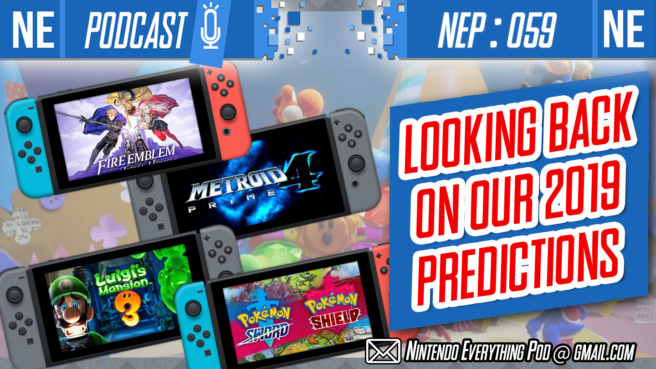 Hello my coffee-flavored Gooigis. This week on NEP, we're looking back on our predictions of 2019 and seeing what we got right, wrong, and what was totally unexpected. Luigi's Mansion 3, Fire Emblem: Three Houses, Pokemon Sword and Shield and more–it's funny how much our perspectives changed in under one year.
If you're enjoying NEP, please consider giving us a 5 star review on Apple Podcasts, aka new iTunes. It's incredibly helpful in getting us exposed to new listeners through algorithms, so we would greatly appreciate your help. Thank you for listening!
Timestamps:
05:54 – Adventure Log: SaGa Scarlet Grace: Ambitions
17:09 – Adventure Log: Bloodstained: Ritual of the Night
28:56 – Adventure Log: The Talos Principle
36:39 – News: Luigi's Mansion 3 multiplayer DLC details.
42:29 – Review of Nintendo's 2019! Looking back on our predictions and arguing like besties.
1:23:01 – Additional DLC
1:25:55 – Listener mail: Story time and Pokemon time
Send us an email and we'll discuss it!
[email protected]gmail.com
Additional DLC:
Oni Dino: Kinect: Xbox 360's most successful failure – Stop Skeletons From Fighting
https://youtu.be/MmJ3LICVtsY
Galen: Interview with Youtube CEO Susan Wojcicki
https://youtu.be/3ap6PTQUMf4
Listener Bonus: Help the show grow and support us by giving us ☆5 STAR☆ iTunes review! Thank you!
YouTube
Apple Podcasts / iTunes: https://apple.co/2xLl0C5
Spotify: https://spoti.fi/2Gdgoch
Direct Download
PocketCasts: https://pca.st/IQVa
Stitcher: https://bit.ly/30uxOZR
PlayerFM: https://bit.ly/2yfCu9P
ListenNotes: https://bit.ly/2SINTbG
PodTail: https://bit.ly/2yfDgDL
Oni Dino's YouTube "Gayme Married": https://bit.ly/2JK21xd
Oni Dino's Twitter: @Oni_Dino
Oni Dino's Insta: Oni__Dino
Galen's Twitter: @mobius087
Galen's Insta: true_mobius
HUGE thank you to Headphones of Listening for NEP's intro music! Check him out on soundcloud!
Ending song by I am Jemboy on YouTube!
Leave a Reply