[Nintendo Everything Podcast] – episode #60 – 2019 Game Of The Year: Oni Dino Galen Game Awards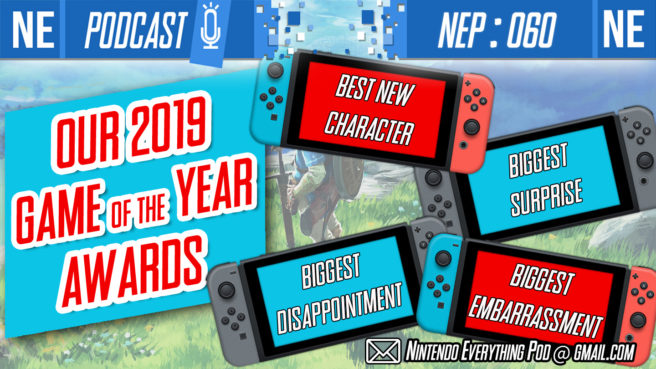 It's the last episode of NEP of the decade! Join Oni Dino and Galen as they give their personal awards across the nightmare-scape that is gaming in 2019. Biggest surprise, biggest embarrassment/controversy, best new character, and so much more. The gang employs a process of elimination that requires bargains, arguments, concessions and a whole lot of passive aggressive love. What will win? How will we compromise? Who won't make it out alive?
If you're enjoying NEP, please consider giving us a 5 star review on Apple Podcasts, aka new iTunes. It's incredibly helpful in getting us exposed to new listeners through algorithms, so we would greatly appreciate your help. Thank you for listening!
Timestamps:
07:22 – Biggest Surprise (in a positive sense)
19:30 – Biggest Embarrassment / Biggest Controversy
41:07 – Best New Character
50:14 – Best Non-2019 Game
1:05:33 – Best Paperweight Game
1:14:20 – Biggest Disappointment
1:29:41 – Game of the Year
Send us an email and we'll discuss it!
NintendoEverythingPod@gmail.com
Listener Bonus: Help the show grow and support us by giving us ☆5 STAR☆ iTunes review! Thank you!
YouTube
Apple Podcasts / iTunes: https://apple.co/2xLl0C5
Spotify: https://spoti.fi/2Gdgoch
Direct Download
PocketCasts: https://pca.st/IQVa
Stitcher: https://bit.ly/30uxOZR
PlayerFM: https://bit.ly/2yfCu9P
ListenNotes: https://bit.ly/2SINTbG
PodTail: https://bit.ly/2yfDgDL
Oni Dino's YouTube "Gayme Married": https://bit.ly/2JK21xd
Oni Dino's Twitter: @Oni_Dino
Oni Dino's Insta: Oni__Dino
Galen's Twitter: @mobius087
Galen's Insta: true_mobius
HUGE thank you to Headphones of Listening for NEP's intro music! Check him out on soundcloud!
Cold open song by Jaden Phoenix on YouTube
Leave a Reply