[Nintendo Everything Podcast] – episode #73 – Nintendo Direct Mini Special, RE3, Animal Crossing: Social Distancing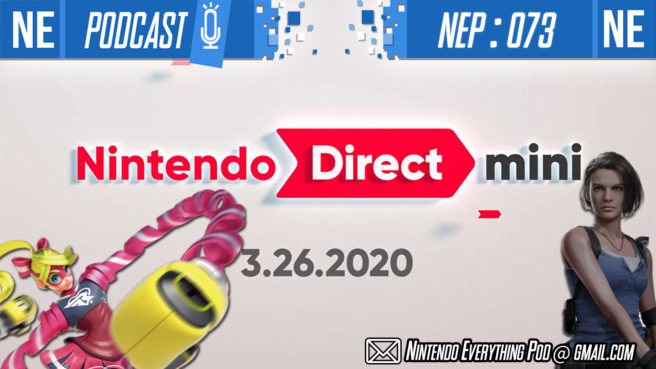 Hello my mini listeners! This week on the Nintendo Everything Podcast, we celebrate a drop of water in a desert with the Nintendo Direct Mini! Xenoblade, Bravely Default II demo, ARMS in Smash, Good Job!—there were a lot of highlights. And just before then, we've got more on why Animal Crossing is the perfect answer to social distancing. If you were ever curious what the first week of New Horizons is like, Mary's got you covered. Galen also shares the tragic backstory he's role-playing his Animal Crossing villager with. And the gang discusses a double dose of horror-action with the Resident Evil 3 demo and The Evil Within 2.
If you're enjoying NEP, please share us with a new listener and/or give us a 5 star review on Apple Podcasts. It's the best way to support us, and gets us exposed to new listeners through algorithms. We would greatly appreciate your help! Thank you for listening!
Timestamps:
03:07 – Adventure Log: Animal Crossing New Horizons. One week later. Online reactions, memes, Animal Crossing Twitter, just vibin'.
32:55 – Adventure Log: Resident Evil 3 Demo. Nemesis a big boy.
54:21 – Adventure Log: The Evil Within 2. A fine Silent Hill.
1:06:46 – News: Nintendo Direct Mini!
1:56:36 – Additional DLC
Additional DLC:
Business inquiries and listener mail contact:
[email protected]gmail.com
Listener Bonus: Help the show grow and support us by giving us ☆5 STAR☆ iTunes review! Thank you!
YouTube
Apple Podcasts / iTunes: https://apple.co/2xLl0C5
Spotify: https://spoti.fi/2Gdgoch
Direct Download
PocketCasts: https://pca.st/IQVa
Stitcher: https://bit.ly/30uxOZR
PlayerFM: https://bit.ly/2yfCu9P
ListenNotes: https://bit.ly/2SINTbG
PodTail: https://bit.ly/2yfDgDL
Oni Dino's YouTube "Gayme Married": https://bit.ly/2JK21xd
Oni Dino's Twitter: @Oni_Dino
Oni Dino's Insta: Oni__Dino
Galen's Twitter: @mobius087
Galen's Insta: true_mobius
HUGE thank you to Headphones of Listening for NEP's intro music! Check him out on soundcloud!
Leave a Reply