[Nintendo Everything Podcast] – episode #98 – Hyrule Warriors' Impa steals the Tokyo Game Show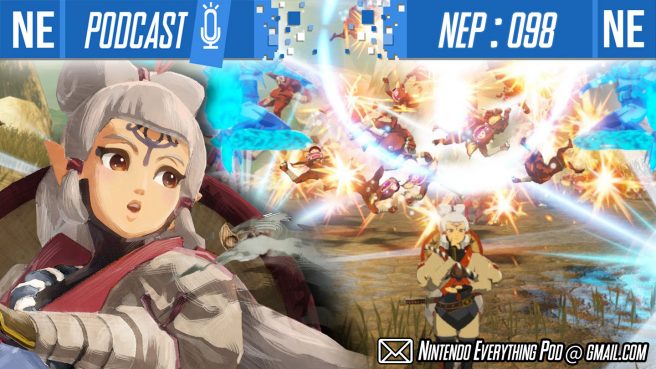 This week on Nintendo Everything Podcast, Tokyo Game Show 2020 is in full swing and we aim to be your go-to Nintendo podcast of two friends yelling at each other. Age of Calamity and Monster Hunter: Rise are really doing it for us – especially Hyrule Warriors Impa. But until those games come out, we've got the big Halloween Animal Crossing update. Also, a mega-corporation buying a developer/publisher that has no problems developing/publishing on their own is never good for consumers.
Check out links and timestamps below and come hang out.
If you're enjoying NEP, please consider giving us a 5-star review on Apple Podcasts and share us with a friend. It's incredibly helpful in getting us exposed to new listeners through algorithms, so we would greatly appreciate your help. Thank you for listening!
Timestamps:
– 06:21 – Adventure Log: Mario 64 beaten.
– 16:41 – Adventure Log: Galen's gaming bonanza.
– 23:57 – News: Tokyo Game Show and some awards for Switch games.
– 30:00 – News: Animal Crossing: New Horizons and the Halloween update.
– 39:20 – News: Microsoft buys Zenimax and Bethesda.
– 51:05 – Kirby Fighters 2.
– 55:20 – Michel Ancel exposé.
– 56:51 – Monster Hunter: Rise gameplay.
– 1:05:57 – Age of Calamity gameplay and Hyrule Warriors Impa!
– 1:14:48 – Additional DLC and Listener Mail: Silent or voiced protagonists?
Additional DLC:
– Hyrule Warriors Impa and general Age of Calamity Gameplay
https://youtu.be/kHGc9jecWco
– Why is Handheld Gaming Disappearing
https://youtu.be/HQpop14kpLo
Business inquiries and listener mail contact:
YouTube
Apple Podcasts / iTunes: https://apple.co/2xLl0C5
Spotify: https://spoti.fi/2Gdgoch
Direct Download
PocketCasts: https://pca.st/IQVa
Stitcher: https://bit.ly/30uxOZR
PlayerFM: https://bit.ly/2yfCu9P
ListenNotes: https://bit.ly/2SINTbG
PodTail: https://bit.ly/2yfDgDL
Oni Dino's Twitter: @Oni_Dino
Oni Dino's Insta: Oni__Dino
Oni Dino's interactive podcast on GetVokl: https://bit.ly/3mdWamo
Galen's Twitter: @mobius087
Galen's Insta: true_mobius
HUGE thank you to Headphones of Listening for NEP's intro music! Check him out on soundcloud!
Leave a Reply