– World Destruction (NDS, Sega): 80,377 units sold
Release: 09/25/08
– Wii Sports (Wii, Nintendo): 3,151,793 units sold
Release: 12/02/06
– Mario Kart DS (NDS, Nintendo): 3,220,432 units sold
Release: 12/08/05
– Disaster Day of Crisis (Wii, Nintendo): 21,464 units sold
Release: 09/25/08
– New Super Mario Bros. (NDS, Nintendo): 5,291,737 units sold
Release: 05/25/06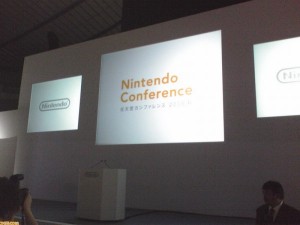 The future is anything but bleak as far as Nintendo gaming goes. Wii and DS owners can look forward to The Conduit, Punch-Out, Sin and Punishment 2, Fire Emblem: Shadow Dragon, and a few dozen other titles over the next few months. After E3, however, the months ahead did not look so bright. Even though E3 was no longer the beast it used to be, and in spite of the fact that the summit has lost much of the glory and flare that it's been known for, hardcore gamers had very high expectations in terms of Nintendo's conference. Regrettably, the company's entire event was, more or less, a big letdown. It wasn't until this October, with two separate conferences in Japan and North America that Nintendo was redeemed in the eyes of their fans. The company had a complete turnaround and more than made up for their mistakes at E3. Below are just a few of the reasons that Nintendo's October conferences, well, to put it bluntly, kicked the crap out of E3.
Game montages/trailers
Video montages/trailers of Wii and DS titles were pretty much absent from Nintendo's E3 media briefing this year. It is unfortunate that the company largely ignored video content, as visual representation of games could have definitely complimented some of Nintendo's scarce announcements by adding some actual substance to their media presentation. In Japan this month, new trailers of highly anticipated titles such as Monster Hunter 3 and Dragon Quest IX were shown (although in private), while montages of DS and Wii games were on hand as well – both of which included fresh footage of titles. Visual pizzazz is more than appreciated by gamers at conferences to help break up sales-talk monotony and to give fans something to drool over and analyze for a few months while they wait for new products. Please Nintendo: At your next E3 conference, show us game montages or trailers in order to temporarily satiate our gaming appetites.
One aspect that I pointed out I wish to improve upon over the next few months/years of the website is to increase the amount of original content that goes up on the site. It's been awhile since I've done 3D images, let alone an article. So that will be changing, starting today. Over the next few weeks, on the weekends, I'll be posting original content that isn't news related. It might be an article, it might be a review, or it might be something else. You'll just have to check back in and see!
Anyway, I'll have the first non-news post up later today. Please be sure to check out our anniversary post in case you missed it and read up on the new site redesign.
Circuit City
My Sims Kingdom (Wii) – 10 free character trading cards with purchase
New Super Mario Bros. (DS) – $24.99
Save $10 plus free headphones with purchase of Guitar Hero: On Tour for DS
1. Final Fantasy XIII (PS3, Square Enix)
2. Dragon Quest IX (NDS, Square Enix)
3. Biohazard 5 / Resident Evil 5 (PS3, Capcom)
4. Dragon Quest VI (NDS, Square Enix)
5. Monster Hunter 3 (Wii, Capcom)
6. Chrono Trigger (NDS, Square Enix)
7. The Last Remnant (PS3, Square Enix)
8. Final Fantasy Versus XIII (PS3, Square Enix)
9. Animal Forest (Wii, Nintendo)
10. Dissidia Final Fantasy (PSP, Square Enix)
11. Star Ocean: The Last Hope (X360, Square Enix)
12. Ryuga Gotoku 3 [Yakuza 3] (PS3, Sega)
13. Layton Kyouju to Saigo no Jikan Ryukou (NDS, Level 5)
14. The Last Remnant (X360, Square Enix)
15. White Knight Chronicles: Inishie no Kodou (PS3, Sony)
The official word regarding the latest Wii system update and the Homebrew Channel is in. Those interested in adding the channel to their Wii might want to think twice before updating their system, as the latest update causes installation processes to fail. Although the newest firmware apparently has no effect on existing homebrew data, it will be impossible for new users to install the channel with the latest update. Unfortunately, the update is mandatory in order to access the Wii Shop Channel.
On the bright side of all of this, faster loading times with the Wii Shop Channel have been reported and the creators of the homebrew channel will undoubtedly discover or invent a workaround as they have done previously.
"Unfortunately, E for All will not be occurring in 2009, as our focus now turns to E3." – IDG statement
This is sad news, though IDG is obviously placing a lot of effort into next year's E3. If the changes made to E3 are positive, perhaps it might be worth it than E for All will not occur in 2009.
[PS2] ??????? ???????????? (Devil Summoner) – 50k (normal + special version)
[NDS] Girls' Mode – 27k
[NDS] ???????? ?????? (Castlevania) – 14k
[PSP] Bleach – about 10k
[Wii] Tenchu 4 – about 10k