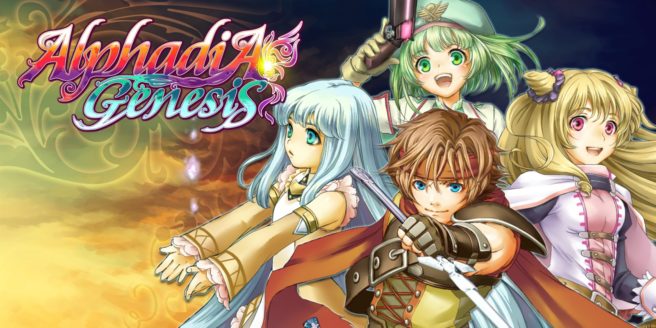 As previously mentioned, the RPG Alphadia Genesis is making its way to Switch next week. Check out some early footage below.
Alphadia Genesis is due out digitally for Switch via the eShop on August 6.
According to a listing on the Wii U eShop, Alphadia Genesis is launching in North America this week. The official game page includes a November 20 release date – that would be this Thursday.
Until we receive a confirmation from Natsume, we'll consider this a rumor. View some new English screenshots from Alphadia Genesis above.
In a new "State of the Farm" report, Natsume shared information about its upcoming slate of titles.
First, Alphadia Genesis is coming to Europe in early 2015. A North American release date is also expected sometime this month.
Natsume has also shared news about a couple of upcoming Virtual Console titles. Wild Guns (Wii U, previously known) and Legend of the River King 2 (3DS) will both be available next week.
Last but not least, Natsume has confirmed DLC for Harvest Moon: The Lost Valley. Development of extra content will begin later this year.
Alphadia Genesis is heading to the North American Wii U eShop this fall, but Europe will be getting the game this year as well.
Natsume confirmed on Twitter earlier today:
Hot tempered & squabbles frequently with party members. Alphadia Genesis arrives on the North American AND European WiiU eShop this year 😀

— Natsume Inc. (@Natsume_Inc) August 25, 2014
Alphadia Genesis will be available in the states this fall. Hopefully the European release won't be too far behind!
A new announcement published by Natsume today shares new details about the game.
First, here's a quick overview of the game's story:
Alphadia Year 1092: Fifteen years have passed since the end of the terrible Energi Wars, where clones were used as weapons. Two kingdoms, after nearly destroying each other and the natural resources of Energi, signed an important peace treaty, and have been co-operative neighbors ever since: Augustine and Archleign, where the story of Alphadia Genesis begins.
We also have the following information regarding Alphadia Genesis' characters:
Fray is a member of the local guild in the Kingdom of Archleign, and a skilled swordsman; though he's been invited to join the national army, he prefers the freedom of working on his own schedule. He has a younger sister, Aurra. His primary element is Fire.

Aurra, an early addition to the party, is an Energi researcher and an expert on clones from the recent Energi Wars. She worries about her brother, and wants to name clones after food. Her primary element is Light.

Enah, a clone accidentally activated by Fray, is a Model 2000, and more stable than the Model 1000. Wielding a deadly chakra, don't get between her and her master! Her primary element is Water.

Corone may look meek and demure, but her soft exterior and manners hide a core of steel! From the Kingdom of Augustine, she has been sent by her king to discover the mystery behind clones who have begun murdering their masters – but does she have an ulterior motive? Her primary element is Light.

Walter is the other member of the Augustine Kingdom investigation squad. He looks down on guild members like Fray, believing anyone with real talent should join their nation's army. He's very hot tempered and will squabble frequently with other party members. His primary element is Water.
A sixth mystery party member will also be encountered in Alphadia Genesis.
Alphadia Genesis will be released on the North American Wii U eShop this fall. It will be the first game in the Alphadia series to hit consoles in North America.
Source: Natsume PR
Natsume may bring the launch of Alphadia Genesis forward a bit. The company said on Twitter today that localization is currently ahead of schedule, which could result in a Fall 2014 launch. It was initially announced for winter.
Good news WiiU fans! Localization of Alphadia Genesis is moving ahead of schedule! Release date possibly moving from Winter to Fall 2014!

— Natsume Inc. (@Natsume_Inc) July 30, 2014
Natsume shared release windows for three of its upcoming Nintendo games over on Facebook. Harvest Moon: The Lost Valley will arrive first, with a fall launch planned. Alphadia Genesis and A-Train: City Simulator will follow in the winter of this year.