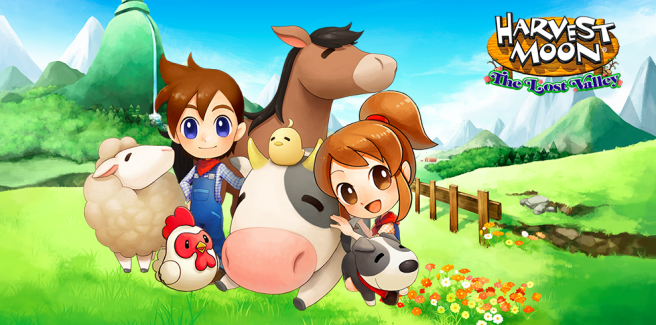 Harvest Moon: The Lost Valley launches in Europe today, and with that comes a slew of new 3DS themes! Check all of them out in the video below:
Harvest Moon: The Lost Valley's first wave of downloadable content is out now, and it's free. The DLC can be obtained right from the game without any hassle.
Natsume has added new outfits and hairstyles with today's DLC. There are three outfits for the female and male protagonists, including a new Dairy Farmer getup for each. Content can be accessed from a player's dresser.
In the future, Natsume is planning on adding new items to customize the Lost Valley itself, along with new crops, recipes, and more. The company also teased in its announcement today: "There's even some whispers that new love is in the air, but whether these rumors are true remain to be seen!"
Source: Natsume PR
Natsume has confirmed that the first Harvest Moon: The Lost Valley DLC is due out tomorrow. The pack will contain new outfits as well as additional hairstyles. As a thank you to the fans, the DLC will be free.
More downloadable content is planned for Harvest Moon: The Lost Valley. Further packs will be available "in the coming months."
Natsume shared the following in its "State of the Farm" report today:
The first Harvest Moon: The Lost Valley downloadable content will be available tomorrow, January 27th. If you didn't pick up our hints from previous posts, the first DLC pack will contain new outfits and an additional hairstyle. Fans have been asking for additional customization, and we're pleased to present these new additions for FREE as a gift to our fans! Thank you everyone for supporting The Lost Valley and providing feedback on what you wanted to see more of in the game. Keep watching for our next DLC packs in the coming months.
Natsume president and CEO Hiro Maekawa posted a New Year's message to the company's Facebook page earlier today.
In it, there's a mention that "Harvest Moon: The Lost Valley is performing beyond our expectations in North America". A European launch is taking place this year.
Here's the full message from Maekawa:
Natsume's latest "State of the Farm" post on Tumblr provides updates on two 3DS titles.
Harvest Moon: The Lost Valley, which launched last month, will soon be receiving new content. Natsume hopes to begin releasing DLC in January "and every month after that until April." The company says there will be "a nice variety" of new content.
Natsume also shared the following status report on A-Train: City Simulator:
Currently we are at the tail end of the translation and localization for A-Train and we are truly excited about this title. In January we'll begin testing, tweaking, and polishing. With a mix of city simulation strategy and trains, we can't wait for our fans to play this unique title. Expect to see your first glimpse of the game in January.