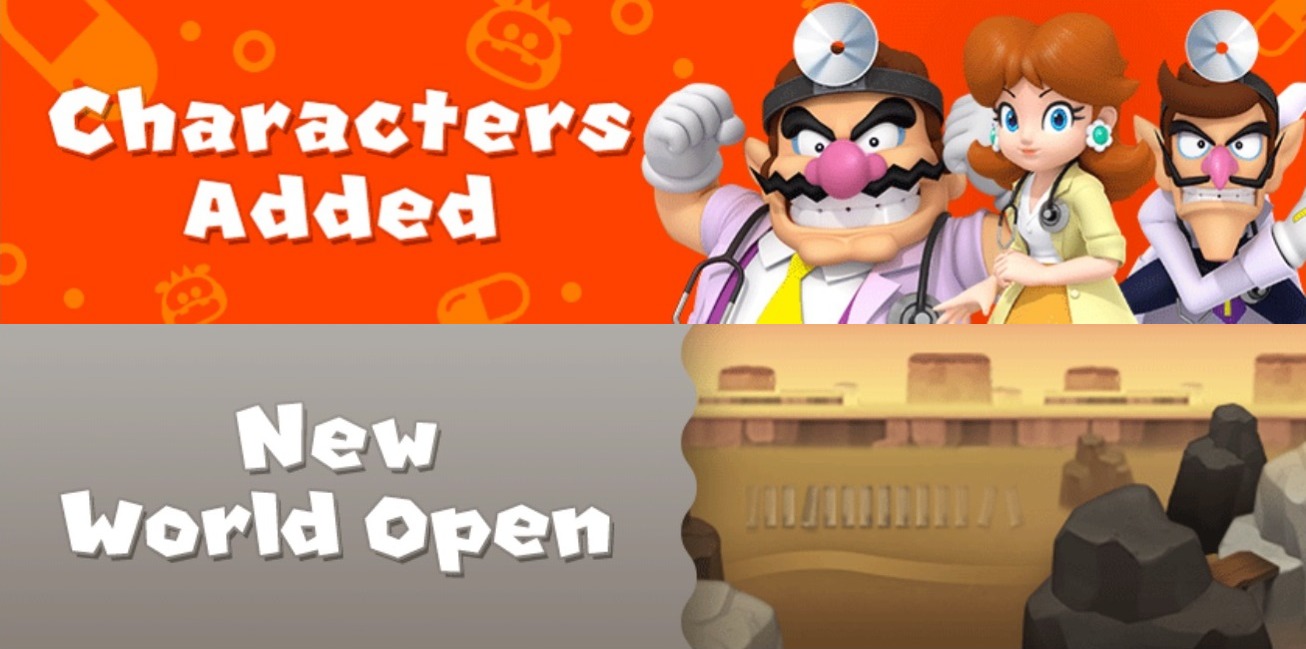 Dr. Mario World just updated with a bunch of new content.
New doctors are here, including Dr. Wario, Dr. Waluigi, and Dr. Daisy. Monty Mole, Thwomp, Fuzzy, and Mechakoopa have also arrived as assistants.
World 6 is also live in Dr. Mario World, featuring stages 201 through 220. This area has mines filled with obstacles, but by clearing it, you can earn the Bob-omb Assistant. World 5 must be cleared before accessing World 6.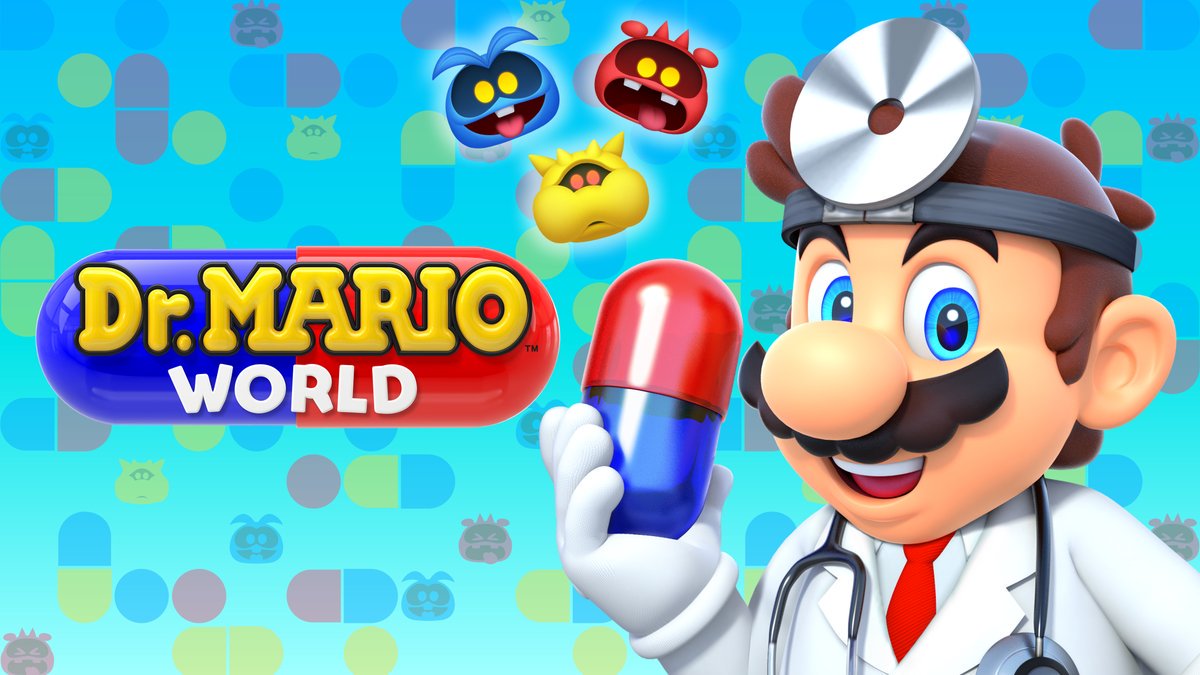 Dr. Mario World has received yet another update. Nintendo is now offering version 1.0.5, which is accessible on both the App Store and Google Play. Only bug fixes are mentioned in the patch notes.
Keep in mind that the update is required to play Dr. Mario World after 1 AM PT / 4 AM ET. This is likely paving the way for the content update coming shortly.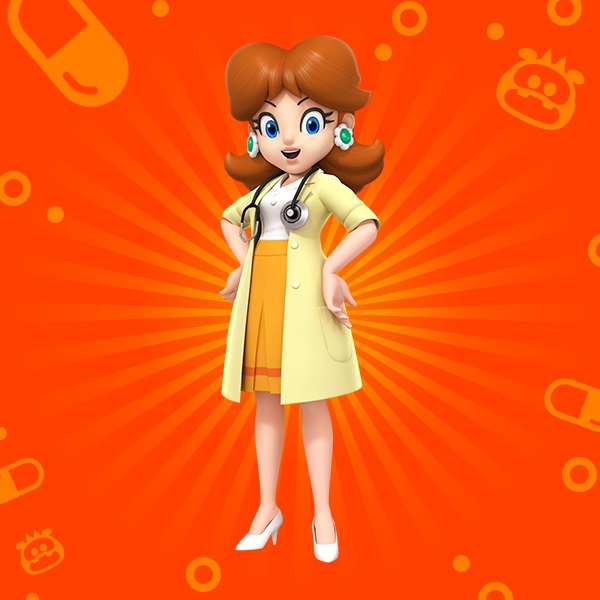 Nintendo has announced that a bunch of content will be added to Dr. Mario World this week. Along with three doctors including Daisy, twenty new stages will be available.
Nintendo will be conducting maintenance for Dr. Mario World between August 7 at 10 PM PT and August 7 at 1 AM PT. Following this period, the new content can be accessed.
Dr. Mario World has been given its latest update. Across iOS and Android devices, version 1.0.4 is available.
Nintendo mentions that it has included balance adjustments and feature improvements in today's patch. Additionally, bug fixes have been implemented.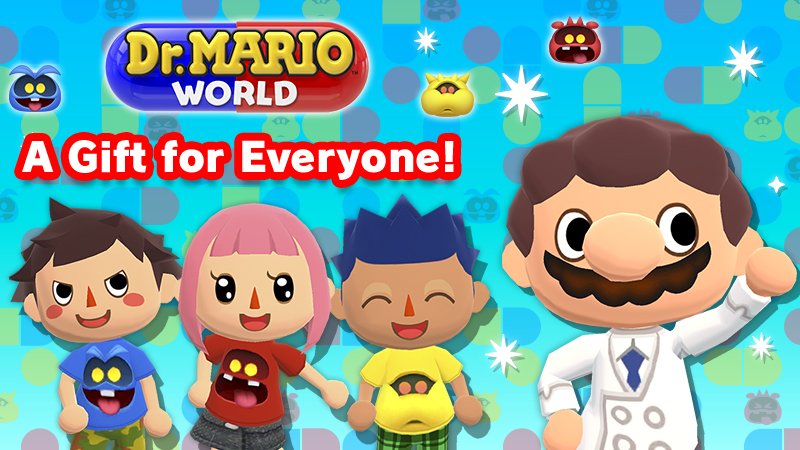 Hot on the heels of the Sanrio collaboration, Animal Crossing: Pocket Camp is hosting another collaboration – this time with Nintendo's newest mobile game: Dr. Mario World. If you log in once up until August 18th, you'll get three virus-themed shirts and a Mario Bros. moustache as free gifts.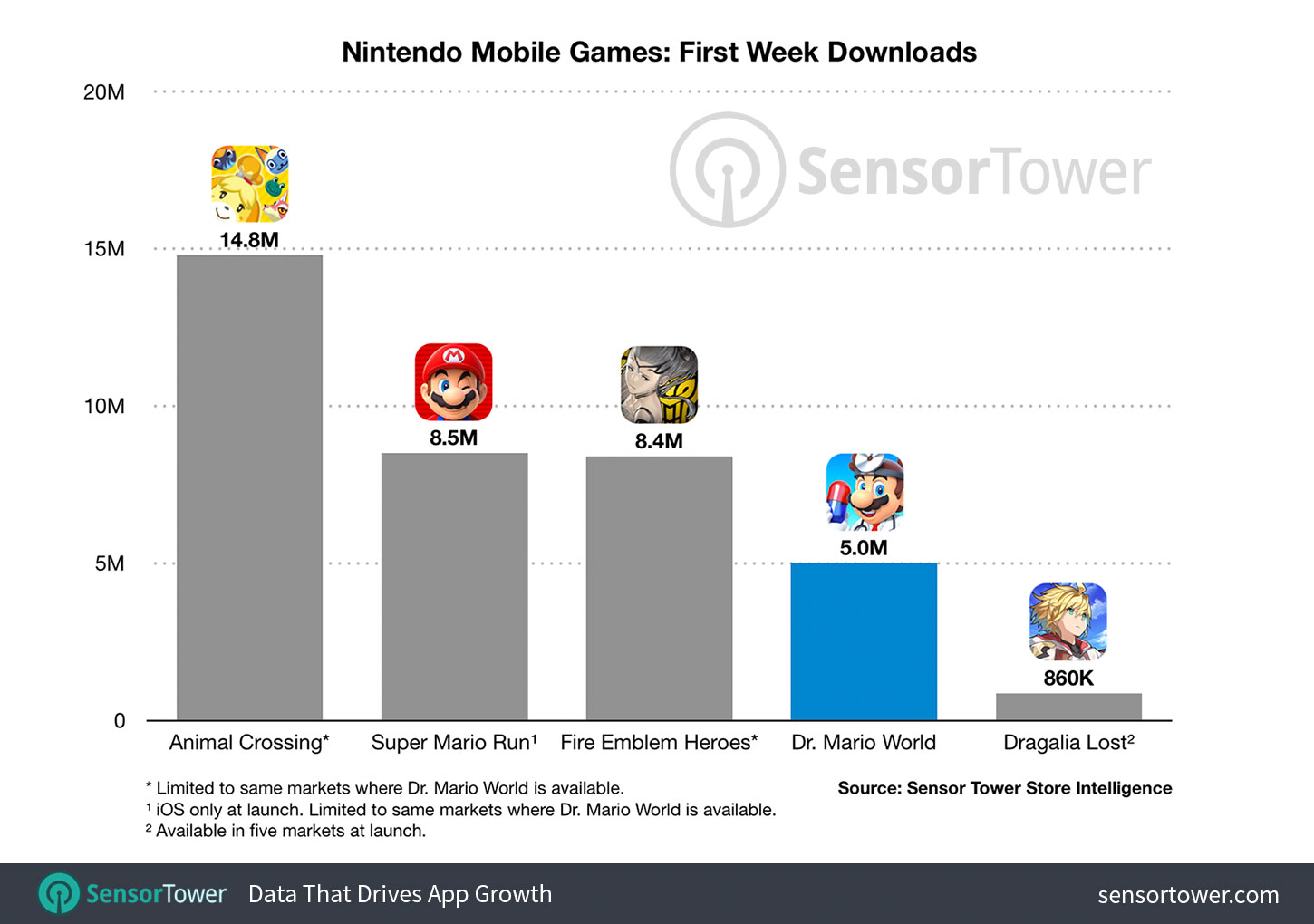 Sensor Tower has an update on the performance of Dr. Mario World. In its first week, the mobile game has surpassed five million downloads.
Comparing that to other Nintendo mobile releases, it places fourth in launch downloads. Animal Crossing: Pocket Camp was the best at 14.8 million players. Dr. Mario World secured roughly 60 percent of the first week downloads of both Super Mario Run and Fire Emblem Heroes. However, it was significantly ahead of Dragalia Lost, which was downloaded about 860,000 times in the five markets where it debuted.
Dr. Mario World has only earned $500,000 from players thus far, but it stacks up well against other games in the puzzle genre. While it grossed roughly $325 million last year, Toon Blast earned only $90,000 in its first week. Also, Candy Crush Friends Saga brought in just $170,000 more than Dr. Mario World in its first seven days with much more marketing than Dr. Mario World.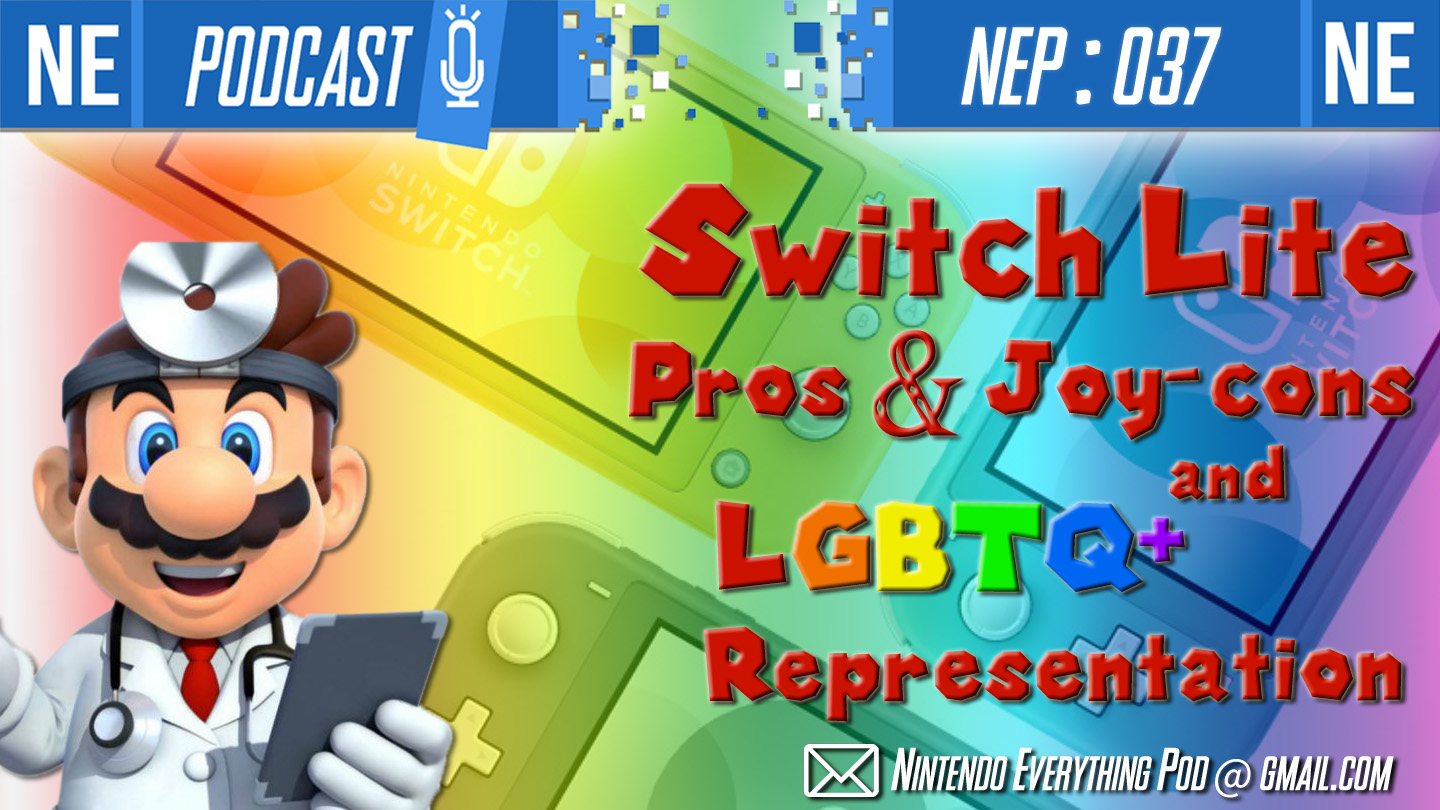 Hello my beautiful Popos and Nanas! Oni and Galen have a great discussion overall, in our most intimate episode of NEP yet. We talk localization and well-written characters in fiction, the pros and cons of the Switch Lite (and what this could mean for a future "Pro" variant), Dr. Mario and how different in design it is, and we tie things up with a discussion of Fire Emblem and LGBTQ+ representation in media and video games. We hope you enjoy.
The best way to support our show is to give us a review on iTunes, so we would appreciate if you could take the time to do so. We really appreciate all your support and thank you so much for listening!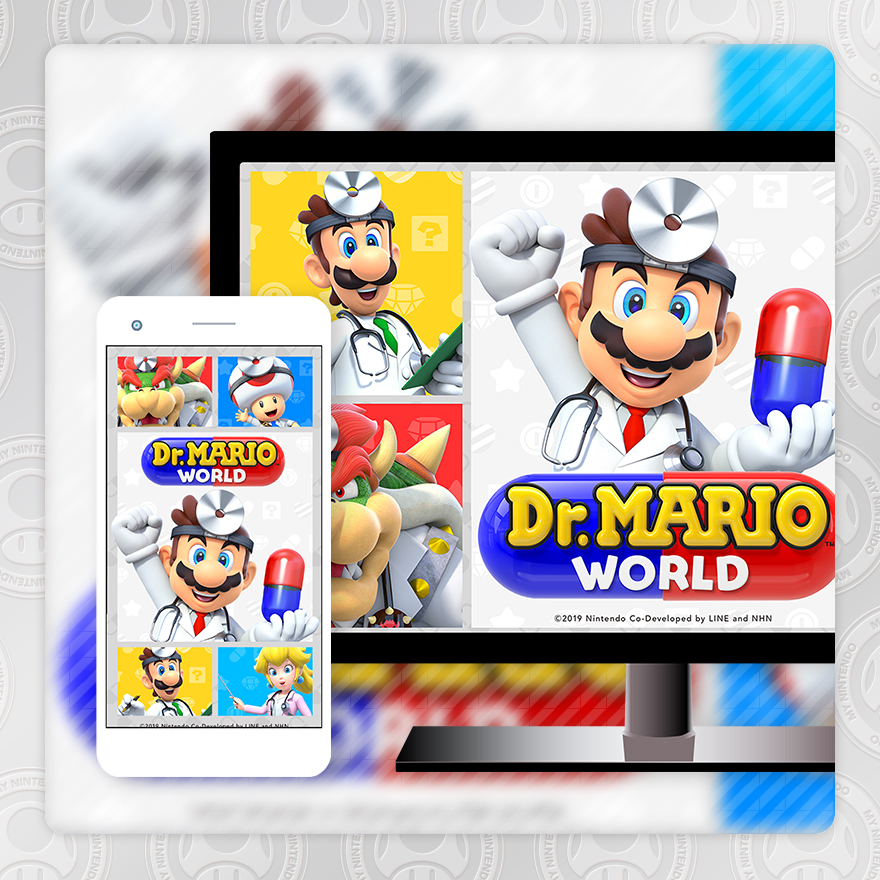 My Nintendo is celebrating the launch of Dr. Mario World on mobile with a pair of rewards. In North America, two new wallpapers are available. The designs, shown in this post, cost 50 Platinum Points each.
You can order the Dr. Mario World wallpapers on My Nintendo here.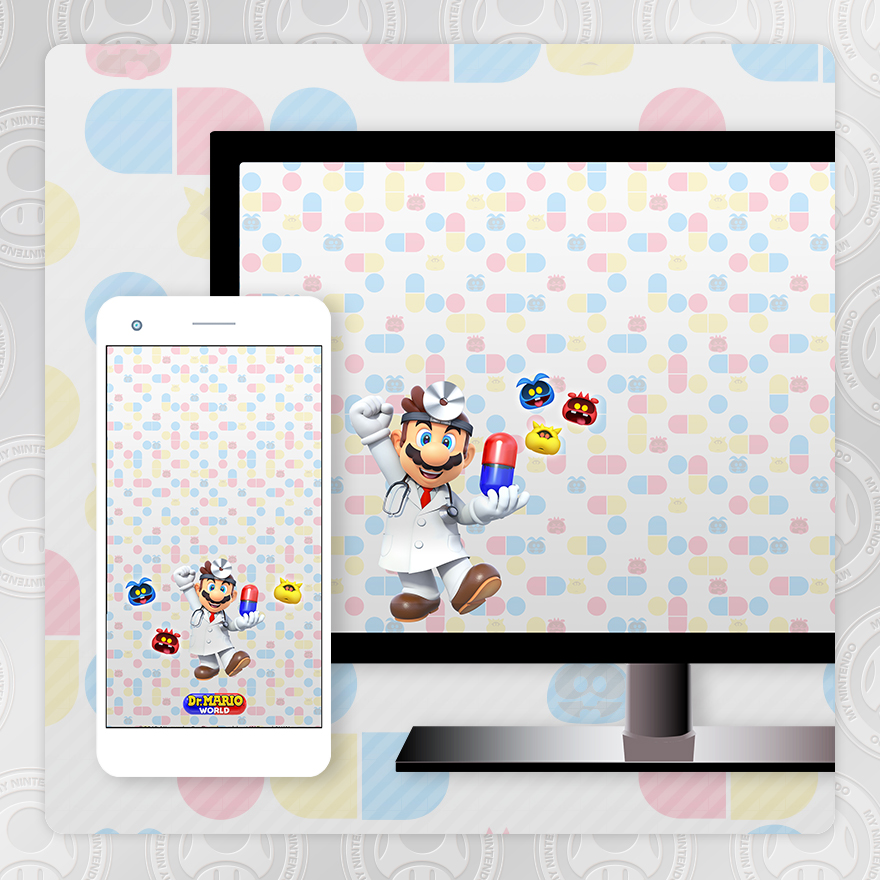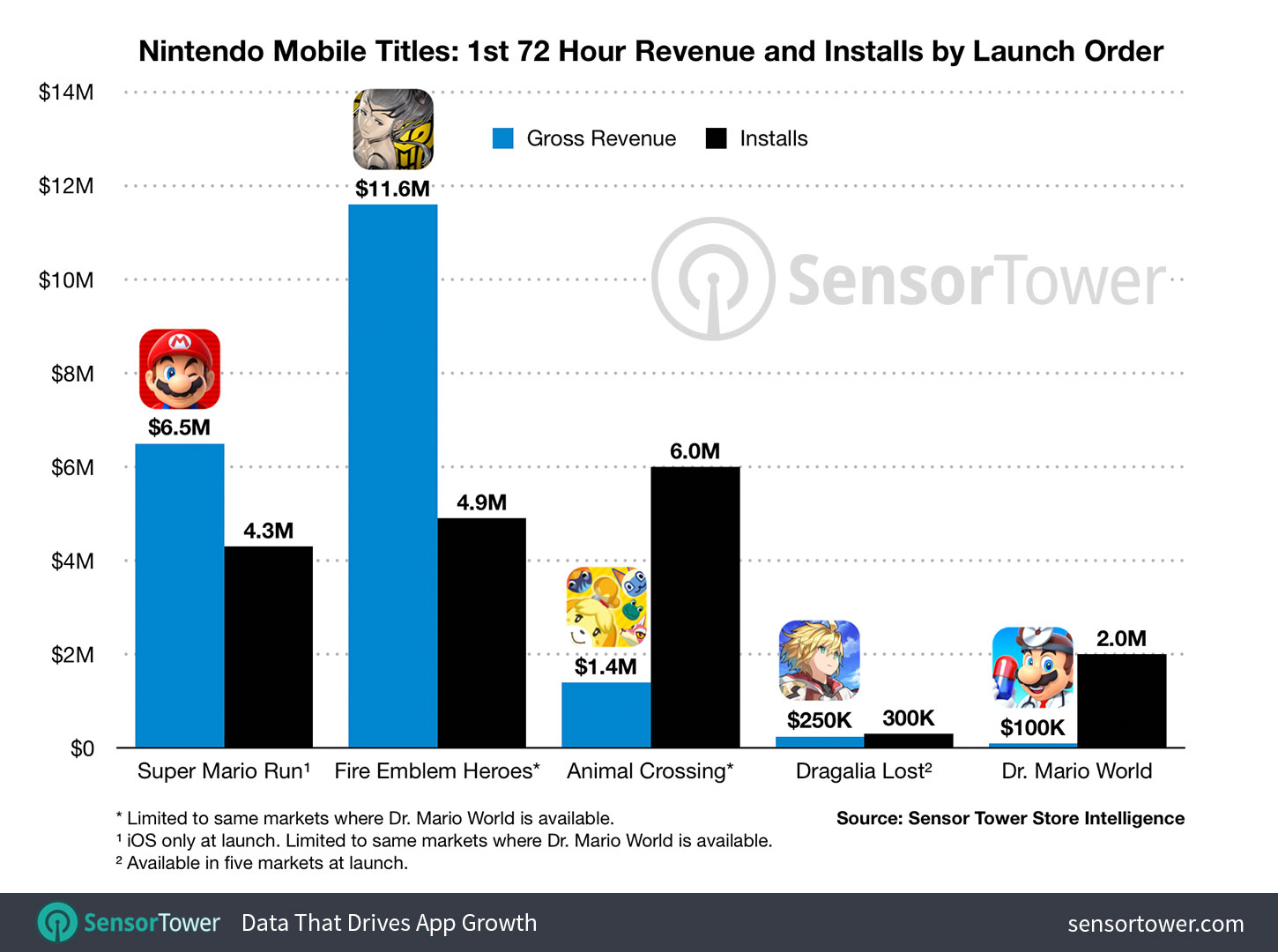 According to Sensor Tower, Dr. Mario World has seen two million installs in its first three days. Players have also spent over $100,000 on in-app purchases so far. It's Nintendo's lowest grossing mobile title at this point in its launch window, but Sensor Tower points out that the monetization methods are different and are most comparable to the broader puzzle genre.
A comparison chart of Nintendo's mobile titles can be found above. Dr. Mario World's downloads during its first three days are at about half of Super Mario Run's 4.3 million, Fire Emblem Heroes' 4.9 million, and Animal Crossing: Pocket Camp's six million. While there have been seven times as many installs as Dragalia Lost, Cygames' title only released in five markets to start.
Dr. Mario World is the top free iPhone app in Japan at present. As for the United States, it sits at #6.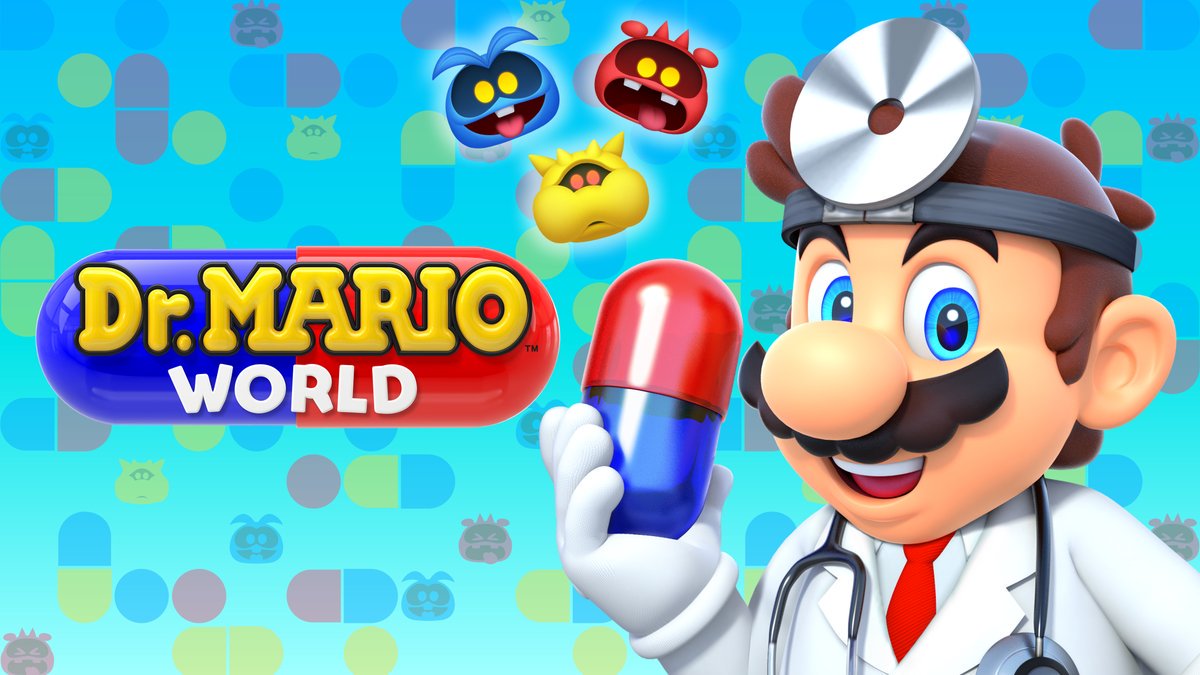 To celebrate the new release of Dr. Mario World on mobile, Nintendo has prepared a new launch trailer. You can see it below.