Last week, the refurbished Wii U Deluxe with Nintendo Land bundle sold out on Nintendo's website. The product has since returned however and can be ordered right here. You'll need to fork over $200 for the bundle.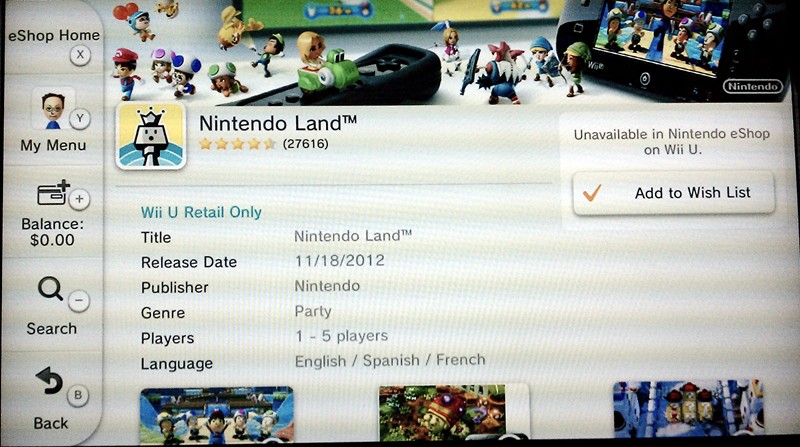 Nintendo Land appears to have been removed from the North American Wii U eShop. It's simply no longer available for purchase as a digital download.
This only applies to North America. As far as we know, Nintendo Land is still up on the European eShop.
Note: You can order the new items released by Nintendo today below at the following links:
New Super Mario Bros. U/New Super Luigi U Wii U bundle
Mario Wiimote Plus controller
Luigi Wiimote Plus controller
Skylanders Swap Force bundle
Holiday Cheer Starts with New Bundles, Accessories and Offers

REDMOND, Wash., Nov. 1, 2013 – Nintendo has the best deals for the holiday season, and four of them kick off today. Nov. 1 marks the day consumers can find a lower price for Nintendo Land, a new Wii U hardware bundle, cool new accessories and a free trial for one of the most popular exercise franchises in video game history. These deals represent one of the many ways that Nintendo is bringing value and variety to consumers. If that's not enough, an amazing new Wii U bundle featuring Skylanders Swap Force debuts on Nov. 15.

"Nintendo is making sure holiday shoppers have great deals and lots of choices," said Scott Moffitt, Nintendo of America's executive vice president of Sales & Marketing. "We have something for everyone on your shopping list, and we're making it easy for you to beat the holiday rush and get started now."

Values that start today include: