An update for Paper Monsters Recut has gone live in Europe. The patch should be coming to North America soon, and we'll update this post when that happens. Developer Mobot Studios says the update mainly addresses bugs.
Paper Monsters Recut for #WiiU update is live in EU. Should be coming any day now in NA too. Mostly bug fixes.

— Fletcher (@MobotStudios) March 11, 2015
How has Paper Monsters Recut performed on Wii U? Developer Mobot Studios said on Twitter that the game has performed adequately.
Mobot Studios will continue supporting Wii U in the future. Next up: a new action game that will appear on Wii U first.
@JonGryphon Descent but, It's good enough our new action game is #wiiU first. We're just sorta big N nerds more than anything i guess

— Fletcher (@MobotStudios) February 12, 2015
An update for Paper Monsters Recut is in the works, Mobot Studios has announced. The patch will fix a few bugs and there will be "a few other little surprises".
Mobot shared the Paper Monsters Recut update news on Twitter:
Paper Monsters Recut #WiiU update is in the works. We got some bug fixes and a few other little surprises too. pic.twitter.com/nVRhvYKFQR

— Fletcher (@MobotStudios) November 18, 2014
Paper Monsters Recut's European launch is coming very soon. Via Twitter, Mobot Studios announced that the game will be available on November 13.
The company confirmed through the following message:
Ready!! Paper Monsters Recut finally hits EU (with the exception of Germany) Nov. 13th #WiiU #Nintendo pic.twitter.com/deLI1RdLVS

— Fletcher (@MobotStudios) November 4, 2014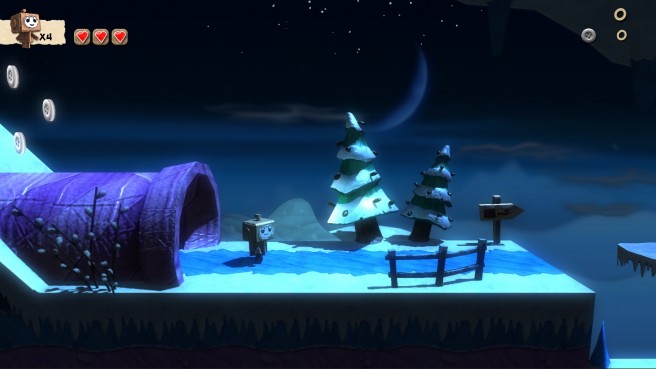 Our small residency with Mobot Studios has now come to an end as they show off the final weekly screenshot from the now-released Paper Monsters Recut on Wii U eShop. You can get the game for a handful of dollars if it looks like your kind of thing; it's probably worth noting that all of the reviews have been very positive so far.
Anyway, the last screenshot shows us a bit of winter-time ambiance from the new night-time levels in the game. For those of us in the northern United States this can serve as a blistering reminder of just how cold it's getting outside. For you lucky people that aren't dealing with freezing temperatures: Enjoy this bit of game-made snow-laden fun.
Our final Paper Monsters Recut screenshot shows off a new nighttime level in a wintery world called Yibiki Peaks. In these snow levels you'll encounter all sorts of "cool" characters and power ups from Yetis, to sleds, and even submarines. We hope you've enjoyed the screenshots. Stay tuned for the European release of Paper Monsters Recut very soon, follow us on Twitter @MobotStudios for more news, and a big thank you to Nintendo Everything for putting together this feature!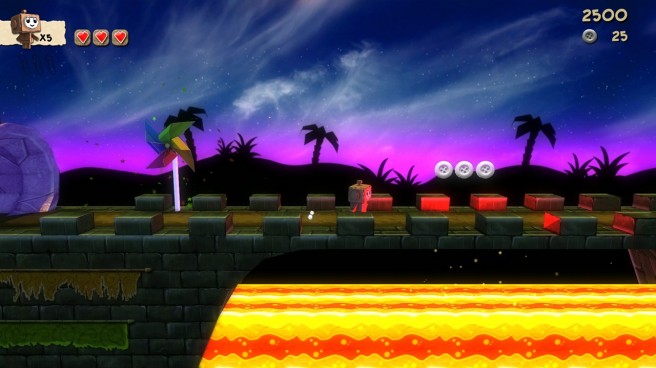 This week's Paper Monsters Recut screenshot introduces us to an environment found in one of the game's later areas. We also learn a need tidbit about the game straight from Mobot Studios. View the official screenshot description below:
This is towards the end of Paper Monsters Recut at the outskirts of Lord Papyrus' castle, which is also where you'll encounter some of the more challenging levels in the game with multiple lava pits, fire balls, and tons of classic platforming goodness. Fun fact: in the original game this background was only used in one of the cut scenes, but we liked the look of it so much that we brought it back to use the overworld and a playable level.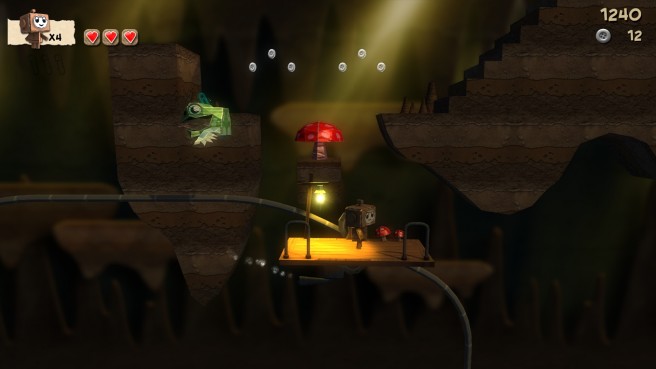 Hey… wait a second… Isn't Paper Monsters Recut out on the Wii U eShop this week? Why are we still sitting around here talking about screenshots when we could all just go buy the game for the low low price of $7.99!? Lord knows I can't explain it. But either way, we have another screenshot from the game for you showcasing some of the darker underground levels of the game. Check out what Mobot Studios has to say about it below:
In Paper Monsters Recut, you'll spend time fighting your way through a number of bright outdoor levels in Paperland, but we've also tried to more variety for Wii U as well, and this darker atmospheric mine level is a good example. You'll encounter some different bad guys when you venture underground, and change up the gameplay with a fun ride on this rickety old minecart. We hope you'll enjoy it!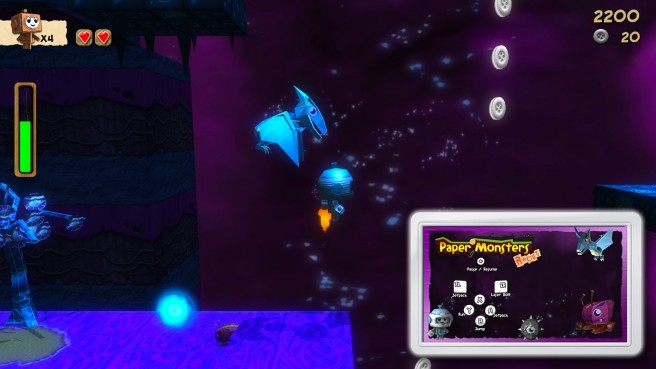 This week's exclusive indie-game screenshot from upcoming Wii U platformer Paper Monsters Recut shows off something that, according to the laws of physics as discovered by Newton, Einstein, and their comrades, shouldn't exist! This is a video game though, so that doesn't matter too much. I'll let our friend at Mobot Studios explain what you're seeing above, because they're actually working on the game:
Paper Monsters Recut is our take on a classic 2D platformer, but our new space levels change the gameplay up a bit with a cool jetpack and laser bolt powerup, for epic space battles! You'll also face different enemies in space from the ones you'll find in Paperland, such as the flying Pterry and the mini Twirkle shown here.

The other thing we wanted to highlight with this screenshot was how the GamePad is used (which you can see in the lower right hand corner). Different powerups work differently, and the gamepad will always display the current powerup's controls for quick reference based on what type of level you're playing. Of course if you are in Off-TV play on the GamePad you can always reference this by hitting pause, but we think it's pretty handy to have it at a glance.