Tetris 99 announces 28th Maximus Cup with Pokemon Legends: Arceus theme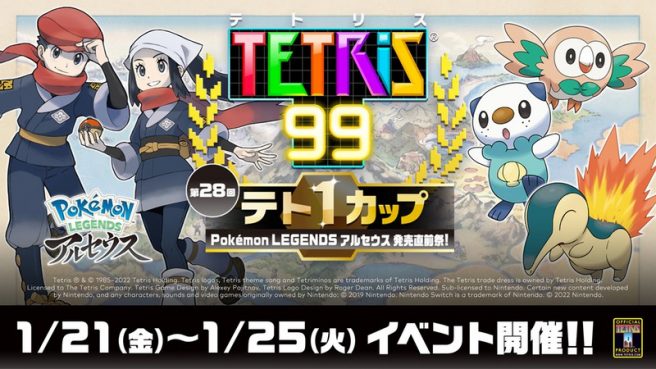 Tetris 99 is celebrating the upcoming launch of Pokemon Legends: Arceus with the 28th Maximus Cup and an opportunity to unlock a brand new theme. This comes ahead of the new game's launch on January 28.
Nintendo intends to hold the new Tetris 99 event between January 21 and January 25. If you have an active Nintendo Switch Online or Nintendo Switch Online + Expansion Pack membership, you'll be able to participate. Players will only need to earn event points, which is based on their performance in each match. The Tetris 99 theme for Pokemon Legends: Arceus will be made available after reaching 100 points. Every theme has special background art, music, and Tetrimino designs.
Special themes have become a staple of Tetris 99. Last month, it was Mario Party Superstars that got the spotlight. Prior to that, Metroid Dread received a special theme to celebrate its launch. Monster Hunter Rise was a rare third-party theme in the game. Other designs include WarioWare: Get It Together!, Mario Golf: Super Rush, Super Mario 3D World + Bowser's Fury, Super Mario All-Stars, Paper Mario: The Origami King, and more.
Tetris 99 is out now on Switch. You can find more information on the official site here.
Leave a Reply