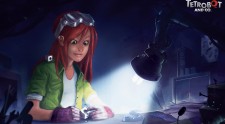 3 days ago
By
Brian
(
@NE_Brian
)
28 Comments
Another week, another giveaway! This time around, we have three Tetrobot & Co. codes to hand out (thanks Max Criden!). Unfortunately, this is for North American Wii U owners only.
For the Tetrobot & Co. giveaway, we'd like you to talk about your favorite unusual uses of technology in a game or your favorite puzzle games. We'll give extra consideration to those who put a little effort into their submissions. It's only fair, right? Feel free to link to screenshots, videos, or even soundtrack samples!
We'll let the Tetrobot & Co. giveaway run through Thursday. Winners will be announced soon after.