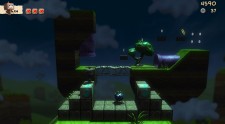 1 day ago
By
Brian
(
@NE_Brian
)
71 Comments
Update: Here are our winners!
Main site: ToMario, Alejandro Vasquez
Twitter: DarkRegulus
We'll be in touch soon with your codes!
---
We usually tend to hold most of our giveaways on Twitter, but there's no reason why we can't share the love on the main site from time to time… right?! And so that brings us to our latest giveaway: Paper Monsters Recut.
There are two ways to win this snazzy-looking Wii U eShop game. We'll be giving away two copies right here on the site, and all that's required of you is to leave a comment in the post below. We're also giving away one copy on Twitter – make sure you're following us and re-tweet this message!
That's all. This will be a pretty quick giveaway, so all winners will be chosen tomorrow. Please keep in mind that these codes were specifically made for US Wii U console owners.