Hyrule Warriors / Legends producer on the final batch of DLC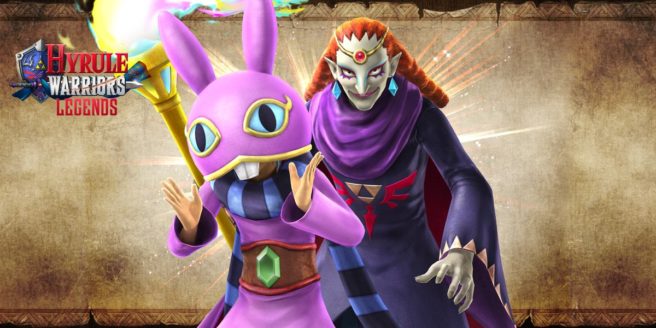 The final wave of Hyrule Warriors / Legends DLC featured Zelda: A Link Between Worlds. It was highlighted by the addition of two new characters: Ravio and Yuga.
In a recent issue of Nintendo Dream, producer Yosuke Hayashi chatted about the final DLC in-depth. He commented on why two characters were included in the DLC, their weapons, and making them playable. Continue on below for our full translation.
Up until now, every DLC pack has added one character from one game, so why are you adding two characters this time?

When we were thinking about characters that left a lasting impression on the fans of A Link Between Worlds, Ravio and Yuga ended up as candidates due to being unforgettable even if you only see them once and having unique words and deeds. Even though each additional DLC character had been a single character from a single game up until now, the development team had a hard time deciding between Ravio and Yuga, so it was decided to make both.

How did you decide on the weapons that Ravio and Yuga use?

Ravio is an item salesman, so we aimed to include the fun of using various items skillfully and express the comical side of his character. We decided on Ravio being swayed by a hammer. Yuga seeks beauty to the extent of turning people into pictures and he had a picture frame from the very first time he appeared, so looking back, this image of him was very strong, and we had no other choice than to decide on frames as a weapon.

Please tell me how you wanted to present the playable Ravio.

A: Ravio has the image of being shrouded in mystery. Since he is an item salesman, we aimed to express the idea that he can do anything while also paying attention to his comical side. We were able to put special care into the action of swinging a hammer while also being swayed yourself and using various items, so I hope you'll have fun with it.

How did you think to utilize Yuga's abilities, like turning into a wall painting?

A: Yuga's picture-related abilities certainly left an impression in the original game. We noticed that frames were intermediary whether it was turning people into pictures or transforming into a picture himself. When we thought about how to utilize that in Warriors action, there is of course Yuga entering inside picture frames for movement and attacks, like summoning lightning bolts, flames and even tridents from frames. Furthermore, he is armed with exclusive additional attacks, so we were able to realize really Yuga-like Warriors combat!
---
Thanks for making it to the end of this post! If you use any of this translation, please be sure to properly source Nintendo Everything. Do not copy its full contents.
Leave a Reply