Mario 3D World devs on game's engine, difficulty, no DLC; plus art style, working with an external studio, more open Mario, Miyamoto working on small projects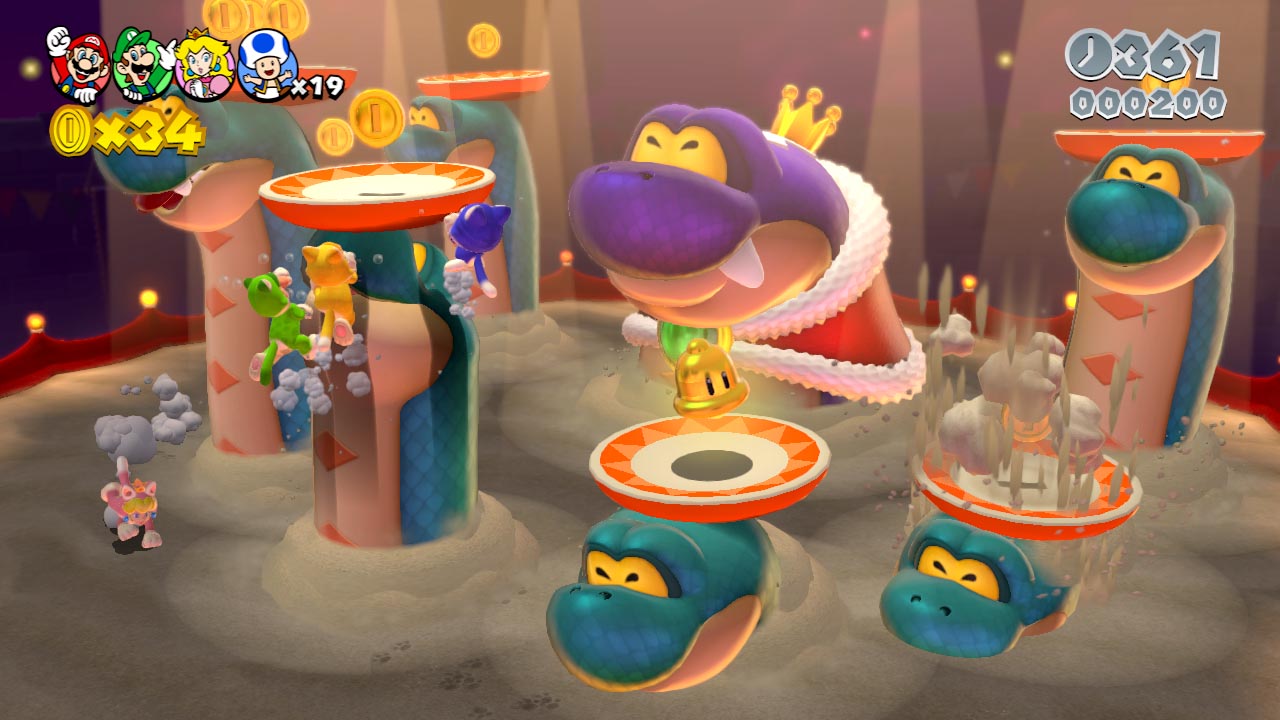 Gamekult recently conducted an interview with Shigeru Miyamoto, Yoshiaki Koizumi, and Kenta Motokura. As you can tell by the title of this post, it's filled with tons of interesting bits about Super Mario 3D World and Mario in general.
As far as 3D World is concerned, the three commented on the game's engine, difficult, DLC (and a bunch of other things). General topics include the possibility of introducing a radical art style for Mario, working with an external studio, a more open Mario, and Miyamoto's plan to work on smaller projects.
You can find the full interview roundup below (note: Google Translate used). You can also find Gamekult's piece here.
On why elements from Super Mario Bros. 2 were introduced for 3D World…
Miyamoto: I think there are many players who want to play as Peach, but I think there was also a lot of players who wanted ( laughs ). Obviously, it was present in other titles like Mario Kart but she had to return one day in a Mario focused on 3D platform. In New Super Mario Bros.. Wii, the multiplayer aspect was already present but needed the capabilities of characters are identical to promote competition and not to unbalance the fighting. Reintegration Peach was one of our primary goals and we really started Super Mario 3D World a some times we could do something interesting with her ??and the other characters. Although four players to choose from and multiple ways to finish a level just part of this episode, we did not constantly Super Mario Bros. 2 because we also wanted to focus on gameplay closer the rest of the series.
On whether 3D World has a dream-like atmosphere similar to Mario Bros. 2…
Motokura: The dream is not what we had in mind when creating this game The pitch is Mario, Peach and friends who will rescue the fairies captured by Bowser.
On whether 3D World is the culmination of the Mario 128 tech demo for GameCube…
Miyamoto: As you probably know, the idea of having several identical characters on the screen did not remain confined to the prototype, we have tried to integrate games in the past, with the prosecution dark Mario Super Mario Galaxy is a good example. But this time, the real challenge was to have the same characters that could run at the same time.
Koizumi: To give you a better idea of how the split happened in the game, you must know that we wanted directing an episode oriented multiplayer, without preventing those who play solo enjoy the many characters on the screen. This was the starting point of our thinking. Possible interactions in multiplayer, as the bounce on another character or faster coin collecting, there are also solo with the clones. Miyamoto: 3D also warrants further multiple characters, because each has more space to move relative to a 2D game where there is the additional risk of pop.
On why online multiplayer isn't included…
Koizumi: We decided from the outset to be limited to local multiplayer. At the time of Super Mario Galaxy, we conducted tests for the online game and we have technical expertise to implement. However, we chose to focus on a user-friendly experience in the same room.
On the decision to include the cat suit…
Motokura: In terms of development, we had a bunch of ideas of movement, some involving climbing walls, rappelling over or move on all fours. When we had to find one to be able to do all this, the idea of the cat has been adopted fairly quickly compared to the dog, for example. The fact that it is a pet which people attach very easily not played poorly in his favor too.
Miyamoto: I would add that women have a sexy cat-side and I wanted to see what would a cat Peach ( laughs ).
On why Nintendo keeps the pattern of the same worlds in past Mario games, like a "green area", desert area, etc.
Motokura: To lose anyone early in the game, we kept a fairly orthodox sequence on the first level, but you should find most unexpected things moving forward in the game
On whether making a 3D Mario in HD for the first time brought along any difficulties, and whether Mario Galaxy HD was experimented with…
We never tried to make a Mario Galaxy in HD, but we actually already conducted tests in the past. The main advantage of high-definition, it is the largest margin of expression and opportunities. You can play more with the camera or go multiplayer with more visible characters when they are small, while showing larger pieces of scenery. In general, this is real progress.
On whether the same engine as Super Mario Galaxy or 3D Land was used…
Koizumi: No, it's a brand new engine, although it depends on the definition given to the term that is still a little fuzzy. We have not built an engine and then a game, we just had a dozen people who made ??sure that we have the resources and performance needed while fabriquions the game itself in parallel. So we can say that the length of engine development was similar to the game
On whether it's still possible to spend many years making a Mario game…
Koizumi: Having worked on Mario 64, I can assure you he has not asked four years of development, but I still want to comment vis-à-vis your question. The technical specifications of the new machines actually require more time for games and it's obviously a challenge for us to deliver good games without increasing their gestation period.
On what the next big step forward is for Mario…
Motokura: We believe that revolutionary aspect of this episode is the presence of several game in a 3D Mario. This is something that was quite complicated to set up and is considered a big step forward for the saga. This is the case for all games in three dimensions, but the placement and control of the camera, for example, have really not been easy to adjust.
On whether Nintendo has considered returning to a Mario game with a completely free camera like Mario Sunshine…
Motokura: We always try to see what we can do differently with the camera and in this episode, it is possible to move the camera with the right stick on the world map and within levels, even if it ' is much box in Super Mario Sunshine .
On rival platforms…
Koizumi: We obviously play other games outside of Nintendo, but I do not remember having recently tested a set of really remarkable platform, so I'm having trouble answering your question correctly.
On what the "recipe" is for Super Mario 3D World…
Koizumi: I guess you are referring to discussions where I considered the director as a cook and Mr. Miyamoto as a food critic from giving its opinion on the dishes? Since a new chef took office, I'll let him speak. ( laughs )
Motokura: It may be just a coincidence, but I often think of development as a form of cooking and I think you always have to start with good ingredients. A good leader must be able to pick up their food from producers to try and get an idea of income that can be drawn. From a developer point of view, it is therefore first close look at the elements of design and illustrations individually to see a recipe.
On playtesting…
Koizumi: In EAD Tokyo, it does tend to make a lot of playtesting monitored with people internally or from outside and this episode did not cut to the rule. We brought people of all ages including the video game experience varied greatly, whether children, parents or seniors.
On the difficulty of Super Mario 3D World…
Motokura: We always aim for a level of difficulty quite simple, especially for the first few levels, so that a maximum number of people can enjoy the game, but because we have maps of worlds where we can move much more freely it was easier to include levels with higher for those who want trouble.
On DLC for Super Mario 3D World…
Koizumi: We did not intend to create additional downloadable content for this game
On elements that were canned because they did not meet the spirit or the universe of Mario…
Motokura: This kind of situation has not presented for Super Mario 3D World, but it is obvious that all the experiments we do, we make sure that they fit the standard properties of the series. It is never a drastic decision, rather a series of small adjustments.
On whether the team has considered applying the formula of Donkey Kong Jungle Beat to a Mario game…
Koizumi: ( Surprised ) You played Jungle Jungle Beat Donkey? On GameCube or Wii?
Aaaah … ( he bows ) Thank you very much. ( laughter ) Mr. Motokura also participated in the development of the game as a designer and it's just after that he became designer of the characters on the Mario games. Today, he left this task to younger employees to become a director, but I am convinced that if we take care of the playable characters and their movements, it is responsible for the heart of the game we all both officiated on Donkey Kong Jungle Beat , so be certain that this heritage for design has not been lost in the last Mario. If the simplicity of Jungle Beat misses you, I invite you to play more to 3D World to find that spirit.
On the possibility of a radical change in artistic direction for Mario…
Koizumi: You want a Mario without a mustache, for example? ( smile )
Koizumi: ( laughs ) Our basic idea of the visual style of Mario, is to have something easy to understand and play. This is almost a historical reason. If we realized that design or other pastel possible to achieve this goal, we might opt for a different style.
On the possibility of working on an external studio for a Mario title…
Koizumi: Well, this is my personal opinion but I think that with all the experience accumulated by the teams of Mario or Zelda, it would be difficult to fully leave a key episode of the series to external studios. However, as we have found ways to collaborate on projects with other companies, it would probably be possible to do the same thing with Mario finding a truly talented and motivated team.
On whether Super Mario 3D World incorporates asymmetric gameplay…
Koizumi: Yes, there will be levels where the GamePad will be particularly useful and where you can find this kind of approach. There is also a special mini-game with Toad I can not talk right now.
On whether Nintendo will return to a Mario game in the same style of Mario 64/Sunshine…
Koizumi: I do not know how we can consider Super Mario 64 as an open world game, but I think Super Mario Sunshine is more consistent with this definition because of the city and entire worlds to explore. Our starting point vis-à-vis Super Mario is to ensure that players always know where to go. It is for this reason that we have placed great emphasis on placement and visibility flags, particularly in Super Mario 3D World . Again, as creators, we want a large number of people can play and enjoy the game, it's kind of our duty to ensure that the objectives are clear to everyone. However, if a very substantial number of players and players expressed the desire for a more open Mario, we would take this request seriously.
On the next project for EAD Tokyo…
Koizumi: I can not tell if it's a Mario game, but I can confirm that it works well on a new project.
On the possibility of Miyamoto taking the reins of Mario again….
Miyamoto: Create a caliber of Mario 3D World takes a lot of energy and there is little chance that I could take the time to work on the next Mario. However, I want to get involved again and more thoroughly in the development of smaller projects, but that does not mean it will be a very modest title only for download or such thing. It is not impossible for me to present you a new game as the main producer in the future, but even when I'm not directly in charge of a project, I always look at what the teams in terms of gameplay and I trust them. Do not worry about Mario!
Leave a Reply