Wii owners have been chomping at the bit for a Kid Icarus announcement for the Wii, but perhaps the newly announced Icarian: Kindred Spirits will tide some gamers over. No price point or release date have been provided, but the game should be available "soon." Here's the official press release:
Experience with ICARIAN: KINDRED SPIRITS™ the awesome story of Nyx, an enigmatic winged girl, that must descend from heaven in search of her missing friend Icarus.

Overfly the ruins of ancient Greece and avoid falling into blazing sands or perishing in the claws of cruel harpies and hydras.
You will need the help of Zeus and other benevolent Gods from Olympus to summon their powers. They will let you cast rays, modify the scenery and control winds at your wish…
With your own wrist movements and pointing to the game screen, you will be able to achieve these and many other feats in this new and enjoyable Wii™ platform game.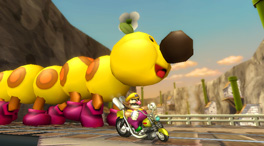 Course: Wario's Gold Mine
Main objective: Beat the course in the fastest time possible
Secondary objective: Avoid Wigglers on the track
Tournament date: 12/1 – 12/10






Caaannn Yooouuu Diiiggg Iiittt?!?!

November 26, 2008
Let the great tournament begin! This January, Atlus will randomly choose 48 interested entrants from its Atlus Faithful to participate in Luminous Arc 2 Battle Royale, a tournament of strategy RPG champions. In order to enter, prospective battlers must own a copy of Luminous Arc 2 (or go out and buy one), must sign up as a member of the Atlus Faithful by January 1, 2009, and then be among the 48 chosen few who will fight it out online to see who deserves the title of Best Luminous Arc 2 Tactician*.

All 48 selected participants will receive an extremely rare Luminous Arc business card holder, the business card holder of choice for those looking to impress and/or confuse their friends and family. The Grand Champion will receive their choice of: a SIGNED copy of the Luminous Arc 2 art book, a select title from the Atlus archives or a large Luminous Arc 2 promotional poster. Second place will get to choose from first place's leftovers, and third place gets whatever second place passed on. These prizes will be in addition to the business card holder.


01. [WII] Animal Crossing: City Folk (Nintendo) 350,000 / NEW
02. [NDS] Chrono Trigger DS (Square Enix) 271,000 / NEW
03. [PSP] Gundam vs. Gundam (Namco Bandai) 267,000 / NEW
04. [360] The Last Remnant (Square Enix) 101,000 / NEW
05. [NDS] Saka DS: Touch and Go (SEGA) 72,000 / NEW
06. [NDS] Hoshi no Kirby: Ultra Super Deluxe (Nintendo) 55,000 / 418,000
07. [NDS] Wagamama Fashion Girls Mode (Nintendo) 25,000 / 209,000
08. [NDS] Rhythm Tengoku Gold (Nintendo) 25,000 / 1,184,000
09. [NDS] Pokémon Platinum (Pokémon) 24,000 / 1,941,000
10. [PS3] Way of the Samurai 3 (Spike) 20,000 / 100,000


Art Style: Cubello (WiiWare) – Recommended
Art Style: Orbient (WiiWare) – Recommended
Bomberman Blast (WiiWare) – Recommended
The Incredible Maze (WiiWare) – Grumble Grumble
Madstone (WiiWare) – Hmmm…
Midnight Bowling (WiiWare) – Grumble Grumble
Tetris Party (WiiWare) – Recommended
World of Goo (WiiWare) – Recommended
Digital Champ Battle Boxing (VC) – Grumble Grumble
Gradius II: Gofer No Yabou (VC) – Recommended
Mario Golf (VC) – Recommended
Shining Force II (VC) – Recommended
Secret of Mana (VC) – Recommended
Street Fighter II: Special Champion Edition (VC) – Hmmm…
Super Turrican 2 (VC) – Hmmm…


These days, it's not too surprising when another accomplishment is reported. Nonetheless, it is worth mentioning that the Wii managed to reach yet another milestone in Japan. According to Enterbrain, the Wii has sold over seven million Wii units in the country. Well, 7,024,239 to be exact. This is definitely something to be proud of if you work for Nintendo, but at the same time, Wii sales are beginning to slow down a bit. However, with upcoming titles such as Wii Sports Resort, it isn't likely that sales will drop dramatically.