SANTA MONICA, Calif., March 10, 2009 – Activision Publishing, Inc. (Nasdaq: ATVI) announced today that Little League® World Series Baseball 2009, the sequel to 2008's acclaimed hit baseball game, will be released this June for WiiTM and Nintendo DSTM. The title is a natural progression for the franchise, offering Little Leaguers and their families more features and refined, accessible gameplay.

"We are very proud of the warm reception our first Little League baseball video game received last year," said David Oxford, Activision Publishing. "Little League® World Series Baseball 2009 aims to broaden the franchise's appeal even wider, giving experienced gamers a sense of depth and to feel more challenged while still making it easy for parents or grandparents to pick up and play!"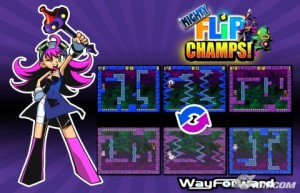 – Called Mighty Flip Champs
– Control Alta while she warps through a stack of maze-laden chambers
– Chambers flip past like pages of a magical book
– Main action can be seen on the top screen
– Touch Screen displayed preview of next room/Alta's destination
– Magical Warp Wand used to replace world with next one
– DSiWare exclusive
– Directed by Matt Bozon
– No date/price point for now


Rumors have been circulating the past few days that Wii MotionPlus might be delayed all the way past June. IGN's Matt Casamassina, in a recent Nintendo Voice Chat podcast, said that Nintendo has been struggling to work out "a few hiccups." Nintendo has finally responded to the speculation. A representative claims that "technically it can't be delayed" because "no date was ever announced for MotionPlus." While this is partially true, Nintendo did state that the peripheral would be available in the Spring.


Cambridge, Mass. – March 9, 2009 – Harmonix and MTV Games announced today the addition of fourteen tracks, ranging across nearly all genres of rock, to the Rock Band® Music Store catalog of downloadable content for Wii™ home videogame console from Nintendo. The lineup includes music from metal icons Metallica, songs from alternative bands Radiohead and Sonic Youth, as well as tracks from classic rock artists KISS and David Bowie. Rock Band Wii owners will also have access to music from punk band The Clash and rock bands Wolfmother and Garbage.

In addition, the offering features songs from five alternative country acts including Drive By Truckers, Lucinda Williams, Neko Case, Old 97s and Steve Earle.




About two weeks ago, we filled you in on a rumor that the first Silent Hill title was being remade for the Wii. Though it still remains a rumor, the BBFC has rated Silent Hill 1 again. One might wonder why the organization would choose to rate the title again, unless it had some relevance to an upcoming release. This may point to further evidence that the Wii could be seeing the mentioned remake sometime in the near future.


WayForward has shared a ton of information which includes discussion on a dark DSi game, 2 unannounced Wii titles, and how A Boy and his Blob for Wii is almost too big for a disc.
WayForward president = Voldi Way
Director = Sean Velasco
Producer = Robb Alvey
[On a Boy and his Blob as WiiWare or retail] Sean: This is a full, complete disc game. It's huge! That being said, WayForward is a big fan of WiiWare and digital distribution.
Robb: This was a full game from its inception and we are going to pack a LOT onto that disc.
Voldi: With the incredible number of feature-quality animation frames and high-color backgrounds, our biggest challenge may be squeezing it onto a single disc.
[On releasing original game] Sean: Well, the VC is definitely fertile ground; I wouldn't be surprised to see the game come out there. However, that's in Majesco's hands.
Voldi: Our next game is a DSi title that's going to be another dark title.
[On if it's dark similar to LIT] Voldi: No… Well, in that there are teenagers dieing and serials killers in it, it's like LIT. It's dark. It's definitely dark.
[How WiiWare is saleswise] Voldi: I was thrilled with it. But I didn't know what to expect, because we've never released a game like that before. I love that we can go online every day and see the sales every day. That's something we're sheltered from by publishers. Sometimes they'll tell us our sales, most of the times they won't. Now we can see it.
It's not stellar, most publishers would probably feel it wasn't worth it, but for us, if we can come up with something… if we put as much money as Squaresoft put into My Life as King, we'd probably be sad. In the old days, LIT would have been a demo, and no one would have seen it.
[On other games] Voldi: We have [two unannounced] Wii games in the works. I don't think I can talk about them yet, they're with publishers. We'll probably attempt a 360 or PS3 game to see how they compare. We bought a PS3 dev kit just for fun and we put together a demo on that, but unfortunately with back burner projects, when paying jobs come up, they often get pushed further onto the back burner. But our goal is to eventually come up with 360 and PS3 games, at least downloads.




– Mana + Gold fill over time but slowly
– Get more gold by building workers – workers enter mines, bring gold to base
– Earning mana depends on type of faction
– Upgrade items/men during the level
– Goal differs by level – most of the time destroy enemy base
– Many levels has multiple paths
– Modes: Campaign (also teachers gameplay basics), Skirmish (battle AI opponents – can also be done against other players in splitscreen multiplayer mode), 3 Challenge modes
– Don't have control over the units, but you can control spells
– About 2 hours to finish the first campaign, 3-5 hours for the second
– Third faction will be revealed in the next few weeks


Initially, High Voltage Software had intentions of implementing Wii MotionPlus into their upcoming Wii title, The Conduit. A few months have passed, however, and now the team has passed on the information that the game will not be using the peripheral after all. Now High Voltage Software VP and chief creative officer Eric Nofsinger has explained why the development team has decided to drop MotionPlus.
"We've been committed to doing what is right for the game and being true to our fans from the start. We _could_ have included support for Wii MotionPlus as Nintendo provided us with early hardware and good developer support. However when we actually implemented it for the Conduit, it didn't really add anything for our primarily ranged combat. We had hoped that it would allow for better off screen IR tracking, but the device seems to lend itself more naturally for hand to hand combat where the player can calibrate in-between bouts. And that just doesn't feel like an optimal fit for how we had designed our moment to moment gameplay."