Activision Blizzard – keep
Crash Bandicoot
Ice Age
Spyro
Prototype
secret title
Activision Blizzard – losses
Bourne
50 Cent: Blood on the Sand
World in Conflict
Activision Blizzard – unknown
Ghostbusters: The Video Game
WET
Chronicles of Riddick: Assault on Dark Athena
According to a Sierra statement, we shouldn't have to worry about Ghostbusters. The game is still scheduled to launch this year.


"We always consider the territory and hardware for titles, and I just want to make sure that we're neutral about dealing with companies. …We're now in the age of the multi-platform, but depending on age and territory, users have different tastes. Therefore it's very difficult to just deal with one company or one hardware platform – in order to offer our product to the vast majority of gamers we need to deal with multiple companies and platforms." – Yoichi Wada, Square Enix president
It was only a few years ago that Square Enix was not even supporting Nintendo systems. Now things are quite the opposite. The Wii, and especially the DS, continue to receive some of the best third-party games from Square.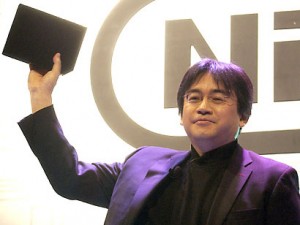 Over the past few days, Nintendo fans have been forced to understand that E3 is no longer a place for hardcore games to be shown. Instead, it's where new and casual products can be introduced. In a (roughly) translated interview with Spiegel, Satoru Iwata further explains why Nintendo decided to hold back on hardcore games at E3. "We understand that people were disappointed [with E3]. One must bear in mind that the E3 is always a good place to capture mass audience attention because the media interest is so high. So we concentrated on the games that we share with a new customer in mind that we have developed. We wanted to show what we have this year and early 2009 on the market. We have our games for the hard core of gamers, and there are still teams working on such games. But it just takes longer to finish developing these games, they finish within two to three years. The beginning of 2009 we will not bring, so we could at the E3 show none."


Most would say that this year's E3 was lacking something. Compared to previous years, the renowed gaming convention simply wasn't as exciting as it used to be. Although I was lucky enough to receive an invite from a Nintendo to view their media summit, I was unable to go…I'm not sure if the same thing will play out next year, but you – the fans – might get a chance to attend.
"The ESA is currently in the process of receiving feedback and will make an announcement about the 2009 E3 Media & Business Summit at an appropriate time." – ESA


REDWOOD CITY, Calif.–(BUSINESS WIRE)–Electronic Arts Inc. (NASDAQ:ERTS) today announced it has signed with leading Hollywood talent and literary agency UTA for representation in motion pictures and television.

UTA will help the company develop a comprehensive strategy for moving its intellectual property into the realm of large-budget motion pictures and television series. EA's broad portfolio of titles includes top-selling franchises such as Army of Two™ and Need for Speed™ as well as eagerly awaited new titles such as Dead Space™ and Mirror's Edge™.

"UTA is an ideal partner for us to bring the richness and story telling nuance of our popular games into other forms of media that give consumers more ways to experience these creative concepts," said Patrick O'Brien, Vice President of EA Entertainment. "Some of our teams have already made steps to expand our games into other forms of media like online, social networks and print publication. This partnership will help us take these efforts to the next level and match each of our titles with the right artists, producers and financiers."


"There's one thing I do want to reinforce. I could almost put myself into the 'geeks and otaku' camp. I grew up playing all those great Nintendo games. And so for me I look at product like 'Animal Crossing' and I get tremendously excited. I look at 'Wario' and get tremendously excited. I look at 'Sluggers' coming out and get tremendously excited. So this mentality that we have somehow lost our soul and [are not] speaking to our fanbase, there is nothing further from the truth. And if you talk to Mr. Miyamoto, you really understand that we really have the interest of our core fanbase right at the top of the list. The recognition is — and I think this is really the point — we're not going to tease you over 18 months or 24 months. We're going to show you something that'll make your jaw drop and make it available shortly thereafter." – Reggie Fils-Aime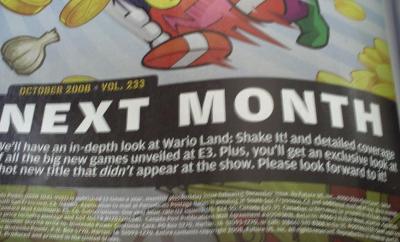 Over the past few months, Nintendo Power has gained the respect of the gaming community through its magazine exclusives. So far, NP has brought us the first news of Castlevania Judgement, Mega Man 9, and Sonic and the Black Knight. For their next issue, the crew promises a look at another Nintendo title. "…You'll get an exclusive look at a hot new title that didn't appear at the show [E3]. Please look forward to it," says the magazine.
Thanks to Lepli for the news tip.


"We would be delighted to do another game with Mario and Sonic." – SEGA of America president, Simon Jeffery
Mario & Sonic at the Olympic Games sold amazingly well…So well that it would not be crazy for both Sega and Nintendo to consider a sequel. However, that's not to say that the two icons will never tackle other video game genres.


* Nintendo Co Ltd. President Satoru Iwata
* Nintendo of America President Reggie Fils-Aime
* Designer/producer/supervisor Shigeru Miyamoto
* NOA Executive Vice President of Sales and Marketing Cammie Dunaway
* NOA Vice President of Marketing and Corporate Affairs Denise Kaigler
Hm…Shigeru Miyamoto. I'm hoping he'll run out to the stage wielding another master sword, ready to show off a new Zelda title. Alright, who am I kidding? It's probably too early for a new Zelda…


With the unique color scheme of black helmet and red visor, the Phazon Suit is awarded after defeating the Omega Pirate. Both Samus' suit and gun are infected with pure Phazon. This gives the Phazon Suit an ability to protect Samus from the deadly effects of the deadly blue substance and shoot the Phazon Beam when standing in pools of Phazon. Just when Metroid Prime is defeated, the Phazon Suit is stolen and used to create one of Samus' greatest enemies, Dark Samus!

First 4 Figures is extremely proud to present the ultimate version of the Samus Aran's Phazon Suit. First 4 Figures has used the official game files in order to create an extremely accurate recreation of the Phazon suit, with pose inspiration taken from official Metroid artwork.

Looks incredibly on its own and really completes a display when put together with the Varia suit and Gravity suit statues.