1(1) – Super Mario Bros. 3 (NES)
2(2) – Super Mario Bros. (NES)
3(12) – River City Ransom (NES)
4(3) – Mario Kart 64 (N64)
5(4) – Super Mario World (SNES)
6(5) – The Legend of Zelda: Ocarina of Time (N64)
7(7) – Punch-Out!!! (NES)
8(8) – The Legend of Zelda (NES)
9(9) – Super Mario Bros. 2 (NES)
10(10) – Super Mario 64 (N64)
11(11) – Kirby 64: The Crystal Shards (N64)
12(6) – Cruis'n USA (N64)
13(13) – Star Fox 64 (N64)
14(15) – Pac-Man (NES)
15 (E) – Double Dragon (NES)
16(14) – Donkey Kong Country (SNES)
17(16) – Paper Mario (N64)
18(18) – Donkey Kong (NES)
19(19) – The Legend of Zelda: A Link to the Past (SNES)
20(20) – Kirby's Adventure (NES)


Do What You Want – OK Go
All The Small Things – Blink 182
Spiderwebs – No Doubt
Are You Gona Be My Girl – Jet
We're Not Gonna Take It – Twisted Sister
All Star – Smash Mouth
Breed – Nirvana
Jessie's Girl – Rick Springfield
Hit Me With Your Best Shot – Pat Benatar
This Love – Maroon 5
Heaven – Los Lonely Boys
Helicopter – Bloc Party
China Grove – The Doobie Brothers
Rock and Roll All Nite – KISS (cover by Line 6)
What I Want – Daughtry


* 1. Wii Fit (Wii)
* 2. Singstar (PS3)
* 3. Gran Turismo 5: Prologue (PS3)
* 4. Buzz Hollywood (PS2)
* 5. Big Brain Academy (Wii)
* 6. Mario Kart (Wii)
* 7. Brain Training (DS)
* 8. Pro Evolution Soccer 2008 (Wii)
* 9. Sun Crossword (DS)
* 10. Mario and Sonic at the Olympic Games (DS)
The company also divulged that Wii Fit was selling every 4 seconds at their stores, making it the fastest selling video game for Curry ever.



In the June issue of Nintendo Power, the preview teases its subscribers with, "As we head into summer, expect things to heat up with Nintendo Power. July's issue will include big updates of Ghostbuster's, Sonic Chronicles, and Time Hollow. We may even have a surprise or two. Can you find the clues we've hidden in the moon?"
I'm pretty awful at breaking down mysteries, so I'm not too sure what Nintendo Power may have in store. If anyone has a guess, feel free to leave a comment.


SimCity Creator 26-Sep NDS
SimCity Creator 26-Sep Wii
These two listings apparently popped up and were discovered in a European release listing. It is possible that the DS game could be the title that was released in Japan not too long ago, but what lays in store for a Wii version is up in the air.


"Battles are played across multiple rounds with points scored for each round based on the quality of the hand. Each player uses a Wii Remote to point and click on a deck of cards laid across the screen. The first click flips the card over at which point it can be grabbed by anyone else. You've got to have fast fingers and eyes if you're to grab the cards you need before someone else snatches them from you." – James Higgins, CEO of Left Field
The good news is, the development cycle for the game is nearing an end, so I wouldn't be surprised if the game was ready for release in the next 2 months or so.


"So we decided to lead on the Wii SKU this year. Developers normally lead with the lowest common denominator piece of technology, and so although we're doing PS2 and the Wii and the 360 and the PSP and DS versions of the game, we led with the Wii from a graphics point of view." – Crash Bandicoot: Mind Over Mutant, producer Kirsten Forbes
It's encouraging to see that at least one developer is focusing on the Wii when it comes to multiplatform releases. Typically, developers have completely shafted the Wii to work on other versions of their games including leaving out features.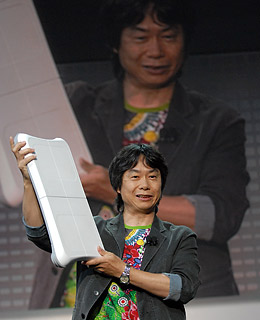 For more than a few weeks, Time Magazine has been hosting a poll on its website to determine the most influential person of 2008. Now, the voting has ended and the dust has settled. Immediately, Shigeru Miyamoto would come to the mind of any video gamer as being influential for his innovative ideas. Miyamoto was riding in the #2 slot for a number of days, but eventually outperformed Rain – last year's winner – by 4 points. Last year, Miyamoto was voted the ninth most influential person. This year, however, the Wii's continued success, coupled with the fact that Miyamoto is a very respected member of the video game industry, helped boost his point total. Congratulations to Mr. Miyamoto!