I typically avoid posting GameStop related release dates, but a listing for The Conduit caught my eye. Way back when, High Voltage Software confirmed that the game would be shipping in March 2009. According to the GameStop listing though, the game will be out in May instead. This may be nothing more than an error on GameStop's part. However, it is reasonable that High Voltage needs some extra development time to polish the title. Either way, I'm sure we'll hear word about the game's official release date in the coming weeks. Stay tuned!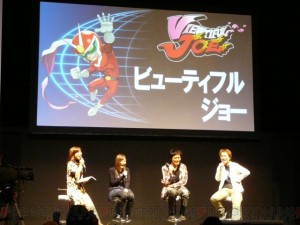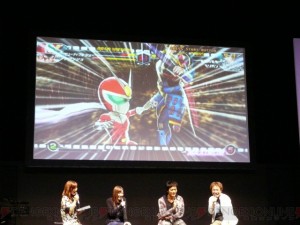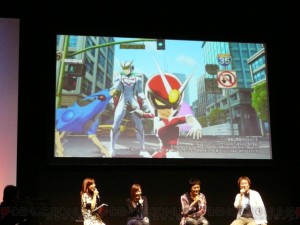 Wow, quite a nice character to add if you ask me! Now all we need is Amaterasu from Okami.


WiiWare
Alien Crush Returns – 289 blocks
Home Sweet Home – 124 blocks
VC
Space Harrier – 19 blocks


"Maybe not Team Ninja specifically [have not created a game for Wii], but with Tecmo as a whole, we've been supporting the platform from the very beginning. Internally at the company, we have a lot of knowledge, and I think we've mastered most of the components to make a very compelling and entertaining product using the console. We will continue to work in that path. We have a lot of Wii console fans within the company, so hopefully there's something that we can work on." – Hitoshi Hasegawa, Team Ninja producer


It's Back and It's Better Than Ever, Now with Online Multiplayer!

HUDSON ENTERTAINMENT ANNOUNCES
THE RELEASE OF ALIEN CRUSH RETURNS FOR Wii

It's Back and It's Better Than Ever, Now with Online Multiplayer!

REDWOOD CITY, CA – November 3, 2008 – Hudson Entertainment, the North American publishing arm of HUDSON SOFT, today announced that it has officially launched Alien Crush Returns, available for digital download on WiiWare™ for Wii™. Alien Crush Returns is a sci-fi pinball game based on the classic TurboGrafx-16 series from Hudson Entertainment.

The timeless brand is reborn on WiiWare with an entirely new sci-fi take on pinball including bonus stages and power-ups. Players never know what kind of bizarre creatures will appear in the next board. In extraordinary pinball fashion, the game offers gameplay spanning two screens, providing players a lot of real estate to rack up points, multipliers and bonuses. The game is played across multiple boards, all of which feature an eerie sci-fi landscape with enemies that try to prevent players from obtaining pinball perfection.


Since the release of the DS in 2004, Nintendo has attracted new gamers remarkably well with casual games. A ton of people have began to play video games, something which was never thought to be possible. Even with grandmas playing video games, Nintendo's David Yarnton feels as though the company's job is still not complete.
"We really have only scratched the surface in terms of the number of potential users still out there. As long as there are still people who do not play video games, then we still have a lot of work to do…We're doing all we can to ensure we get as much stock to as many stores and into the hands of as many people as possible this Christmas."


Wii-kly Update

Two WiiWare Games and One Virtual Console Game Added to Wii Shop Channel

Sometimes you feel like a pinball, bouncing from one thing to the other. Do you spend time blasting things in outer space or just spend a quiet afternoon at home, redecorating? Fortunately this week's Wii-kly Update doesn't force you to make those tough choices.

Nintendo adds new and classic games to the Wii Shop Channel at 9 a.m. Pacific time every Monday. Wii™ owners with a high-speed Internet connection can redeem Wii Points™ to download the games. Wii Points can be purchased in the Wii Shop Channel or at retail outlets. This week's new games are:


The Highly Anticipated The Lord of the Rings: Conquest Storms Retailers January 2009

Pandemic™ Studios, a division of Electronic Arts Inc. (NASDAQ: ERTS) announced today that The Lord of the Rings: Conquest™ for the Xbox 360® video game and entertainment system, PLAYSTATION®3 computer entertainment system, PC and Nintendo DS™ platforms, will on sale in the UK on 16th January 2009.
In a partnership with New Line Cinema and The Saul Zaentz Company, The Lord of the Rings: Conquest is an action-packed game created by the same Pandemic Studios team behind the best-selling Star Wars Battlefront™ and Star Wars Battlefront™ II titles. Set in "The Lord of the Rings" universe of J.R.R. Tolkien as depicted by the Academy Award®-winning films, players will finally fight the entirety of these epic battles any way they want. In addition to crusading as the heroic forces of good, for the first time ever in a 'The Lord of the Rings' action title they'll conquer Middle-earth while playing as the legions of Sauron's evil army, including Cave-trolls, Oliphaunts, the Balrog and Sauron himself.
"We have been working hard to create a 'The Lords of the Rings' experience like no other," says Andrew Goldman, Pandemic Studios co-founder and general manager. "'And we are excited to finally confirm the launch of The Lord of the Rings: Conquest to 'The Lord of the Rings' and Star Wars Battlefront fans alike."
"Players will finally be able to fight through Middle-earth along the frontlines of good or evil," says Josh Resnick, co-founder and general manager at Pandemic Studios. "And what 'The Lord of the Rings' fan hasn't fantasized about joining Sauron's army to slay Hobbits?"

Fans of The Lord of the Rings universe can also participate in a Battle for the Ring community program. The social network offers activities for members to virtually fight against good or evil and earn temporary ownership of the Ring.
For more information about the Battle for the Ring program and The Lord of the Rings: Conquest game, please visit: http://www.pandemicstudios.com/conquest.