This week's Nintendo Download includes the following featured content:

Nintendo eShop

Crashmo™ – Embrace the laws of gravity with a whole new kind of action-puzzle play in this exciting sequel to the critically acclaimed Pushmo™ game. New gravity mechanics and gadgets like floating blocks, doors and move switches await players ready for a challenge. (For Nintendo 3DS™)

Zelda II™: The Adventure of Link™ – Link™ returns to Hyrule on a quest to find the Triforce of Courage and awaken Zelda™ from an endless sleep. Learn magic spells, talk to people in towns to get clues, collect items to increase your power and explore seven palaces where the underlings of the evil Ganon await you. (For Nintendo 3DS)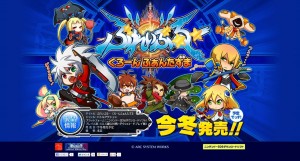 Arc System Works opened a teaser site for BlayzBloo: Clone Phantasma. Take a look at the page here.
There's nothing to see yet aside from a bit of artwork, but look forward to updates in the near future.


This week's Japanese 3DS eShop update is as follows:
3DS Downloadable Titles
Rental Bukiya de Omasse (from Guild 01) – 800 yen
Virtual Console
Pac-Man (Famicom) – 500 yen
Video Content
Paper Mario: Sticker Star videos and commercials
Professor Layton vs .Ace Attorney commercial
Nintendo Land commercials


There are no plans at the moment to bring Braid to the 3DS eShop. But Wii U? That's a slightly different story.
Although main designer Jonathan Blow says "we are really busy right now", he has left the door slightly open for a possible Wii U eShop version sometime down the line.
Blow tweeted:
"Braid: 3DS, no. Wii U, maybe sometime in the future but we are really busy right now."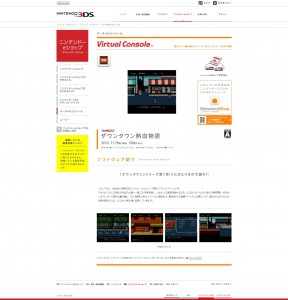 River City Ransom will be hitting the Japanese eShop as a Famicom download on November 28 for 500 yen. Screenshots of the game can be found above.




Software
1. Pokedex 3D Pro
2. Paper Mario: Sticker Star
3. Pokemon Dream Radar
4. Mario's Picross
5. Liberation Maiden
6. Super Mario Bros.
7. 3D Classics: Kirby's Adventure
8. The Legend of Zelda: link's Awakening DX
9. Photo Dojo
10. Super Mario Land 2: 6 Golden Coins
11. Cut the Rope
12. The Legend of Zelda
13. Pushmo
14. The "Denpa" Men: They Came by Wave
15. Colors! 3D
16. Plants vs. Zombies
17. Heavy Fire: Special Operations 3D
18. NightSky
19. New Super Mario Bros. 2
20. Mario Clock
Videos
1. Nintendo Show 3D: November 8, 2012
2. Pokedex 3D Pro Video
3. Paper Mario: Sticker Star October 25, 2012
4. Paper Mario: Sticker Star Video
5. Kirby 20th Anniversary Dream Collection Trailer
6. Adventure Time Video
7. Hotel Transylvania Video
8. Liberation Maiden Video
9. Myst Video
10. Ninja Gaiden Video
11. Nintendo Show 3D: October 25, 2012
12. Pokemon Dream Radar Video
13. NSMB2 Course Packs Oct 25, 2012
14. Zelda II – The Adventure of Link Video
15. Mario Kart 7 Video
16. Freakyforms: Your Creations, Alive! Video
17. Style Savvy: Trendsetters Video
18. Professor Layton and the Miracle Mask Video
19. Epic Mickey: Power of Illusion Video
20. New Super Mario Bros. 2: Coin Rush
Source: 3DS eShop


SEGA has announced the first entry in its own lineup of classic 3D games for the 3DS eShop. Space Harrier, a title originally released on arcades over 25 years ago, will be revamped in 3D. Widescreen support will be offered as well.
3D Space Harrier is just the beginning of SEGA's plans for classic games on the eShop. More 3D titles will be revealed in the future.