Ninja Gaiden will finally be hitting the North American 3DS eShop next week. That's according to yesterday's store update, which lists a December 6 date and price of $4.99.
The following titles are also "coming soon" to the 3DS eShop:
Murder on the Titanic (previously confirmed for December 6, $7.99)
Mighty Bomb Jack
Crimson Shroud (previously confirmed for December 13, $4.99)
Wario Land 2 (previously confirmed for December 20)
Gardenscapes
Fluidity: Spin Cycle (previously confirmed for December 27)




The third digital release from Guild01 will be Crimson Shroud. Earlier today, Level-5 confirmed a December 13 release in both North America and Europe. It will cost $4.99 / £4.99 when it launches.
Source: Level-5 PR






This week's Japanese 3DS eShop update is as follows:
3DS Downloadable Titles
Onna Katekiy?shi Itoka Sensei to Misshitsu ni Itara Shichau Kama shirenai – 800 yen
Crimson Shroud – 800 yen
Layton Ky?ju vs Gyakuten Saiban (Layton vs Ace Attorney, 11/29) – 5,980 yen
Shifting World Shiro to Kuro no Meiky? (11/29) – 2,800 yen
Shin Sangoku Mus? VS (11/29) – 5,400 yen
Poyo Poyo Kansatsu Nikki (11/29)– 2,800 yen
DLC
New Super Mario Bros. 2 Golden Classics Course Pack – FREE
Virtual Console
Super Mario USA (Super Mario Bros. 2) – 500 yen
Downtown Nekketsu Monogatari (River City Ransom, Famicom) – 500 yen
Video Content
Videos for Wii U titles Tekken Tag Tournament 2, ZombiU, FIFA 13, Batman: Arkham City, Mass Effect 3, Wii Karaoke U
Paper Mario: Sticker Star 3D streaming video






Nintendo originally shot down the idea of the original Binding of Isaac on the 3DS due to "questionable religious content". But now the game is getting a remake, and creator Ed McMillen/new partner Nicalis "have a feeling the new look might soften up a few people at Nintendo for a possible Wii U/3DS eShop release."
The Binding of Isaac: Rebirth will feature a second planned expansion not included in the Flash version, local co-op, and full 16-bit graphics. With the new visual style and the fact that Nicalis is on board, I'd say this project has a pretty decent shot at a Wii U and/or 3DS release.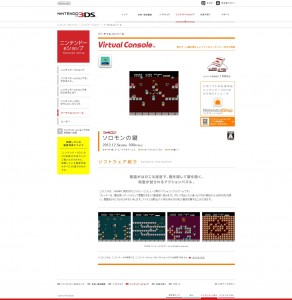 Solomon's Key will be hitting the Japanese eShop as a Famicom download on December 5 for 500 yen. Screenshots of the game can be found above.