The information/image below comes from the latest Iwata Asks…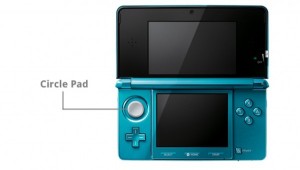 "And next are graphics of Nintendo characters generated in real time in the Nintendo 3DS system. This is the Circle Pad . You can change the camera angle with it." – Satoru Iwata
Not official by any means, but it does appear likely that "Circle Pad" will be the final name for the 3DS analog stick. Not too big of a deal, though!
Thanks to Captain N for the tip!



Hey folks – wanted to take a second to remind everything that Nintendo World 2011 will officially begin later this evening. Although most information about the 3DS will likely come from the January 19 event, there will be a number of stage presentations for upcoming titles and off-screen demo footage. We also heard rumblings earlier today that Nintendo will share more details on the Japanese launch lineup. In any case, make sure you stop by the site at 8 PM EST. I'm not sure if any news will be available immediately, but I'll be here just in case!


Japanese gaming website Inside-Games claims to have some interesting information on the launch of the 3DS and software prices for new titles. The site states that roughly 10 games will be ready for the launch of the 3DS. More games from third-parties will be sprinkled between the rest of February and March. Apparently more information regarding launch titles will be shared tomorrow when Nintendo World 2011 kicks off.
Inside Games is also reporting that although a large number of publishers have not determined final pricing for their games, new releases will cost about ¥1,000 more than typical DS software (¥4,800). However, pricier games could see a rise of ¥2,000 or more. Ultimately 3DS game prices could come close to what consumers have been experiencing with the PSP.


Thanks to Hendrickson for the tip!












In honor of CES, Capcom is delivering new information for some of our hottest titles including Bionic Commando: Rearmed 2, MotoGP 10/11, Okamiden, and Ghost Trick: Phantom Detective. Check out the summaries below for what's new on each title!

Bionic Commando: Rearmed 2
Bionic Commando Rearmed 2 will be swinging its way into North America for PlayStation 3 February 1, 2011 for $14.99 and Xbox 360 on February 2, 2011 for 1200 MS points. Along with the release date and price we have unveiled the new, digital box art for this high def side-scroller.

For more information on this story visit http://www.capcom-unity.com/snow_infernus/blog/2011/01/05/ces_2011:_bionic_commando_rearmed_2