Last week, we heard that Nintendo of Europe will be holding a conference in Amsterdam next month. Shortly thereafter, there was some speculation involving Nintendo of America having an event of their own in New York City. Thanks to IGN's Rich George, the rumor has been confirmed. George posted the following messages on his Twitter account:
"Looks like busy times in NYC on 1/19/11. You should probably tune into IGN on that day. Just sayin'. 1/19/11 is in fact the date for Nintendo's big 3DS unveil. I would expect full details at that time. NYC here we come!"
This event appears to be completely dedicated to 3DS information. George doesn't seem confident that The Legend of Zelda: Skyward Sword – the Wii's biggest title of 2011 – will be making an appearance.
"3DS, yes. Zelda is very unlikely."
The Madden franchise has taken a two year break on the DS. However, the series is going to be making its debut on the 3DS early next year, as "Madden NFL Football" will be one of the system's very first titles. EA North Carolina designer Tony Marinello talked about the game in issue 262 of Nintendo Power. One of the topics discussed included the horsepower and graphical ability of the handheld. Here's what Marinello said:
"It's a pretty powerful handheld. The graphical processing unit on it is really sweet. You'll notice we've got some rim lighting effects, for example, and environment maps on the helmets. Plus we're using a lot of the assets from the 'next-gen' versions of the game."
This information comes from Jonathan "Bidds" Biddle, the design director at Curve…
"We have lots of ideas for a sequel, and would love to work on 3DS, but, as the game's publisher, that is for Nintendo to decide. It'd certainly be interesting to see how the 3D effect would work when you're tilting the device, and how we could detect that on the hardware."
Man, Fluidity was a huge surprise for me. I thought the game had the potential to be entertaining, but I was hooked from the moment I started the demo. Of course, after playing that, I downloaded the full game and have enjoyed the heck out of it thus far. I'd love to see a sequel, whether it's on WiiWare or 3DS!
– Will have new characters
– Aero is one of the new characters
– "Free Running" has been "powered up"
– Can run through a massive open field that has height variances
– Reactions, sub events, gimmicks are being "powered up"
– Different fields, including massive unexplored ruins
– Team is looking into multiplayer elements
– Vote on the voice for Aero's voice here (ends January 11)
– Vote on whether or not Aero's name should actually be Sephira here
Thanks to Thomas N for the tip!
When the 3DS arrives next year, game cards will be able to hold two gigabytes of data. But future titles will apparently be able to hold much more than that. Macronix, the producer of current DS cards, has stated that projects developed following the launch of Nintendo's upcoming portable will be capable of storing up to eight gigabytes. To compare, we've heard games on the DS using as much as four gigabits.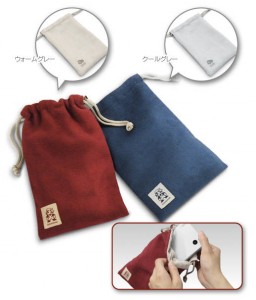 For 120 coins, you can order a red or blue suede pouche, which you can see above. According to Nintendo, you can place your Wiimote in the pouche, as well as your DS or 3DS (when it comes out, that is…). The red one turns "warm grey" while the blue one turns "cool gray." In other words, the pouches are reversible.
Thanks to Thomas N for the tip!
– Takes place in the 19th century
– Paris is the game's location
– Control Doctor Lautrec and Sophie
– Searching for treasure through the undergrounds of the city
– Doctor's full name is Jean Pierre Lautrec
– Lautrec is an archaeologist who works at a national museum
– Lautrec is very intelligent, likes solving mysteries
– Lautrec has a pet monkey named Kiki
– Sophie is attending a university in Paris
– Sophie attracts a lot of attention from men, but isn't interested in them
– Sophie met Doctor Lautrec while she worked as a part time assistant and worked in his research facility
– Exploration on the top screen
– Map on the touch screen
– May have full control over Lautrec while exploring
– Use spirits in battle
– Spirits come in a variety of forms
– Forms include human type, beast type, bird type
– Use a circular command pad on the touch screen to issue commands
– Full voice in conversation and event scenes
– Peoples' clothing/gestures will change based on the situation
– Spring 2011 release
This information comes from Take-Two COO Karl Slatoff…
"Obviously we're excited about the 3DS. We're looking at what it can do for the consumer market… and the same holds true for Kinect."
Well, we've seen Grand Theft Auto games on the last two Nintendo handhelds. However, everyone pretty much knows that Chinatown Wars failed to light up the sales charts. Will Take-Two/Rockstar take another risk on the 3DS?