Eye specialists speaking with the New York Times have issued a statement saying that Nintendo is over-dramatizing the whole situation with these warnings about the 3DS…
"The fact you'd watch 3-D in a theater or a video game should have zero deleterious impact whatsoever," – Dr. Lawrence Tychsen, a professor of pediatrics and ophthalmology at Washington University in St. Louis.
"I don't think that parents need to worry about kids playing video games, 3-D or otherwise, from a vision perspective. The bigger question for parents is: Do you really want your 3-year-old playing a video game?" – Dr. David Granet, a pediatric ophthalmologist at the University of California at San Diego
Well… I guess they'd know better than me! My guess is that Nintendo is just trying to cover themselves in case something does go awry.


Pro Baseball Famisuta 2011
– Spring release
– 3D effect will give players the feeling that they are on the field
– Runs/other events to be shown in 3D
– Data up to the start of the 2011 season
– Updated version of Dream Pennant Mode
– Dash stealing new to the game: Get a fast start in stealing bases through button timing with your pitcher and the ability to order your defense to move in
– "Super Fine Play" done by pressing two buttons simultaneously
– Use the Super Fine Play to make diving or leaping catches
– Cartoon-style characters
– Player cards have real pictures of players
Pro Baseball Spirits 2011
– Home run derby mode
– Pennant mode: Go through the perspective of manager or player
– 3DS/PS3/PSP versions releasing at the same time


– 20 more demons in 3DS version
– New skills
– Kazuma Kaneko making designs
– Devil Auction and 3 vs. 3 Extra Turn Battle systems return
– Over 20,000 lines of dialogue
– Wider map
– Increased visibility for messages and parameters
– Demons will fly out of the screen
– New maps
– Can choose difficulty


– 3DS camera can take a photo of the player
– This picture can be used as an icon for multiplayer matches
– New/old courses
– New machines
Thanks to Thomas N for the tip!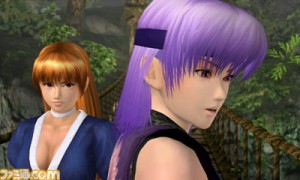 – New mode: Chronicle Mode
– Chronicle Mode is a story-based tutorial mode
– Learn the story behind the DOA series
– Will contain unseen episodes in story sequences
– Sub characters who appear in Chronicle mode: Shiden, Fame Douglas and Donovan
– Touch screen shows a digital command chart
– Use the commands shown on the chart if you want to input commands yourself
– Can also tap a command to execute it automatically
Thanks to Thomas N for the tip!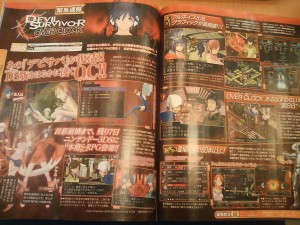 At last year's E3, Nintendo released a huge list of titles in development for the 3DS. Included in Atlus' section was a trio of Shin Megami Tensei titles. This week's issue of Famitsu has the scoop on one of those projects: Devil Survivor Overclock. You can check out the first details below, and expect scans to arrive shortly.
– Remake of Devil Survivor for 3DS
– Not a new game/sequel
– Full voice acting
– Higher resolution graphics
– Over 150 demons
– 8th day added to the scenario
– 90% complete