Are you dying to get a look at the 3DS? Well, if you live in Europe, you might be able to check out the handheld next month. Nintendo sent out this email message below to European Club Nintendo members…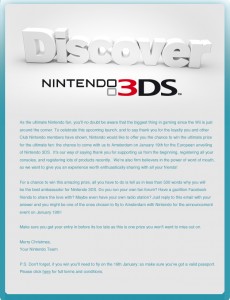 Tecmo Koei America has announced its official first-quarter software release schedule for 2011. The lineup includes many exciting new titles, as well as sequels to fan-favorite franchises.

Trinity: Souls of Zill 'Oll – PS3 Exclusive – February 8, 2011
Warriors: Legends of Troy – PS3 and Xbox 360 – March 8, 2011
Dynasty Warriors 7 – PS3 and Xbox 360 – March 22, 2011

In addition to these titles, Tecmo Koei America also has two games slated for the launch of the Nintendo 3DS™, Dead or Alive Dimensions and Samurai Warriors Chronicles. Official release dates for these titles will become available soon after the New Year.
Source: Tecmo Koei PR


This information comes from CEO Alex Neuse, who shared the following information with EGM…
"We are working on a [3DS] title that – cross your fingers – will be out within the launch window. That's not going to be an easy task."
Neuse also told the magazine that the Bit.Trip series will not end with Bit.Trip Flux, though he has nothing specific to share as of yet.


According to Siliconera, Tecmo Koei is readying two titles for the launch of the 3DS in North America. The site is reporting that both Dead or Alive: Dimensions and Samurai Warriors Chronicle will be available on day one. Tecmo Koei has apparently said that the games will be released before the end of the fiscal year ending March 31, 2011. While this does sound likely, consider this a rumor until we receive an official announcement.




– Game will have the most voice ever for the series
– Can bring your girlfriends and hairstyles from LovePlus +
– Connectivity with the two arcade titles
– "Kareshi Lock" (or "Boyfriend Lock") is the feature in which girls remember your face
– Girlfriend will ask "Who are you?" when someone else plays
– Won't be a launch title for 3DS
– "Love Plus Productions" announced, will make LovePlus, Tokimeki Memorial and the Tongari Boushi games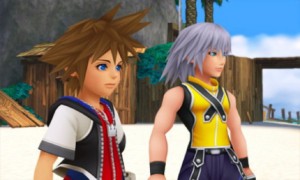 We don't really know much about Kingdom Hearts 3D. A trailer was shown at E3, but it was never released online for all to see. Tetsuya Nomura has only shared a few details about the project – mainly that the game will feature all new Disney worlds. Thanks to issue 262 of Nintendo Power, though, more information has been revealed. Nomura told the magazine that the game's story will be on par with the numbered titles and that the secret ending will contain "shocking statements and dialogue."
"Kingdom Hearts III and Kingdom Hearts 3D are not the same. However, it is a brand-new adventure starring Sora and Riku. The story is on par with that of a numbered title, and I'm sure the ending will shock fans."
Nomura also stated that the ending in Kingdom Hearts Re:coded relates to 3D:
"There is a hint regarding Kingdom Hearts 3D in the secret movie [of Re:coded]. Players will find out once they see for themselves, but the movie includes some shocking statements and dialogue that pertains to Kingdom Hearts 3D, so it's definitely worth watching!"