By the time January 19 rolls by, there may very well be a race of sorts between Nintendo's North American and European divisions. Who will be the first to divulge some long awaited information about the 3DS? We're still waiting to hear when the North American conference will kick off, but we now know that the Amsterdam event will begin at 15:00. Members of the press will be able to have hands on time with the 3DS shortly thereafter. We're only about twenty days away now… Hold on, guys!
Thanks to Jérémy for the tip!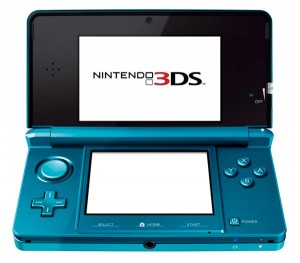 Right from the very beginning, Nintendo has been upfront about potential health concerns relating to the 3DS – particularly for children looking at the 3D graphics. Reggie Fils-Aime stated a few months back that Nintendo "will recommend that very young children not look at 3D images." Now we're starting to hear about warnings for those playing the handlheld once again. Nintendo shared the following information today:
– Quicker eye fatigue as a result of viewing 3D
– Some 3D software can cause eyes to become tired quicker than other software
– Nintendo recommends players take a break after 30 minutes of play
– "If your physical condition worsens or you become ill, please stop playing at once"
– 3D has different effects on different people
– 3D slider allows a wider group of people to enjoy the system
– 3D not recommended for children under the age of six as the vision of young children is still in developmental stages (like 3D movies and television)
– "Since the Nintendo 3DS can be changed to 2D to avoid any effects on young children's vision, it is possible for anyone to enjoy playing it"
– Once again, there will be parental controls for 3D




Playable
Hideo Kojima's Metal Gear Solid Snake Eater 3D The Naked Sample (auto demo) (Konami)
Winning Eleven 3D Soccer (Konami)
Super Street Fighter IV 3D Edition (Capcom)
Resident Evil Revelations (Capcom)
Samurai Warriors Chronicle (Tecmo Koei)
Dead or Alive Dimensions (Tecmo Koei)
Ridge Racer 3D (Namco Bandai)
Professor Layton and the Miracle Mask (Level-5)
Nintendogs + Cats (Nintendo)
Kid Icarus (Nintendo)
Legend of Zelda Ocarina of Time 3D (Nintendo)
Steel Diver (Nintendo)
Pilot Wings Resort (Nintendo)
AR Games (Nintendo)
Nintendo 3DS Camera (Nintendo)


Nintendo has yet to announce when the 3DS will be launching in North America and how much the system will cost. However, that isn't stopping most GameStop stores from accepting pre-orders. A handful of consumers have confirmed that they have been able to pre-order the handheld starting today. If this is something you're interested in, make sure to bring $50 to your local GameStop and mention SKU number 020132 if anyone has absolutely no idea what you're talking about!


Nomura on where 3D falls in the series timeline…
"Kingdom Hearts 3D takes place after Kingdom Hearts Re:coded, making it the latest development in the Kingdom hearts timeline."
Nomura on new worlds in the game…
"We're still deciding which worlds to include, but there may be a major overhaul in terms of the selection of Disney worlds."


– Monkey Ball Mode is typical Monkey Ball
– Guide a monkey in a ball to the goal in this mode
– Pick up bananas as you move
– Use the slide pad or motion sensor as the controls
– Slide pad controls should be used by those who want to enjoy the game in 3D while the motion sensor controls are for those who want a more direct control experience
– Stages include Arabia, Jungle and Space
– After choosing a stage, 3D picture book will be shown with a story
– Characters include AiAi, MeeMee, Baby and Gongon
– More characters to be revealed
– Monkey Race and Monkey Fight modes
– Monkey Race has races on different courses
– Monkey Fight is a competitive battle, collect the most bananas
– Up to four players wirelessly for multiplayer


Are you dying to get a look at the 3DS? Well, if you live in Europe, you might be able to check out the handheld next month. Nintendo sent out this email message below to European Club Nintendo members…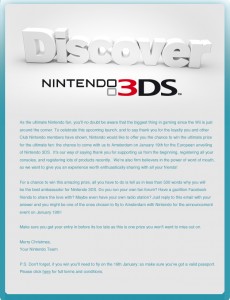 Tecmo Koei America has announced its official first-quarter software release schedule for 2011. The lineup includes many exciting new titles, as well as sequels to fan-favorite franchises.

Trinity: Souls of Zill 'Oll – PS3 Exclusive – February 8, 2011
Warriors: Legends of Troy – PS3 and Xbox 360 – March 8, 2011
Dynasty Warriors 7 – PS3 and Xbox 360 – March 22, 2011

In addition to these titles, Tecmo Koei America also has two games slated for the launch of the Nintendo 3DS™, Dead or Alive Dimensions and Samurai Warriors Chronicles. Official release dates for these titles will become available soon after the New Year.
Source: Tecmo Koei PR


This information comes from CEO Alex Neuse, who shared the following information with EGM…
"We are working on a [3DS] title that – cross your fingers – will be out within the launch window. That's not going to be an easy task."
Neuse also told the magazine that the Bit.Trip series will not end with Bit.Trip Flux, though he has nothing specific to share as of yet.