[Nintendo Everything Podcast] – episode #11 – Games in 2019, Part 2: Believe the Hype!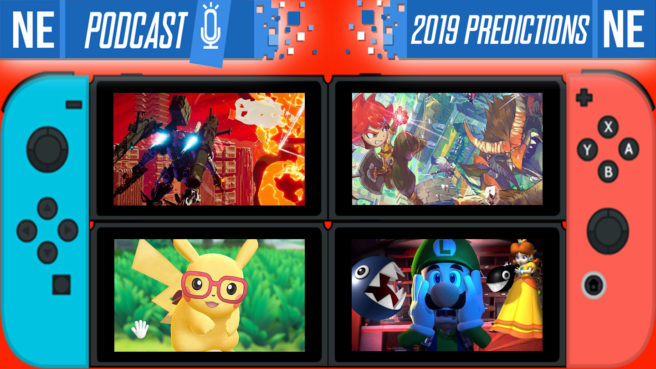 What up, kids and squids?!
This week on NEP… it's a big one! You get bonus content! We've got part two of our special feature on Nintendo in 2019!
Oni kicks it off by putting in his two cents on the controversy of Nintendo supposedly leaving console development, and how NintendoEverything's article got misquoted. Then, Oni and Galen cover this week's news, all the release date announcements, and they conclude their discussion and predictions of games coming out on Nintendo platforms in 2019 and beyond!
Check out Oni and Galen musing over what Nintendo games they'd love to see, what Switch hardware revisions might be in store for us, and much more!
Timestamps:
03:11 – Oni explains Furukawa's comments about "Nintendo leaving consoles behind" Spoiler alert: it's not happening.
08:56 – Adventure Log: Keep Talking And Nobody Explodes & GRIS
17:39 – Weekly news recap and breakdown
37:27 – Games in 2019: starting with Daemon X Machina!
44:11 – Pokemon 2019! What innovations we want to see.
56:56 – Luigi's Mansion 3! Luigi needs a partner who is brave, and we know who it should be!
1:03:31 – Other games we're excited about: Liar Princess & The Blind Prince, Sonic Racing and Crash Racing, Caligula Effect: Overdose
1:11:25 – Are they coming out this year? We hope so! Let's talk: Bloodstained, Town, War Groove, Killer Queen Black, Indivisible, Pillars Of Eternity II, Shin Megami Tensei V, Pikmin 4
1:22:00 – What Wii U ports deserve to come out on Switch this year? Galen & Oni both have strong contenders.
1:29:39 – Hardware revisions. What's real and what's unrealistic?
1:35:28 – Additional DLC from Oni & Galen
1:38:13 – Listener Mail!
Additional DLC:
Send us an email and we'll discuss it!
NintendoEverythingPod [at] gmail [dot] com
Listener Bonus: Help the show grow and support us by giving a ☆5 STAR☆ iTunes review, likes and comments on YouTube, and share the Spotify playlist with your Nintendo-loving buddies!
Thank you!
YouTube
iTunes
https://itunes.apple.com/podcast/nintendo-everything-podcast/id1441241130?mt=2
Spotify
https://open.spotify.com/show/0zifaLm4st7KtUzDEojWBh
Direct Download
News Links
Follow Us, We Tweet!
@NinEverything
@Oni_Dino
@mobius087
A HUGE thank you to Headphones of Listening for NEP's intro music!
Check him out on soundcloud!
This week's background music is the OST for the indie game Oxenfree, by the artist scntfc.
And our outro music this week is the Main Theme of the GRIS Soundtrack by Berlinist.
Leave a Reply