[Nintendo Everything Podcast] – episode #23 – Give Me Labo VR Metroid!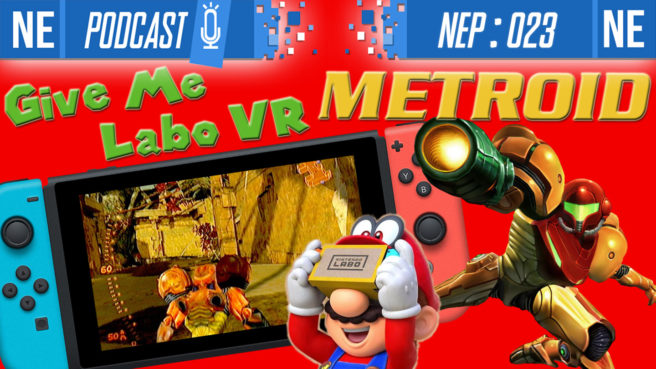 Hello, you beautiful Shy Guys and Shy Girls! This week on NEP, please excuse Oni's sick voice… BUT! The gang has several great discussions you'll want to hear. This includes Best Buy leaking games allegedly via their website, which Galen provides some extra insight on, as he used to be a terrible employee back in the day. We then discuss Labo VR and muse over what future ways Labo could be used (Oni freaks over Metroid). We then get a little heavy as we find ourselves talking about the games industry and publishers capitalizing on the social phenomenon of FOMO.
Thank you for listening! Please help the show grow by sharing the podcast with someone you think might enjoy.
Timestamps:
06:11 – Best Buy maybe leaks Persona 5, Metroid Prime Trilogy and A Link To The Past through their website, and Galen shares his insider perspective.
16:40 – SEGA announces Mario & Sonic at Tokyo 2020 Olympics, plus another Tokyo 2020 Olympics Official game.
19:43 – Breath of the Wild and Mario Odyssey getting VR support with Nintendo Labo VR Kit. We muse on what could be done in the future for future games.
28:33 – Famitsu Awards 2018
30:25 – Sony/Microsoft/Nintendo all under investigation pertaining to online gaming contracts, a natural rant on pre-order culture harming the gaming industry and publishers capitalizing on the social phenomenon of FOMO.
43:45 – Additional DLC
49:02 – Listener Mail
Additional DLC:
Send us an email and we'll discuss it!
NintendoEverythingPod [at] gmail [dot] com
Listener Bonus: Help the show grow and support us by giving us ☆5 STAR☆ iTunes review, likes and comments on YouTube, and share the Spotify playlist with your Nintendo-loving buddies!
Thank you!
YouTube
iTunes
https://itunes.apple.com/podcast/nintendo-everything-podcast/id1441241130?mt=2
Spotify
https://open.spotify.com/show/0zifaLm4st7KtUzDEojWBh
Direct Download
PocketCasts
Stitcher
https://www.stitcher.com/podcast/nintendo-everything-podcast
PlayerFM
https://player.fm/series/nintendo-everything-podcast
ListenNotes
https://www.listennotes.com/@NintendoEverythingPodcast/
PodTail
https://podtail.com/en/podcast/nintendo-everything-podcast/
Follow us on Twitter and Instagram
@NinEverything
twitter: @Oni_Dino / insta: Oni__Dino
@mobius087
A HUGE thank you to Headphones of Listening for NEP's intro music!
Check him out on soundcloud!
Links
Leave a Reply