[Nintendo Everything Podcast] – episode #27 – Sonic Pre-Alpha and Epic Sells Your Info To China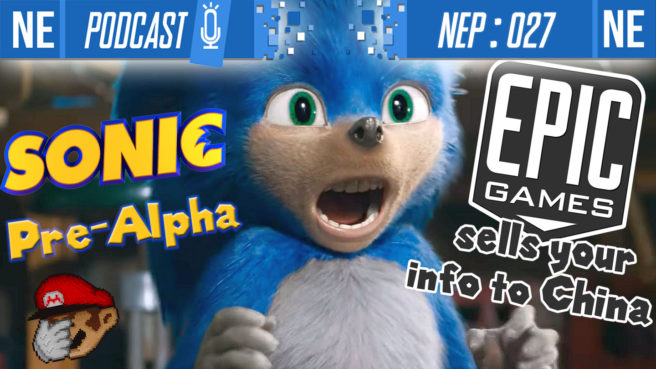 What's up, hedgehogs and werehogs! That's right, it's time to talk about Sonic… but first we kick things off with info on our giveaway for Hob: The Definitive Edition on Nintendo Switch!
In this episode of NEP, we dish out our opinions on the first trailer for the Sonic the Hedgehog movie, and the director's response that it's going to be fixed in such a short amount of time. This leads us to talk about industry crunch, along with CG artists' and 3D animators' responses to this situation. We then talk all the weekly news, including Forza Street, Bloodstained and more. We finish things off with talking about Epic Games purchasing Psyonix, creators of Rocket League, and general discussions of the Epic Store and what the controversy is there. Oni learned something, so we hope you do, too! Galen then has an existential crisis for good measure as we go over our listener mail!
As ever, we would appreciate your help in growing the show by sharing the podcast with a friend and rating us on your listening platform of choice, such as iTunes!
Thanks for listening!
Timestamps:
05:41 – Adventure Log: Hearthstone, Dragon's Dogma and a discussion of the Ace Attorney Trilogy
21:06 – Sonic the Hedgehog movie. Are you there SEGA? It's me, chili dogs.
43:07 – Rapid-fire news! Forza Street references the Switch multiple times in its source code. An indication this could be on its way to Switch? More Microsoft-Nintendo buddying up?
Suda51 hosting another panel at Momocon, teases an announcement. A new game getting a remaster? Speculate! Oni accidentally gets existential.
Bloodstained coming to Switch on June 25th! Oni loves the trailer's humor and Galen hasn't properly prepared for the podcast. Also, why's it coming one week later to the Switch? So strange.
53:47 – Psyonix, creators of Rocket League, have been purchased by Epic Games. Discussion of the Epic Store and their backwards approach
1:06:49 – Additional DLC
1:11:41 – Listener Mail: If we could re-experience a game from our childhood, in our adulthood.
Additional DLC:
Send us an email and we'll discuss it!
NintendoEverythingPod [at] gmail [dot] com
Listener Bonus: Help the show grow and support us by giving us ☆5 STAR☆ iTunes review, likes and comments on YouTube, and share the Spotify playlist with your Nintendo-loving buddies!
Thank you!
YouTube
iTunes
https://itunes.apple.com/podcast/nintendo-everything-podcast/id1441241130?mt=2
Spotify
https://open.spotify.com/show/0zifaLm4st7KtUzDEojWBh
Direct Download
PocketCasts
Stitcher
https://www.stitcher.com/podcast/nintendo-everything-podcast
PlayerFM
https://player.fm/series/nintendo-everything-podcast
ListenNotes
https://www.listennotes.com/@NintendoEverythingPodcast/
PodTail
https://podtail.com/en/podcast/nintendo-everything-podcast/
Follow us on Twitter and Instagram
@NinEverything
twitter: @Oni_Dino / insta: Oni__Dino
@mobius087
A HUGE thank you to Headphones of Listening for NEP's intro music!
Check him out on soundcloud!
Links
Leave a Reply