[Nintendo Everything Podcast] – episode #36 – One Whole Child, Roadmap of Fixes and Shame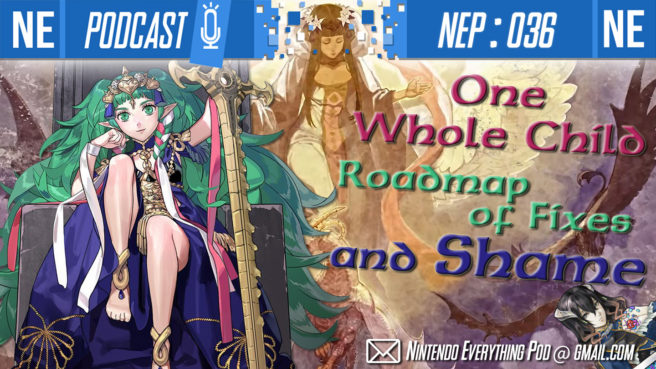 Hello my beautiful weapon triangles! Fire Emblem: Three Houses is coming out in three weeks, so we're celebrating by discussing all about some new details we've got on how the game plays and how Koei Tecmo was involved with Nintendo to make this game happen.
We also talk about some interesting comments from Nintendo on 5G, Cloud Gaming, VR, and a new control style they want to create for next-gen that will become the new industry standard. Peculiar stuff! Oni also gushes about Daemon X Machina and laments Bloodstained stumble onto the Switch.
If you'd like to support our show, you can help out by sharing the show with someone who hasn't heard us before, and by rating us 5 stars on iTunes! We really appreciate all your support an thank you so much for listening!
Timestamps:
07: 40 – Adventure Log: Galen rented Super Mario Maker 2! The year is 1998. Also, Galen saw Spiderman.
20: 20 – Daemon X Machina polished and shiny and ready for battle! Devs have improved the game all over, thanks to fan feedback. And the Orbital Limited Edition.
29:07 – Fire Emblem: Three Houses discussion.
51:32 – Nintendo comments on 5G, Cloud Gaming, VR, etc. Nintendo also talks investigating a new control style that will become the new standard in next-gen gaming. …Wii 2?
1:09:32 – Bloodstained: Curse of the Ritual Night Vampire Symphony releases on Switch and that is the most not finished port ever. And the insult is that it sold great on Switch.
1:14:38 – Additional DLC
1:20:19 – Listener Mail: Games we were sure we'd hate, but we ended up loving.
Additional DLC:
Send us an email and we'll discuss it!
NintendoEverythingPod [at] gmail [dot] com
Listener Bonus: Help the show grow and support us by giving us ☆5 STAR☆ iTunes review, likes and comments on YouTube, and share the Spotify playlist with your Nintendo-loving buddies!
Thank you!
YouTube
iTunes
https://itunes.apple.com/podcast/nintendo-everything-podcast/id1441241130?mt=2
Spotify
https://open.spotify.com/show/0zifaLm4st7KtUzDEojWBh
Direct Download
PocketCasts
Stitcher
https://www.stitcher.com/podcast/nintendo-everything-podcast
PlayerFM
https://player.fm/series/nintendo-everything-podcast
ListenNotes
https://www.listennotes.com/@NintendoEverythingPodcast/
PodTail
https://podtail.com/en/podcast/nintendo-everything-podcast/
Follow us on Twitter and Instagram
@NinEverything
twitter: @Oni_Dino / insta: Oni__Dino
@mobius087
A HUGE thank you to Headphones of Listening for NEP's intro music!
Check him out on soundcloud!
Leave a Reply