[Nintendo Everything Podcast] – episode #37 – Switch Lite: Pros and Joy-Cons; LGBTQ Representation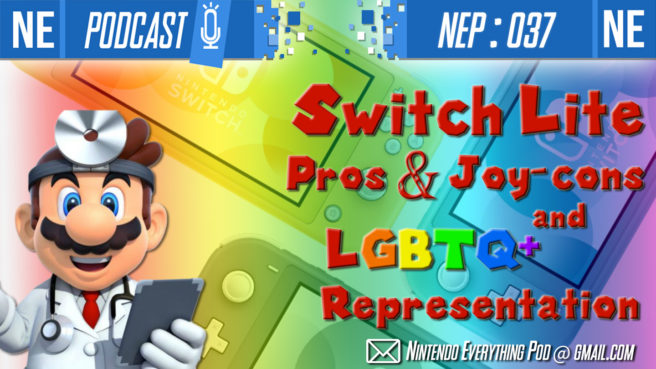 Hello my beautiful Popos and Nanas! Oni and Galen have a great discussion overall, in our most intimate episode of NEP yet. We talk localization and well-written characters in fiction, the pros and cons of the Switch Lite (and what this could mean for a future "Pro" variant), Dr. Mario and how different in design it is, and we tie things up with a discussion of Fire Emblem and LGBTQ+ representation in media and video games. We hope you enjoy.
The best way to support our show is to give us a review on iTunes, so we would appreciate if you could take the time to do so. We really appreciate all your support and thank you so much for listening!
Timestamps
06:05 – Adventure Log: Hollow Knight, Final Fantasy VII and localization discussion. And a chat about the merit of replaying games and empathizing with well-written characters in fiction.
28:36 – Nintendo Switch Lite and public reaction. Galen thinks this should've been announced at E3 and Oni explains why he thinks it was a smart move not to announce at E3. How is the marketing for Switch going to proceed now that we have a dedicated handheld? Will the eventual "Pro" be a dedicated household console? Galen thinks it'll be something that focuses on tabletop mode. Oni has big disagrees and speculates what Nintendo could do to bridge the looming gap of games being made for next-gen hardware with the PS5 and Xbox Scarlett on the horizon.
49:35 – Dr. Mario World and how not Dr. Mario it is. Galen explains.
56:50 – Fire Emblem: Three Houses. New details on giant beasts, online features, same-sex relationships, and more. Serious and emotionally intimate talk about LGBTQ representation in video games and how we talk to each other online. Also a brief discussion of how Nintendo has handled LGBTQ inclusion on a few occasions, both positively and negatively.
1:25:46 – Brief Pokemon talk. New gym leaders, new Pokemon, Gigantamaxing, Dynamaxing—we'll be talking more about it next week, too!
1:27:27 – Additional DLC
1:33:42 – Listener Mail: Something's gotta give—what our personal state of play is currently and coming up this year end.
Additional DLC
Send us an email and we'll discuss it!
NintendoEverythingPod [at] gmail [dot] com
Listener Bonus: Help the show grow and support us by giving us ☆5 STAR☆ iTunes review! Thank you!
YouTube
iTunes
https://itunes.apple.com/podcast/nintendo-everything-podcast/id1441241130?mt=2
Spotify
https://open.spotify.com/show/0zifaLm4st7KtUzDEojWBh
Direct Download
PocketCasts
Stitcher
https://www.stitcher.com/podcast/nintendo-everything-podcast
PlayerFM
https://player.fm/series/nintendo-everything-podcast
ListenNotes
https://www.listennotes.com/@NintendoEverythingPodcast/
PodTail
https://podtail.com/en/podcast/nintendo-everything-podcast/
Follow us on Twitter and Instagram
@NinEverything
twitter: @Oni_Dino / insta: Oni__Dino
@mobius087
A HUGE thank you to Headphones of Listening for NEP's intro music!
Check him out on soundcloud!
Links
Leave a Reply