[Nintendo Everything Podcast] – episode #43 – Gamescom: WE DO IT! (feat Avalanche Reviews)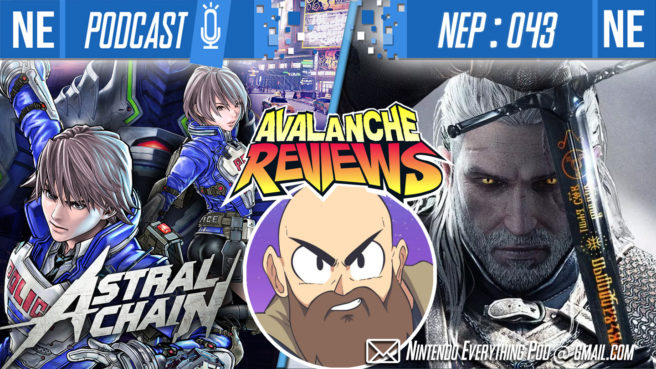 Hello, my Chocobos and Cactuars! This week on NEP, we've got the simultaneous worst and best episode yet! We've got Jared of Avalanche Reviews guesting in, but Galen's mic crapped out once or twice, so his commentary is a little light in a few spots.
But Jared is here to get super nerdy with us about upscaling output video on retro consoles, as all three of us bond over Resident Evil and the best boys of YouTube. In particular, Jared talks about getting the best picture possible out of the SNES, N64 and GCN consoles; the Framemeister; and technical nonsense of video and retro graphics explained in easy-to-understand detail.
If you're enjoying NEP, please consider giving us a 5 star review on Apple Podcasts, aka new iTunes. It's incredibly helpful in getting us exposed to new listeners through algorithms, so we would greatly appreciate your help. Thank you for listening!
Timestamps
03:13 – Jared of Avalanche Reviews talks starting out on YouTube, how he grew his channel, what was the spark to start the Resident Evil Retrospective and his success story. Then we all bond over Resident Evil!
21:13 – Jared teaches us about upscaling video output on our old consoles, like the SNES, N64 and Gamecube.
36:42 – The struggles of being a YouTuber, streaming on twitch VS YouTube, and the algorithm gods.
52:28 – Astral Chain launches next week! Let's talk impressions and thoughts with all the gameplay footage we're getting out of Gamescom. Jared freaks out that Galen can go to a brick and mortar to rent games in 2019. Japanese game development over the years.
1:01:13 – The Witcher 3 aka the Switcher. And Jared dukes it out with the Switch. Getting over pride, admitting when you're wrong, and taking opportunities to learn.
1:16:28 – Final Fantasy VIII Remaster. What QOL additions will we see? How the visuals stack up to a video output nerd like Jared. Also, using video games in Japanese as a means of learning written language. Oni's beef with text and text boxes.
1:29:21 – Remothered sequel happening, and friendship forms through coincidental YouTube viewings, and mutual love for Thor High Heels.
1:32:24 – Indie World! Ori and the Blind Forest, Hotline Miami Collection, Superhot, so much more. And a lovely mention of Suda51 and how hit or miss he is, but we love creativity. More creative, crazy developers, please. Also, less of Square Enix's Marvel's Avengers. Superhot discussion leads into Labo VR talk, badly received games like Resident Evil: Operation Raccoon City. Then why being objective about media is important, and admitting when things aren't for you/your demographic though it may be for other people.
1:57:01 – Additional DLC, Destiny lore, SNES Drunk, Super Derek and trading games through the mail.
Additional DLC
Send us an email and we'll discuss it!
NintendoEverythingPod@gmail.com
Listener Bonus: Help the show grow and support us by giving us ☆5 STAR☆ iTunes review! Thank you!
YouTube
Apple Podcasts / iTunes: https://apple.co/2xLl0C5
Spotify: https://spoti.fi/2Gdgoch
Direct Download
PocketCasts: https://pca.st/IQVa
Stitcher: https://bit.ly/30uxOZR
PlayerFM: https://bit.ly/2yfCu9P
ListenNotes: https://bit.ly/2SINTbG
PodTail: https://bit.ly/2yfDgDL
Oni Dino's YouTube "Gayme Married": https://bit.ly/2JK21xd
Oni Dino's Twitter: @Oni_Dino
Oni Dino's Insta: Oni__Dino
Galen's Twitter: @mobius087
Galen's Insta: true_mobius
OUR GUEST, Avalanche Reviews:
YouTube: https://www.youtube.com/user/AvalancheReviews
Twitter: https://twitter.com/AvalancheJared
Twitch: https://www.twitch.tv/avalanchereviews
PBandJo Twitter: https://twitter.com/PBandJo13
PBandJo Twitch: https://www.twitch.tv/PBandJo
ATK UP!: https://bit.ly/2Yyqf3q
HUGE thank you to Headphones of Listening for NEP's intro music! Check him out on soundcloud!
News Links:
Leave a Reply