[Nintendo Everything Podcast] – episode #47 – Untitled Goose at Nintendo France bans Dragon Quest Hero in Smash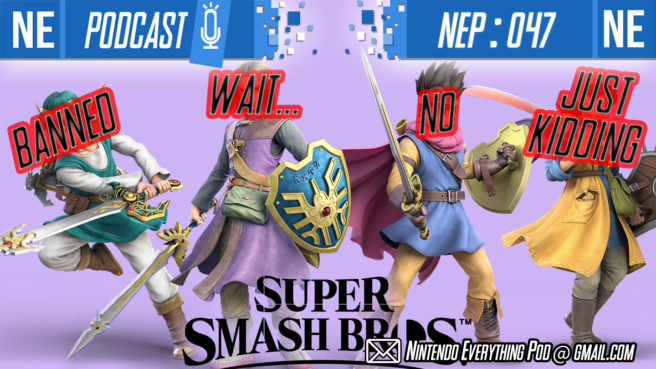 Hello, my geese and goslings! This week on NEP we've got some controversial and complex talking points: Hero being banned then unbanned in official Nintendo France tournaments (and what constitutes an OP character or a ban), Mario Kart Tour and the success and failure of mobile games and how that affects genuine gaming, and the Switch Lite launching on the market. We then get some great listener mail sent to us and we blather on there, too, because complex issues require complex analysis.
If you're enjoying NEP, please consider giving us a 5 star review on Apple Podcasts, aka new iTunes. It's incredibly helpful in getting us exposed to new listeners through algorithms, so we would greatly appreciate your help. Thank you for listening!
Timestamps
05:16 – Adventure Log: Untitled Goose Game, Boderlands 3 and Chasm
20something? – Hero controversy in Smash Bros Ultimate brought to a head by Nintendo France banning then quickly unbanning him and ALL future DLC characters. We do a big strong feelings. Also, generally speaking, is it ever a good idea to ban a character at all? We muse.
51:39 – Mario Kart Tour. Success and failure? Huge downloads that aren't turning into too much revenue sorta. But also Gold Pass Subscription… We're really mixed on this.
1:03:24 – Switch Lite launches and is very successful! And Galen spreads misinformation. Oni reprimands.
1:12:29 – Additional DLC
1:18:04 – Listener mail! Xenoblade Chronicles Dilemma Edition. Then microtransactions, country-wide bans, and the social science of this growing issue in the games industry.
1:42:10 – Oni Dino's dumb story this week in Shinjuku.
Send us an email and we'll discuss it!
[email protected]gmail.com
Listener Bonus: Help the show grow and support us by giving us ☆5 STAR☆ iTunes review! Thank you!
YouTube
Apple Podcasts / iTunes: https://apple.co/2xLl0C5
Spotify: https://spoti.fi/2Gdgoch
Direct Download
PocketCasts: https://pca.st/IQVa
Stitcher: https://bit.ly/30uxOZR
PlayerFM: https://bit.ly/2yfCu9P
ListenNotes: https://bit.ly/2SINTbG
PodTail: https://bit.ly/2yfDgDL
Oni Dino's YouTube "Gayme Married": https://bit.ly/2JK21xd
Oni Dino's Twitter: @Oni_Dino
Oni Dino's Insta: Oni__Dino
Galen's Twitter: @mobius087
Galen's Insta: true_mobius
HUGE thank you to Headphones of Listening for NEP's intro music! Check him out on soundcloud!
Leave a Reply