[Nintendo Everything Podcast] – episode #54 – The State of Pokemon in 2019; Sonic featuring Mariah Carey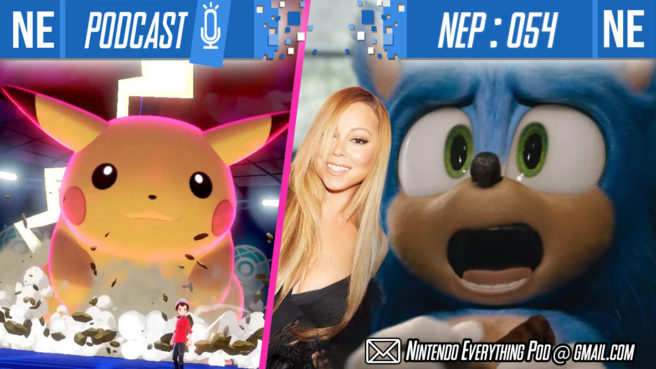 Hello my poison and fairy types! This week on NEP, Oni Dino is a bit unhinged but we make it work! Galen chats Terry Bogard and Luigi's Mansion impressions while Oni Dino continues grinding the gears in Destiny Connect. We then discuss the Phanpy in the room and give our opinions on the Pokemon Sword / Shield controversy and how people are handling things on social media. And who can forget the big star of turning around 2019: Sonic the hedgehog.
If you're enjoying NEP, please consider giving us a 5 star review on Apple Podcasts, aka new iTunes. It's incredibly helpful in getting us exposed to new listeners through algorithms, so we would greatly appreciate your help. Thank you for listening!
This week, the podcast is sponsored by Koei Tecmo. Check out Atelier Ryza: Ever Darkness & the Secret Hideout, out now on Nintendo Switch.
Timestamps:
10:12 – Adventure Log: Terry Bogard in Smash Ultimate, Destiny Connect, Luigi's Mansion 3.
45:24 – News: Sonic turns around his year. Pokemon and Pokechildren.
1:22:39 – Additional DLC
1:32:36 – Listener mail: nerdy engravings for wedding rings
Send us an email and we'll discuss it!
[email protected]gmail.com
Additional DLC:
Listener Bonus: Help the show grow and support us by giving us ☆5 STAR☆ iTunes review! Thank you!
YouTube
Apple Podcasts / iTunes: https://apple.co/2xLl0C5
Spotify: https://spoti.fi/2Gdgoch
Direct Download
PocketCasts: https://pca.st/IQVa
Stitcher: https://bit.ly/30uxOZR
PlayerFM: https://bit.ly/2yfCu9P
ListenNotes: https://bit.ly/2SINTbG
PodTail: https://bit.ly/2yfDgDL
Oni Dino's YouTube "Gayme Married": https://bit.ly/2JK21xd
Oni Dino's Twitter: @Oni_Dino
Oni Dino's Insta: Oni__Dino
Galen's Twitter: @mobius087
Galen's Insta: true_mobius
HUGE thank you to Headphones of Listening for NEP's intro music! Check him out on soundcloud!
Leave a Reply