July 8th 2008 – Rising Star Games is pleased to announce the launch of Cradle of Rome on Nintendo DS. One of the most successful casual games on the PC in 2007, the original AWEM-developed title makes its first appearance on Nintendo DS developed by cerasus.media from Berlin. Distinctly marrying the Match-3 puzzle mechanic with an enticing resource management system, Cradle of Rome offers players a satisfyingly addictive gameplay experience. Rising Star Games will be bringing the game to Europe, with the exception of Germany and Benelux, on October 10th 2008.

About the Game:

Welcome to the birth of the Roman Empire where players re-create the legendary city of old using a unique variation of the much-loved Match-3 puzzle mechanic. Players still swap two adjacent squares around to create a row of three or more, but instead of completing the board as quickly as possible, the goal is to gather as many resources as you can before the timer runs out. The more resources you gather, the faster you can build Rome. Start with a lowly saw mill and progress to gain access to historical monuments such as the Arch of Titus, the Temples of Venus and Saturn and eventually the mighty Coliseum.

A vast array of bonus tools adds even more incentive to continue the game for as long as possible. Unlocking these tools not only makes clearing the board easier, but also increases the opportunity to gather more resources, gold and treasure!


Title: Cid and Chocobo's Mysterious Dungeon: Maze of Time DS+
System: Nintendo DS
Genre: Dungeon RPG
Release: Fall 2008
Official Site: http://www.chocobo.com/tokiwasureds/
Title: Chocobo and the Magic Storybook – The Witch and the Girl and the Five Heroes
System: Nintendo DS
Genre: Chocobo Adventure
Release: Winter 2008
Official Site: http://www.chocobo.com/chocobo/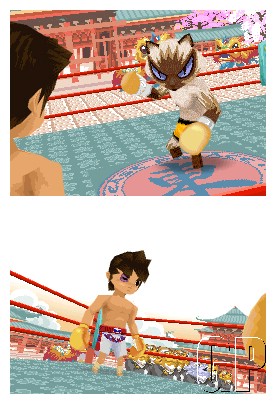 Barcelona, July 8, 2008 – Tighten up the gloves, throw on your headgear, personalize your fighter and… flip up your console! Discover the new features of Animal Boxing.

Animal Boxing throws a twist on everything you've seen so far in Nintendo DS ™. Even on your own console! With the innovative system SD (Slam Down), the player can face their animal opponents without fighting dirty and giving low blows. The Nintendo DS ™ touch screen shows the torso and face of your opponents, which is where you must strike mercilessly… but also must be attentive to the unpredictable movements of legs that let them dodge your attacks!

Animal Boxing presents up to 50 different characters against which you can measure your strength to get the champion belt of the Village. It's time for you to know what you're up against: animals who will come at you with different fighting styles. You better be prepared for the agile and speedy Cat, the cunningly effective Fox, the icy and unrelenting Penguin and the fearsome Rhinoceros with jackhammer fists. Prepare for a journey through new and different lands in Animal Boxing!

Flip up your console and pull out your stylus… It's clobbering time!

The international release of Animal Boxing is slated for 2008-Q4.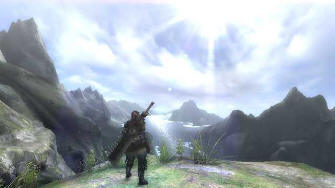 Christian Svensson, Capcom's Sr. Director of Strategic Planning & Research has been providing Nintendo fans with tons of details about the company and possible upcoming details the past few weeks. Today was no exception, as Svensson once again divulged quite a bit of new information. First, some of you may remember Dead Phoenix, a game that Capcom showed off for the GameCube years ago. The game drew many comparisons to Kid Icarus, but eventually, the game slid under the radar and was canned. A good portion of the gaming community hoped for the revival of the game, perhaps by partially remolding the game as we knew it. Unfortunately, it looks like not even this is possible. Said Svensson, "As far as CEI resurrecting it, frankly, we have enough things on our plate at the moment and enough ideas in the pipeline that we don't need to be going back to that well."
Additionally, we found out a few months back that Monster Hunter 3 was canceled for the PS3 and moved to Wii. The main reason that we heard about seemed to be relate to high development costs of creating a PS3 title, yet Svenson has noted, "It was a strategic decision set by the team and our Japanese management to address an emerging market on the Wii. At the time the decision was made, it was in reference to the Wii market in general, no particular sub-segement thereof." So, the idea of saving money was definitely a motivating factor, but the fact that the Wii has been a dominant force in the gaming market seemed to influence the decision significantly, too.
The last bit of information concerns Dead Rising. Many fans of the game were enamored with the game since literally everything in the environment is capable of becoming a tool for destruction. Don't get any quick ideas that the game will be coming to the Wii, however. Unlike Okami, there are no plans for a Dead Rising remake for the Wii (or any news on the game at all for that matter). Although, it is interesting to know that there would be no legal issues with releasing Dead Rising on a different platform, as Christian Svensson explained on the Capcom community forums.

Facebreaker
– "Party version of Fracebreaker," but title is misleading (not really minigames)
– Graphics look great – art style is impressive, moves nicely
– Gameplay has a lot of promise also, but Matt wasn't able to play it long
– Shot from the sideview, still a 3D boxing game
– Very fast, arcadey
Skate It
– Still not a lot of gameplay available in the version Matt + Daemon played
– Will be a learning curve, but it'll be a "cool" way to play a skateboarding game – Daemon
– Programmed intuitively
– Grinding all about timing
– Visually not too impressive
– Framerate needs to be up and running – lag won't be good for the game
DS Version of Skate It
– Developed by Exient
– Looks very, very good for the DS
– Draw all tricks on the touch screen, drawings are similar, so you might do a trick by mistake
– Looks promising
Order Up!
– Latest version more polished, somewhat enjoyable
– Kind of like Cooking Mama/Diner Dash, more control of what you're doing
– Won't blow anyone away, but Matt would rather play it than Cooking Mama

Videos
Developer's Voice – Final Fantasy Crystal Chronicles: My Life as a King
SPOGS Racing Info Video
Get Wii Fit with Alyson: Strength Training
LEGO Indiana Jones Info Video
Little League World Series 2008 Info Video
Final Fantasy IV Info Video (DS)
Soul Bubbles Info Video (DS)
Demo
Trauma Center: Under the Knife 2


Pool Party is a fully-featured pool and snooker simulation featuring a diverse range of game modes and settings and, of course, will make the best possible use of the Wii's control system.

Grab your stick and go head-to-head in Pool Party for WiiTM. With 13 different types of pool, including 9-Ball, 8-Ball, Rotation, Black Jack and Snooker, there's a game of billiards to satisfy any pool shark. You'll be hustling pros in a range of environments, from the seediest dive bars to opulent mansions and supremely luxurious yachts. Pool Party includes competitors with intelligent AI and tables with real-world physics. With shot placement, targeting and adjustments mediated through the Wii's motion-sensing control system, Pool Party represents the
most definitive pool simulation yet seen on Nintendo hardware.

Game features:

• 13 different game modes
• 10 different rooms and tables
• Your choice of cue and balls
• Supports single player and multiplayer games
• Full 3D environments and characters with stylized graphics
• Immersive sound environment that enhances the gameplay experience
• Competitors have intelligent AI and the tables have a realistic physics engine.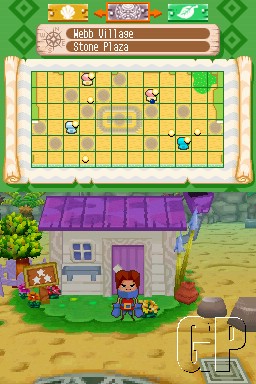 EDISON, N.J., July 7, 2008 – Majesco Entertainment Company (NASDAQ: COOL), an innovative provider of video games for the mass market, in partnership with leading developers Mistwalker and AQ Interactive, today announced premier RPG AWAY Shuffle Dungeon for Nintendo DS™. Players take control of the young hero "Sword," the sole resident left of the once booming Webb Village, who must rescue as many kidnapped townsfolk as possible from a mysterious unknown that has been slowly "spiriting them away." AWAY Shuffle Dungeon includes creative contributions from renowned industry visionaries: RPG creator Hironobu Sakaguchi, character designer Naoto Oshima and composer Nobuo Uematsu.

"We are very excited to be working with the collective creative talent of Hironobu Sakaguchi, Naoto Oshima and Nobuo Uematsu," said Jesse Sutton, Chief Executive Officer, Majesco. "Their experience creating high quality, best-selling games means that AWAY will be well-positioned for success when it hits retail this fall."

In AWAY Shuffle Dungeon, an unknown force has stripped Webb Village of its residents, and now the sole heroic survivor, Sword, must rescue the stolen villagers from the ominous dungeons as he strives to expose and defeat the mysterious thief. Sword must first collect and use various objects including musical instruments to reveal the secret dungeons where prisoners are being held. But successfully saving them is another challenge altogether given a unique timed "shuffle" mechanic that reconfigures the dungeon prisons and hurts Sword and any survivors still caught within when the time runs out. Saved villagers will lend assistance to Sword's quest, as will the magical 'Fupongs' and dungeon treasure he finds that lets him shop in the village specialty stores for armor, weapons, health, medical aid and more.

Ghostlight are on their marks and set to explode out of the starting blocks with the release of International Athletics™ on the Nintendo DS™ and Sony PlayStation® Portable in August, 2008.

In an announcement that is sure to set hearts racing and adrenaline pumping, Ghostlight has confirmed that development duties will be handled by The Code Monkeys. Adrian Hirst, Development Director at Code Monkeys says; "Our goal is to create a highly realistic athletics simulator whilst maintaining a compelling pick up and play game style"

Central to the appeal of International Athletics will be the immense variety of the ten gut-busting events and the innate need of man to compete and win against his fellow man. As a single player game International Athletics will be challenging and rewarding but once taken to the multiplayer level things will really get serious with online leaderboards set to determine who the greatest virtual athlete in the world is. Both formats feature a multiplayer mode with up to 4 players going head to head.