DSi 173,693
Wii 91,641
PSP 71,540
PS3 33,688
DS Lite 31,120
Xbox 360 11,797
PS2 6,659
Unlike the typical multiplatform game, a good majority of critics have been giving the Wii version of Shaun White Snowboarding the most accolades. The game has also sold fairly well at 259,000 copies sold in November and the Wii version has raked in 40% of those sales. So, it shouldn't be surprising that a sequel is in the works.
Said Shaun White himself, "Now that I have the knowledge and I can speak to programmers better and I understand a lot more about what's possible and what's not possible, this will all help with the next game."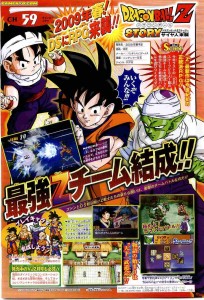 Dragon Ball Z Story is set to launch Spring 2009 in Japan.
– based on the original Broken Sword, possibly the best adventure game ever created
– lots of new content, new puzzles, new locations, expanded story
– controls obviously redone for DS and Wii
– some new animations by Dave Gibbons (Watchmen)
– developed by Revolution, published by Ubisoft
– game's pretty much gone gold, coming to Europe in March 2009
REDMOND, Wash.–(BUSINESS WIRE)– Holiday shoppers visiting Toys"R"Us Times Square will find a new surprise waiting for them—a new Nintendo department offering an interactive way to have fun, while experiencing the wide range of Nintendo products available this holiday season and beyond.

The Nintendo department, located on Level One of the Toys"R"Us international flagship store, is nearly 1,000 square feet and is easily visible from the store's windows overlooking Broadway. Visitors to The World's Greatest Toy Store™ will find an interactive Wii™ wall within the department, offering shoppers the chance to play select Wii games. Additionally, shoppers interested in sampling a portable experience can play one of eight Nintendo DS™ systems with a variety of games. The department also features a Nintendo gallery, showcasing images from Nintendo's history of classic and current games.

The Nintendo department also features specially trained Nintendo experts who can walk shoppers through the department's experience and provide information about Nintendo products. Shoppers can easily identify these experts by their special Nintendo-branded uniforms.

"What we've been seeing all year long is the expansion of video game fun to people of both genders, and all ages and tastes—there's literally something for everyone," said Cammie Dunaway, Nintendo of America's executive vice president of Sales & Marketing. "But in recent weeks, Nintendo products appear to be appealing to even more people, as every form of fun is being measured against a price tag. And that's what makes this experience in Toys"R"Us so compelling—all the fun and information is available right at your fingertips."

"Toys"R"Us Times Square is the premier New York City destination for families, and Nintendo offers the ultimate family gaming experience, making a partnership between our two brands the perfect match," said Bill Lee, Vice President, Divisional Merchandise Manager, Toys"R"Us, U.S. "The new, dedicated Nintendo department at Toys"R"Us Times Square allows us to offer customers an exceptional interactive experience for testing out the latest Nintendo products."

In addition to the new, experiential Nintendo department, shoppers can also find the full range of Nintendo products in the "R" Zone department on the store's Lower Level.

For more information about Nintendo, visit www.Nintendo.com.

About Nintendo: The worldwide pioneer in the creation of interactive entertainment, Nintendo Co., Ltd., of Kyoto, Japan, manufactures and markets hardware and software for its Wii™ and Nintendo DS™ systems. Since 1983, when it launched the Nintendo Entertainment System™, Nintendo has sold nearly 2.8 billion video games and more than 480 million hardware units globally, including the current-generation Wii and Nintendo DS, as well as the Game Boy™, Game Boy Advance, Super NES™, Nintendo 64™ and Nintendo GameCube™. It has also created industry icons that have become well-known, household names such as Mario™, Donkey Kong™, Metroid™, Zelda™ and Pokémon™. A wholly owned subsidiary, Nintendo of America Inc., based in Redmond, Wash., serves as headquarters for Nintendo's operations in the Western Hemisphere. For more information about Nintendo, visit the company's Web site at www.nintendo.com.
One of the first applications Nintendo showed for the DSi is the Moving Memo Pad (otherwise known as Ugoku Memo-chou in Japan). Most interestingly, those who download the application will have the ability to upload their own projects. Nintendo and Japanese website Hatena will allow for users to share pictures and animations for the entire world to view. Japanese DSi owners will be able to download the software for free on the 24th.
Just in time for the holidays, Capcom has announced that Neopets Puzzle Adventure is now shipping to retail for the Nintendo Wii™.This popular title rated E for Everyone is now available on the Nintendo Wii and DS, as well as the PC.

Neopets Puzzle Adventure from Capcom is an easy to play, but hard to master single and multiplayer puzzle game (think Reversi, a token-based board game) coming to the Nintendo Wii and DS and the PC. Created for fans and casual gamers alike, Neopets Puzzle Adventure lets players create and develop one of 12 Neopets characters by completing quests, playing mini-games, and battling others. Players embark on an epic story and travel through three Lands of Neopia with more than 150 quests, while collecting "PetPets" for special abilities.
This footage comes from a recent episode of X-Play…
Call of Duty: World at War performed fairly well in terms of critical reviews on both the Wii and DS, yet both versions have pretty much sold a dismal amount compared to the 360 and PS3. The 360 version of the game has sold 1.41 units while the PS3 sold roughly 600,000 copies. Disappointingly, only 200,000 units of the game were sold between the Wii and DS. This is slightly surprising since, after all, Activision has been supporting the Wii version in terms of advertising. Commercials of the game seem to appear on television regularly. And let's not forget that the game has received positive reviews. So the only question is, why haven't people bought the game?
"[As for] GTA in 2010 — it's just way too early to talk about [with it still] at full price at retail," said Take-Two CEO Ben Feder in response. "We're not saying no, it's just way to early to be talking 2010, especially 'GTA' in 2010."
"…We're going to do a lot of learning with 'GTA: Chinatown Wars' on the DS in terms of bringing that kind of content to a Nintendo platform. Our partnership with Nintendo is as strong as it's ever been. We're really excited about it. We talk to them all the time. They provide great feedback for us. We're highly focused on it."